Treatment Performed
"...2 weeks after my second treatment I was delighted with the results! The lines either side of my chin had definitely improved, my eyes had less of the little lines out to the sides and my jawline lifted, my skin also looked brighter and healthier. The treatment itself wasn't painful in any way, and I didn't suffer any bruising."
Pellevé Skin Tightening:
Painless wrinkle reduction system for smoother tighter skin
What is Pellevé?
click on image to enlarge
The Pellevé wrinkle reduction system is a safe, highly effective radio frequency skin tightening treatment that is FDA approved to reduce the appearance of wrinkles. Discomfort is minimal, no anaesthesia is required and there is no downtime. Pellevé is a great solution for facial rejuvenation without surgery. It is ideal for the difficult to treat delicate eye areas and those hard to treat lipstick lines on the top lip. The jowls and neck are also highly responsive to treatment. The result is an improvement in skin quality and firmness you can see and feel.
How is Pellevé different from other skin tightening procedures?
Unlike other skin tightening systems, Pellevé doesn't require anaesthesia or skin cooling. Because the skin is not numb, you can describe the depth of feeling to our practitioner, which helps provide the best result in the area being treated. The overall result is a noticeable improvement in skin quality and appearance with minimal side effects and recovery time.
What advantages does Pellevé offer over traditional cosmetic surgery?
Pellevé is virtually painless and requires no recovery time, so it fits easily into busy schedules and can provide lasting improvement. How do I know Pellevé is right for me?
We will assess whether Pellevé is right for you based on your skin type, age, and what you hope to accomplish by having the procedure.
How Does Pellevé work?
Pellevé delivers constant, gradual energy to the skin, causing heat to build up where the skin and fat layer come together. The increasing heat modifies the collagen bundles deep inside the skin, causing them to contract and stimulating the growth of new collagen over time. This results in firmer, tighter skin.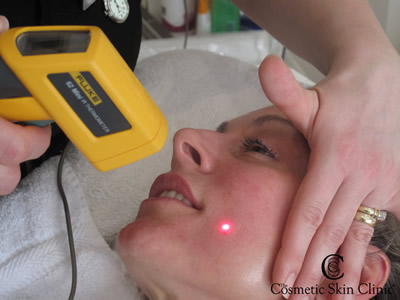 How long does the Pellevé procedure take?
A full facial treatment typically takes between 45 minutes to an hour. Because no anaesthesia is used and any swelling is minor, there is no downtime. What should I expect during the Pellevé procedure?
First, a protective gel is applied to the face. Patients say they feel a deep warming sensation when the Pellevé hand piece touches the area being treated. No anaesthetic is used, so you will act as a guide to describe the depth of the sensation as the hand piece moves across your face
What about after the procedure?
Mild swelling and redness may occur, but studies have shown that this usually goes away within a few hours to a day.
How long does it take to see the results?
Many patients see a result immediately after just one treatment, but most patients will need a course of 2 to 3 treatments to achieve optimum results. All this will be discussed and become clearer at the time of your initial consultation.
Telephone 01753 646 660 to book a consultation to see if Pellevé radio frequency treatment is suitable for you.