Trim and sculpt neck fat with our non-invasive double chin treatments.
Having a double chin can affect your confidence and well-being by making you feel overweight or older-looking, even if your condition is genetic. It is also exceedingly difficult to remove stubborn pockets of submental fat around your neck and double chin using exercise and diet, as you cannot spot-target fat loss in this specific area.
Thankfully, advances in aesthetic medicine have given us the ability to trim double chin neck fat without having to resort to excessive exercise, diets or surgery. Our non-invasive double chin treatment options like CoolSculpting and Ultherapy can take place in less than an hour, involving no downtime and exceptionally long-lasting results.
Remove Fat Under Chin with CoolMini for Double Chin Fat Removal
CoolMini is a fat-freezing treatment specially designed to treat smaller areas of fat bulges like double chins. We were the first clinic in the UK to offer this new double chin removal treatment and our patients have been delighted with the results. This revolutionary fat freezing technology targets, cools and reduces unwanted fat cells in the selected area. These cells crystallise, then shrivel away. Your body metabolises them and gets rid of them naturally, with a noticeable and long-lasting reduction in the unwanted fat bulge. 
CoolMini Double Chin Before and After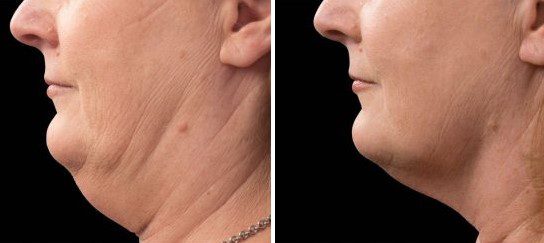 The CoolMini treatment is often combined with Ultherapy: an FDA-cleared, non-invasive ultrasound procedure for lifting and tightening skin on the chin and neck and redefining the jawline. 
Ultherapy tried-and-tested ultrasound technology gradually strengthens skin from deep within and stimulates the growth of new collagen and elastin. Results can be more effective because your practitioner can see the layers of tissue targeted during your treatment and ensure the energy is focused to precisely where it is needed. 
Benefits of Double Chin Tightening Treatments
Getting rid of a double chin with our fat removal and skin tightening technologies is easy and offers patients a range of great benefits:
Reduce submental fat stores permanently with our CoolSculpting fat-freezing technology
Tighten and lift sagging areas of skin across the neck to trim and sculpt fat bulges
Boost collagen and elastin stores to give the chin extra support and strength
Tone and recontour your neck shape
No surgery or downtime needed
Renowned results in Expert Hands
Best Double Chin Treatment – At The Cosmetic Skin Clinic, we have an outstanding reputation when it comes to our experience and industry expertise. For over 6 years in a row, we have been voted as the number 1 CoolSculpting fat removal clinic in the UK and Europe, and we are celebrated as an Ultherapy 'Centre of Excellence,' having been voted as we have been named as an 'Ultra Premier Treatment Provider' for seven consecutive years. So you can trust us for delivering results that will make a positive impact.
Contact our clinics in London and Buckinghamshire to book a double chin fat removal treatment with one of our expert practitioners. Give us a call or fill-in our online enquiry form.