Ultherapy is a non-surgical skin lifting and tightening procedure for the upper and lower face, neck and décolletage.
As one of The Cosmetic Skin Clinic's most popular treatments, it has won America's NewBeauty Annual Beauty Awards for the 7th year in a row, being awarded the "Best Non-Surgical Skin Tightening Treatment" for 2020.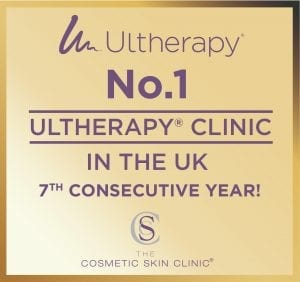 Ultherapy uses micro-focused ultrasound with visualisation (MFU-V) energy to the same depth of skin targeted by surgeons, to generate a thermal effect under the skin. This stimulates the production of new collagen and elastin which can reverse the signs of ageing. This essentially jump starts a repair process by strengthening existing collagen and producing fresh, new collagen which puts structure back into your skin.
Collagen is a natural protein that keeps skin firm, toned and youthful but as you get older collagen loses strength and its ability to stand up to the effect of gravity that pulls the skin downwards. Ultherapy can be used to treat sagging skin, jowls, skin laxity, 'turkey neck', drooping eyelids, sagging buttocks and lines and wrinkles on your décolletage giving you a natural lift and leaving you looking refreshed.
Some patients see an initial lift after treatment but real results can become more apparent over a three to six month time frame as new collagen builds which gradually lifts the skin, lasting over a year or more. Unlike a surgical face-lift, Ultherapy has no downtime meaning you can return to your normal activities directly after treatment.
Ultherapy is unique as it is the only non-surgical cosmetic procedure that uses focused ultrasound imaging to stimulate the growth of new collagen deep within the skin. Results are even more effective because your practitioner can see the layers of tissue targeted during the treatment and ensure the energy is focused on precisely where it is needed.
Patients will usually feel an immediate lift in the areas treated followed by more noticeable results in the 3-6 months after treatment. These results can last from a year up to 18 months. Take a look at the amazing results that some of our patients have achieved following this treatment, on our 'Ultherapy before and after' blog.
The Ultherapy procedure takes around 60 to 90 minutes and you may experience a slight redness for up to an hour or so afterwards. A small percentage of patients may also have a slight swelling, tingling or tenderness to touch but this is mild and only temporary. Your medical practitioner will go over all of this with you. It is our priority that you feel at ease and relaxed on the day of your treatment knowing that you're in safe, expert and medically qualified hands.
Ultherapy also works well when combined with other treatments such as dermal fillers and anti-wrinkle injections. This is why we put together a personalised treatment plan just for you when you attend your consultation to help you achieve the best results. See The CSC 'Golden Triad' and The CSC Lift, Tighten and Glow for examples on how to combine different treatments to achieve the most impressive, natural looking results.
Is Ultherapy safe?
Ultrasound imaging has been safely used in medicine for over 50 years with over one million treatments being performed worldwide so far. Ultherapy is also the only micro-focused ultrasound technology that has been reviewed and cleared in the US by the FDA. In Europe, it is CE certified for non-invasive sculpting and lifting of the skin on the upper and lower face, neck and décolletage. The Cosmetic Skin Clinic is the No.1 Ultherapy Ultra Premier Treatment Provider for the UK and Ireland for the fifth year running which means you can  be confident you are in safe and trusted hands.
Am I good candidate for Ultherapy?
Through the natural ageing process, the collagen and elastin in our skin starts to breakdown which reduces the skin elasticity. If you have mild to moderate skin laxity where the skin is starting to look less firm, Ultherapy will give you a natural and gradual lift leaving you looking refreshed.
How do I know if my practitioner is using genuine Ultherapy?
All clinics and practitioners who have purchased the genuine Ultherapy system have been provided with a Certificate of Authenticity. They should be able to show you this in their clinic.
I have seen something similar advertised but it is much cheaper than Ultherapy – is it still the same treatment?
Given the success of Ultherapy and the endorsement of the treatment by a number of high-profile celebrities, there has been an increase in the number of copy-cat versions that have become available. It is essential to be aware that some of these treatments may not have been FDA approved and may not have the unique visualisation technology that allows your practitioner to see before they treat, which is an important safety feature.
TV presenter Kirsty Gallacher has been sharing her experience of using Ultherapy to tighten and lift her skin. Check her full interview as the UK Ambassador for Ultherapy where she explains why she chose this procedure, the benefits she noticed as well as the results that she keeps seeing even a year later.