The Cosmetic Skin Clinic is delighted to announce that Merz has awarded us the accolade of 'Ultherapy Centre of Excellence' for the UK. This award recognises our expert Ultherapy® team as leaders in maintaining impeccable standards, delivery of the very best practice in Ultherapy treatment and the dissemination of this knowledge. For queries about how to lift and tighten your skin with Ultherapy®, please contact our clinics in London and Buckinghamshire.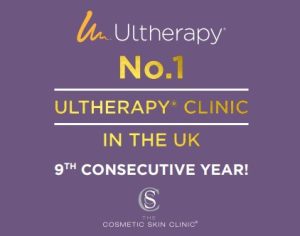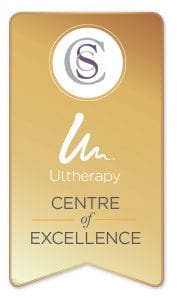 Ultherapy
 is a non-surgical skin lifting and tightening procedure for the upper and lower face, neck and décolletage.
Ultherapy Skin Tightening Treatment Areas
Ultherapy can be used to treat sagging skin, skin laxity issues, the dreaded 'turkey neck', drooping eyelids, banana roll fat, sagging buttocks and lines and wrinkles on your décolletage, giving you a natural lift and leaving you looking refreshed. It has been FDA-approved to treat the face, neck and décolletage area, with truly outstanding results when it comes to non-surgical facelifts. Ultherapy can be used for: 
– Non-surgical facelifts: Achieve a refreshed and lifted appearance with the Ultherapy face lift
– Brow Lifts: take years off your brow area with an Ultherapy brow lift
– Jowl Lifts: tighten and lift your jowls
– Eyelid Lifts / Under the eyes: remove drooping eyelids and replenish skin under the eyes
– Décolletage wrinkles: smooth out fine lines and wrinkles across the décolletage area
– Treating a 'Turkey Neck': reduce the appearance of a turkey neck
– Sagging skin: Bring back strength and lift to sagging skin 
Book a complimentary consultation
Key Benefits of Ultherapy
As a market-leading collagen booster, it has become known as the ultimate Gold-Standard treatment for skin lifting and tightening. Collagen is a natural protein that keeps skin firm, toned and youthful-looking. As you get older, collagen loses strength and its ability to stand up to the effect of gravity that pulls our skin downwards. Elastin, another key structural protein in the skin, also depletes as we age. But thanks to Ultherapy's precise micro-focused ultrasound technology, the body's skin repair process is rebooted to stimulate the natural renewal of these beautifying proteins. The result is lifted, flawless and tightened skin that radiates rejuvenation and vitality. Ultherapy's key benefits are outlined below: 
– Completely non-invasive and non-surgical treatment
– Regenerates natural collagen and elastin stores
– Tightens and firms skin texture
– Lifts sagging and drooping skin
– Creates a fresh, natural and rejuvenated appearance
– No need for general anaesthetic
– No downtime, recovery time, injections or scarring 
With our expert team of practitioners, you can trust your Ultherapy treatment will be held to the highest standard in the industry as we have been named the No1 Ultherapy Clinic for the 9th year in a row.
How 
Ultherapy 
work
s
Some patients see an initial lift after treatment, but real results become more apparent over a three-to-six-month time frame as new collagen builds. This gradually lifts the skin, generating non-surgical skin tightening that can last over a year or more. Unlike a surgical face-lift, the Ultherapy facelift has no downtime This means you can return to your normal activities directly after treatment. 
Patients will usually feel an immediate lift in the areas treated followed by more noticeable improvements at 3-6 months after treatment. These results can last from a year up to 18 months. Take a look at the amazing results that some of our patients have achieved in our 'Ultherapy before and after' blog. 
To learn more about Ultherapy please click the link below. To book an appointment please get in touch with our expert Ultherapy practitioners at our clinics in London and Buckinghamshire.
Watch Dr Matthew Jarvie-Thomas talk to Cherry Healey about Ultherapy and its amazing benefits.
Katy Young Beauty Editor at Harpers Bazaar says "the ultrasound works on the foundation of the skin, boosting natural collagen to result in firmer, fresher-looking skin. Celebrities have been known to use it as a new facelift alternative." Read more about the benefits of Ultherapy and Dr Jarvie Thomas interview in Harper's  Bazaar.
Ultherapy treatments near me
Ultherapy London – If you are working in London areas such as Belgravia and Paddington, our clinics's central location near Regents Park, Great Portland Street Tube stations as well as Oxford Street and Marylebone Road makes it very convenient for a lunchtime or after work appointment.
Ultherapy Stoke Poges, Buckinghamshire – Our clinic in Stoke Poges has convenient transport links from Wembley, Richmond, Kingston upon Thames and the Surrey area. The clinic is also accessible from further afield by being linked up to nearby train stations at Gerrards Cross, Beaconsfield and Slough. It is also an ideal location if you are commuting from nearby areas like Burnham, Denham, Dorney, Eton, Farnham Royal, Farnham Common, Fulmer, Hedgerley, High Wycombe, Iver, Maidenhead, Marlow, Taplow, Wexham, Windsor and Uxbridge.
Ultherapy is a non-surgical skin lifting and tightening procedure for the upper and lower face, neck and décolletage.
As one of The Cosmetic Skin Clinic's most popular treatments, it has won America's NewBeauty Annual Beauty Awards for the 9th year in a row, being awarded the "Best Non-Surgical Skin Tightening Treatment".
The UK's No 1 Ultherapy Treatment Provider
The Cosmetic Skin Clinic is globally renowned for its incredible Ultherapy standards, having consistently received the annual accolade of being an 'Ultherapy Centre of Excellence' in the UK. This award recognises our expert Ultherapy® team as leaders in maintaining impeccable standards, while delivering outstanding results and the dissemination of detailed Ultherapy knowledge. Dr Tracy Mountford is also widely respected in the aesthetics industry and by Merz Aesthetics, Ultherapy's founder, as a key opinion leader and ambassador for the treatment.  
Ultherapy
 Skin Tightening & Skin Lifting
Ultherapy uses micro-focused ultrasound with visualisation (MFU-V) energy to target the same depth of skin targeted by cosmetic surgeons. The treatment generates a rejuvenating thermal effect deep underneath the skin. This stimulates the production of new collagen and elastin stores to reverse the signs of ageing. The treatment essentially jumpstarts a skin repair process by strengthening existing collagen and producing fresh, new collagen stores. This advanced process is designed to restore structure and strength back into your skin while giving it a flawlessly tight texture and an incredible lift. Explore our Ultherapy Before and After photos to see these impressive benefits in action.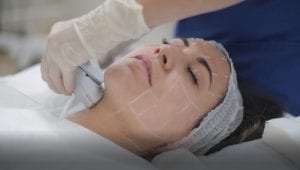 Ultherapy's DeepSEE® Visualisation
Ultherapy is unique as it is the only non-surgical cosmetic procedure that uses focused ultrasound imaging to stimulate the growth of new collagen deep within the skin. Its unique DeepSEE visualisation technology allows practitioners to visibly see the layers of skin tissue that have suffered collagen loss. This allows our clinicians to carry out a highly targeted treatment that focuses ultrasound energy on precisely where it is needed.
 
Ultherapy
 Combination Treatments
Ultherapy also works well when combined with other treatment such as dermal fillers and anti-wrinkle injections. The best step is to come in for a detailed consultation. This stage is vital. It allows you to outline areas you want to be targeted and the practitioner can give details of the process, provide advice and answer any queries you have.  
At your consultation we will advise you on a personalised treatment plan to help you achieve the best results. See The CSC 'Golden Triad' and The CSC Lift, Tighten and Glow for examples on how to combine different treatments to achieve, natural looking results.
Kirsty Gallagher, 
Ultherapy's
 Brand Ambassador
TV presenter Kirsty Gallacher has been sharing her experience of using Ultherapy to tighten and lift her skin. Read her full interview as the UK Ambassador for Ultherapy where she explains why she chose this procedure, the benefits she noticed as well as the results that she keeps seeing even a year later.