Dermal fillers are a safe and affordable treatment that can help restore a more youthful facial appearance.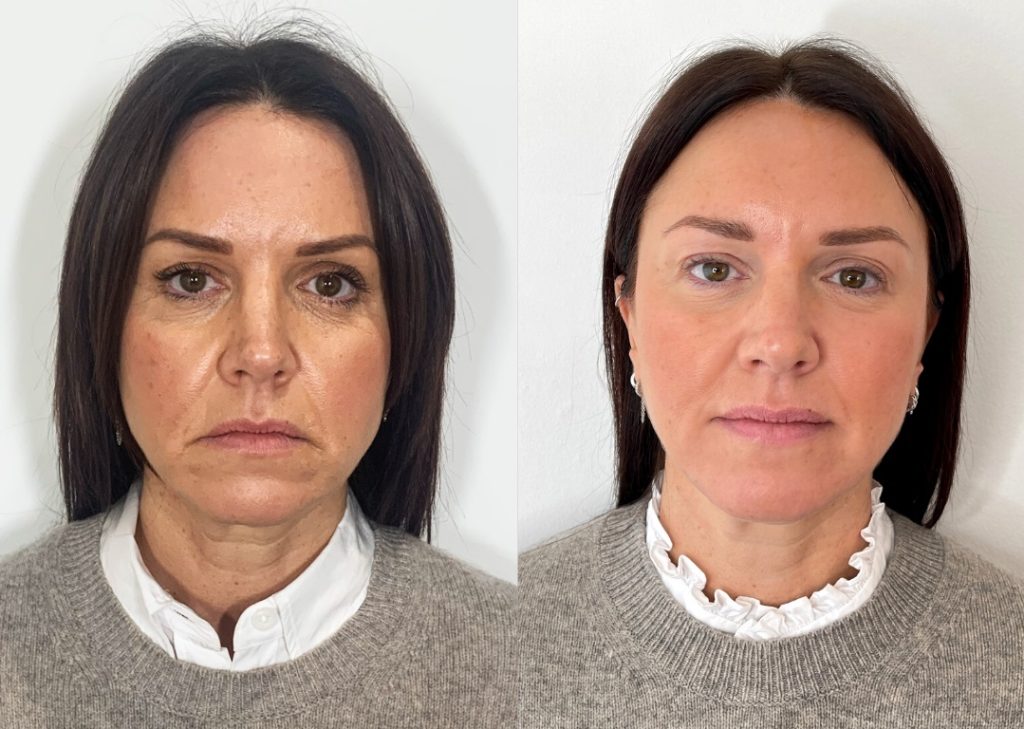 Hyaluronic Acid Dermal Filler Treatments
Hyaluronic acid facial fillers immediately restore nutrients and lift to a person's skin. Hyaluronic acid (HA) gel is skilfully injected into targeted areas of the skin by one of our experienced trained cosmetic medical practitioners. Areas that are suitable for treatment include the cheeks, lips, eyes (tear trough), mouth, chin, neck and hands. 
Areas of the face you can treat with HA fillers
Hyaluronic acid fillers are used to treat all areas of the face, from the upper and middle sections to the lower face. We treat: 
Upper Face
Glabella Lines (lines between the eyebrows) – Glabella lines appear on your forehead in between your eyebrows and are often referred to as your eleven lines. Dermal filler glabella line treatment can help to create a temporary lift in the area that will smooth out the skin reducing the appearance of fine lines and wrinkles. 
Forehead lines – Dermal filler is a great treatment to reduce the appearance of deep lines and wrinkles on the forehead. Hyaluronic acid works to plump sunken skin and achieve a smoother appearance.
Crow's Feet (wrinkles at the corner of the eyes) – The skin around our eyes is very delicate and thin which makes it much more vulnerable to developing fine lines and wrinkles. Dermal filler treatment for crows feet is a great way to visibly reduce the appearance eye wrinkles by filling in the fine lines resulting in a more youthful appearance. 
Under Eye (tear troughs) – Address tired eyes and dark circles with our tear trough filler treatments. As we lose collagen and fat stores under our eyes, skin can become depressed and hollow, leading to shadows and dark circles forming. Our dermal filler eye treatments restore volume to this deflated area instantly, giving a youthful finish that rolls back the years.
Midface
Cheeks – Attain a volumised and hydrated look with our cheek fillers treatments, designed to minimise the appearance of sagging and drooping skin. This treatment can help give your cheeks a lift while addressing any hollowing or wrinkle formation that has occurred due to collagen, bone or fat loss.
Nasolabial Folds (nose to mouth lines) – Reduce smile lines and restore the lost volume with nasolabial fillers. This treatment softens the appearance of the nose to mouth lines and helps you to achieve a smoother, refreshed-looking appearance. 
Nose – Reshape your nose for the better with our nose filler treatments. Instead of opting for surgical rhinoplasty, which involves significant amounts of downtime, we can help patients to contour and shape their nose by injecting hyaluronic acid into strategic points. We are able to decrease nostril size, narrow a nose bridge or minimise the appearance of dorsal humps with instant visible results.
Lower Face
Lips – Dermal lip filler treatment can help to increase volume into lips that are thin, improve lip definition and rejuvenate the lip area by filling fine lines that can develop around the mouth (lipstick lines).  We pride ourselves on offering a safe clinic environment as the best place to get lip fillers London.
Marionette lines (lines between mouth and chin) – Dermal fillers are very effective at treating deep wrinkles such as Marionette lines which can cause the mouth to look downturned and unhappy. Filling these deep lines will result in a smoother and more lifted appearance to this area of the lower face. 
Chin – Reshape and recontour your chin with no pain and no downtime! A non-surgical chin augmentation with chin fillers will help you achieve proportion and natural harmony to your face.
Jawline – Achieve a more defined or angular jawline, or lift loose, sagging skin by opting for our jawline filler treatments. This popular treatment for men and women is recommended for anti-ageing and facial rejuvenation by helping you to sculpt, tighten and lift your jawline to achieve a more flattering and chiselled appearance.  
Ears
Earlobe rejuvenation – Rejuvenate and restore your earlobes' youthful contour with our earlobe filler treatments. Hyaluronic acid fillers are injected into the earlobe area to restore lost volume, smooth-out fine lines and create a youthful look to your ears. The earlobe rejuvenation with hyaluronic acid dermal fillers is a quick, simple procedure that requires no downtime and no invasive surgery!

Hyaluronic acid fillers can also be used to treat the neck and décolleté. 
VIEW DERMAL FILLERS BEFORE AND AFTER GALLERY
Book dermal fillers near me
The Cosmetic Skin Clinic is one of the best clinics for facial aesthetics treatments like dermal fillers in London. To book a dermal fillers appointment please contact our clinics in London and Buckinghamshire on 0203 319 3637! 
How To Find Us – Dermal Filler near me
Our Dermal Filler London clinic is within short walking distance of Oxford Circus, Bond Street and Baker Street tube stations. It is also convenient to reach us via train from the Paddington and Kings Cross St Pancras Train Stations.
Our Dermal Filler Clinic in Buckinghamshire is located in Stoke Poges and it is close to Gerrards Cross – Chiltern Railway, Slough's – First Great Western station. It also has convenient transport links with the M25, M4, M40 and A40 roads, making the clinic very easy to reach from Wembley, Richmond, Kingston upon Thames and the Surrey area. Our Stoke Poges Cosmetic Skin Clinic is also accessible from further afield by being linked up to nearby train stations at Gerrards Cross, Beaconsfield and Slough. It is also conveniently located if you are commuting from nearby areas like Amersham, Ascot, Marlow, Rickmansworth, Sunningdale, Slough, Thame, Uxbridge, Wallingford, Gerrards Cross, Great Missenden, Haddenham, Harrow, Hayes, Wembley, Wendover, Chalfont St Peter, Chesham, Beaconsfield, Chalfont St Giles, Aylesbury, Little Chalfont, Maidenhead, Chinnor, Chorleywood, Cookham, Cowley, High Wycombe, Kingston upon Thames, Weybridge, Hazelmere, Headington, Oxford, Princes Risborough, Richmond, Henley-on-Thames, Watlington, Windsor and Woking.
For more details about our clinic's locations and the best ways to reach us by train, bus, car or by foot, please take a look at our dedicated pages.
Best Dermal Fillers in London at The Cosmetic Skin Clinic
Our most popular dermal filler treatments
From mid-face lifts to jawline and cheek contouring, we explain some of our top dermal filler treatments at The Cosmetic Skin Clinic. 
Non-surgical facelift with dermal fillers
Dermal fillers offer a fantastic non-surgical route to instantly refresh and revitalise the skin without having to resort to invasive procedures like surgical facelifts. This has been highlighted recently by celebrities like Judy Murray, mum to tennis star Andy Murray, who has undergone a non-surgical facelift to target her turkey neck and sagging skin. With a non-surgical facelift, we can generate anti-ageing results in a similar way to surgery by carefully placing dermal fillers into hollow areas that have lost volume, like the under-eye and temple areas for example, or into areas of the face that have started to droop and sag due to a loss of collagen, elastin or fat stores. This enhances and lifts a person's face with minimal intervention and maximum results. 
Key Benefits of Dermal Fillers
Renowned for their instant anti-ageing actions, they bring back volume and hydration to sagging skin while filling in lines, creases and deep-set wrinkles.  
Instant acting – Results are instantly visible by the end of a 30-minute treatment session – dermal fillers can help to smooth fine lines, wrinkles and other signs of ageing, but in a way that is subtle and natural looking.

 

Versatile – Reduce the appearance of fine lines and wrinkles, while restoring volume to a wide range of areas, including the lips, chin, jaw, cheeks, forehead, nose and more. 

 
Your Dermal Filler Consultation
As with all facial aesthetics treatments, the first step when considering dermal fillers is to have a detailed consultation with us. This stage is vital. It allows you to outline areas you want to be targeted and the practitioner can give details of the process, while providing advice and answering your queries.  
Our guiding mantra is to create a look that is youthful yet natural. Whether this is smoothing fine lines, minimising the appearance of scars, defining or enhancing your lips, restoring lost facial volume, increasing hydration to your face or earlobe rejuvenation treatments to minimise fine lines and fill-up sagging earlobes, we will talk you through the process and create a treatment plan that is bespoke to you. 
Cost of Fillers 
Facial fillers treatments at The Cosmetic Skin Clinic start from £555. 
If you want to find out more about dermal fillers or wish to book a consultation for dermal fillers London, please contact our London clinic, call us on 0203 319 3637. 
To book a consultation for dermal fillers near me in Buckinghamshire, please contact our Buckinghamshire clinic on 01753 646 660. 
Further information on Dermal Filler treatments
To discover more about the effectiveness and medical safety of dermal fillers, explore our dedicated reference page on peer-reviewed dermal filler medical journals, studies and reports. 
Why choose The Cosmetic Skin Clinic for your Dermal Filler London treatment?
At The Cosmetic Skin Clinic, our reputation for dermal filler treatments is unrivalled. As one of the most experienced dermal filler treatment practitioners in the UK and Europe, we are known for our reputation for outstanding results. On the independent Trustpilot website, we have a 5-Star average rating from hundreds of reviews, with 95% of our patients rating us excellent. 
This reputation stems from the acclaimed ethos and expertise of our clinic's founder, Dr Tracy Mountford.
Dr Mountford has been consistently named as one of the top filler doctors in the UK by Tatler magazine in their widely respected Cosmetic Surgery Guide. She has been performing dermal fillers at her clinics for over 27 years, supported by an expertly trained team of senior nurses and medical doctors. Her training and one-to-one mentoring ensures that each member of this team meets exacting standards. So you can be sure that with every dermal filler treatment you have with us, you will be treated by experienced professionals who are known to be the best in the business.