Dermal Fillers in London & Buckinghamshire
Since the advent of FDA approved Dermal Fillers there has never been a more exciting time to introduce patients to the multiple benefits of dermal fillers.
No longer a simple tool for smoothing lines, the sophisticated and safe FDA approved fillers of today allow the skilful practitioner to offer a complete portfolio of treatment options for the patient. These range from the finest filler to smooth superficial lines to the more robust which provide superior lift and sculpting possibilities.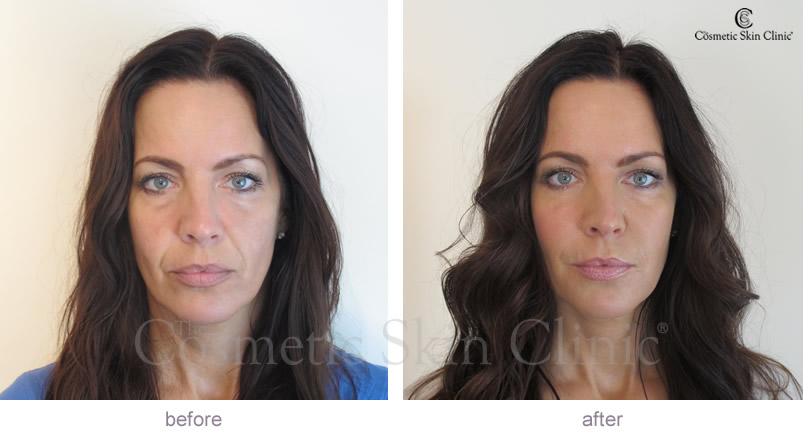 *
At The Cosmetic Skin Clinic we offer a wide range of gold standard dermal fillers that are FDA approved and clinically researched for their safety and efficacy such as Restylane®, Juvederm® and Emervel® which enable our highly skilled and qualified cosmetic practitioners to make the most appropriate choice for your needs.
---
Schedule your consultation today
---
What are dermal fillers and what can they be used for?
Dermal fillers are clear gels which are injected under the skin and are one of the most popular treatments for filling and smoothing fine lines and wrinkles. Skinboosters can be used to increase hydration to the skin, particularly the face, neck, hands and décolletage. They can smooth fine lines on the forehead and the lower face. Moderate lines occurring in the mouth to chin area and the nose to lip corners can be softened. Cheeks and chins can be remodelled and given more definition. Scars can be minimised, lips can be defined or enhanced, subtly and naturally.
Why are these treatments so popular?
Perhaps the appeal of these treatments is in their high safety profile and predictable results, but perhaps it is their immediate effect that makes dermal filler treatments so popular these days. The procedure itself is more comfortable now than ever before and carries very little or no downtime. Nearly all dermal fillers these days include a local anaesthetic pain relief for a more comfortable experience. There is no need for allergy testing as the fillers use hyaluronic acid which is a naturally occurring component of the skin. When injected into the skin hyaluronic acid volumises, softens and hydrates the skin. It also aids collagen and elastin organisation underneath the skin which gives the skin a more youthful texture.
The benefits of dermal fillers
Immediate results / resume your normal duties immediately after treatment
Tailored to your individual needs with an enhanced natural look for a more refreshed version of you
Safe / non-invasive / non-permanent / will naturally break down over time
Little or no down time
Call now to book your consultation with one of our highly skilled medical practitioners 01753 646 660