At The Cosmetic Skin Clinic, Dr Tracy Mountford is a pioneer of the 'less is more' approach to non-surgical cosmetic enhancement.
Our n
atural
non
–
surgical
 facelift
The aim is for natural rejuvenation – as if your face has simply been airbrushed. Our practitioners are trained in the highly technical MD Codes™approach – an advanced method of facial enhancement through precision injection points that treat the cause of the issue as well as the problem area. 
We strategically plan cosmetic treatments that will have an impact yet remain undetectable. 
Our ethos is to tailor make a treatment plan to restore the three-dimensional contour of your face with naturally understated, long-lasting results. We find best results are obtained by customising a clever combination of treatments such as: Botox®, dermal fillers, collagen stimulators, Ultherapy®,  Thermage® and Silhouette Soft® thread lifting that all work in synergy. 
Non-Surgical Facelift Treatments
Non-surgical face lifts give your face a tighter and more youthful appearance. As we age, our faces lose supportive proteins like collagen and elastin, as well as fat tissues. Lines and wrinkles can form, as well as hollowed out areas and sagging skin. With a non invasive facelift, we can restore the lost volume while tightening up loose skin that has sagged under the effects of gravity. The result is lifted and refreshed skin with a tighter and smoother texture.  
What facial areas can we treat with a non surgical face lift?
In the upper face, we can lose volume around our temples, creating a 'caved in' look. Crow's feet and forehead wrinkles can also appear. In the mid-face area, cheek hollowing is a key cause for concern, while in our lower face, sagging skin across our chins and jawlines is often the biggest issue. Thankfully, we can address all these issues with our holistic non surgical face lift: 
Cheeks: restore volume and definition to the cheeks

 

Jowls: restore skin elasticity and volume to minimise the appearance of jowls
Crow's feet: smooth and fill crows' feet lines around the eyes
Forehead wrinkles: reduce the appearance of frown lines and forehead lines
Temple hollowing: replenish volume and support to the temples
Sagging eyelids and brows: tighten skin and lift up sagging brows and eyelids
Chin: lift and volumise drooping chins that have lost their contoured shape
Mouth and lips: fill mouth lines and restore volume and hydration to the lips
Nose-to-mouth lines: reduce the appearance of nasolabial fold lines
If you are a patient who wants to address all of these issues, then our comprehensive 8-point facelift is an ideal solution. Contact our clinics in London and Buckinghamshire to book a consultation!
Best Non-surgical Facelift Treatments
The 8 point facelift is the world's best non-invasive facelift as it addresses all of the problem areas that can occur on a person's face. See how it has transformed the appearance of our patients in our non-surgical facelift before and after gallery.  
Non surgical facelift Before and After
Dermal fillers are non-surgical facial aesthetic treatments can instantly restore volume to hollowed out areas of our skin. They can be used across the face in the form of a non-surgical facelift to both fill out fine lines and wrinkles while bringing back skin strength and firmness through their collagen-stimulating properties. When combined with anti-wrinkle injections, they produce natural results that can often visually surpass surgical techniques, without any surgery or downtime. Find our more about non surgical face lift with fillers from our comprehensive dermal fillers advice centre page.
Non invasive Facelift with Dermal Fillers Before and After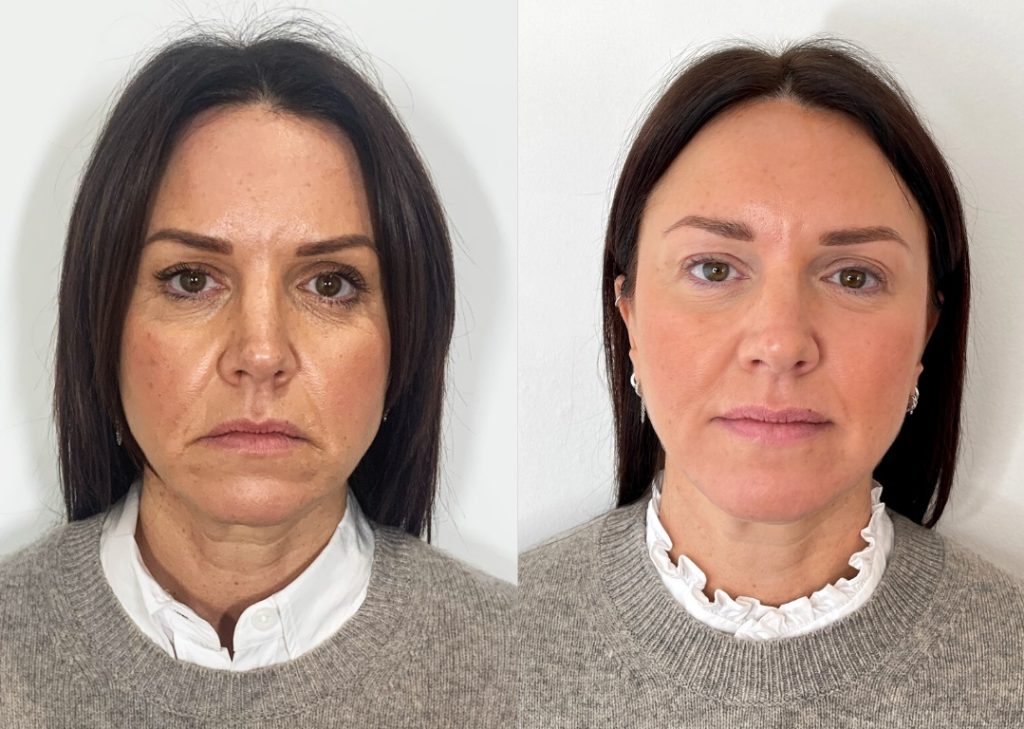 To see more amazing before and after results from our patients, please visit our dedicated dermal fillers non surgical face lift gallery page. Contact our clinics to book a dermal fillers consultation!
Non-surgical Facelift with Sculptra
Sculptra is a clinically proven injectable treatment that is also known as a 'liquid facelift.' It stimulates natural collagen production in our faces using its intense formulation of poly-L-lactic acid (or PLA) which nourishes the skin's dermis to reboot natural collagen production. The result is improved elasticity and smoothness over time.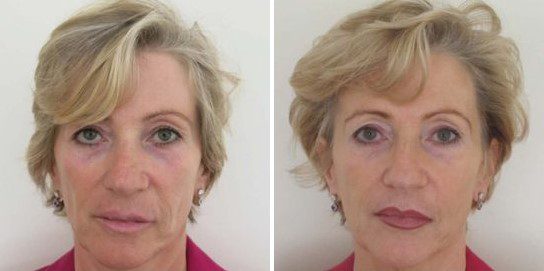 Explore our dedicated Sculptra non surgical facelift gallery page to see more amazing before and after results. Book a consultation with one of our expert Sculptra practitioners at our clinics in London and Bucks!
Ultrasound and Radiofrequency Non-Surgical Face lifts
Ultrasound and radiofrequency treatments can be used on the face to reboot our skin's own natural collagen production. Ultherapy is one of the leading ultrasound treatments in this respect and is a popular choice when treating sagging skin and lifting brows. We also offer Thermage FLX, a radiofrequency skin tightening treatment that is known as a 'non-surgical facelift' at our Buckinghamshire clinic. Tightens and contours the skin across your face by encouraging collagen renewal inside deep layers of the skin. 
Morpheus8 treatments are also available at both our clinics in London and Buckinghamshire. Morpheus8 is a safe and effective non surgical radiofrequency based treatment that lifts, contours and tightens the face promoting collagen production and delivering game-changing results for your skin. Find out more about this treatment on our dedicated Morpheus8 page.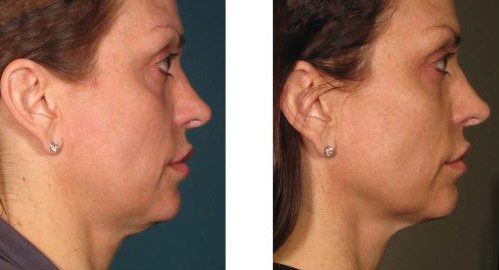 See more Ultherapy non surgical facelift before and after photos on our dedicated gallery page.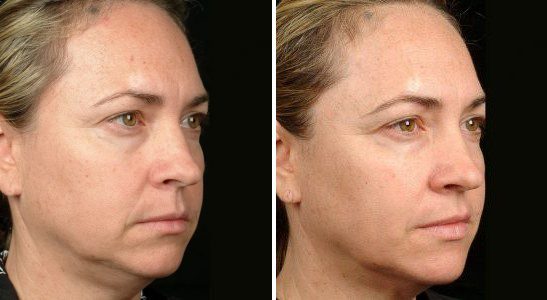 Visit our dedicated Thermage non surgical facelift gallery page to see more amazing before and after results from our patients.
To find out more about our facial aesthetics treatments or to book a Morpheus8 or Ultherapy consultation, please contact our expert practitioners at our clinics in London and Buckinghamshire!
Non-Surgical Threadlifting Facelift
Silhouette Soft Threading is a non-invasive thread lifting technique that lifts sagging skin across the face without any surgical incisions. It is a great technique to target deep lines and wrinkles while giving better definition to the jawline.  
Judy Murray, mother of tennis superstar Andy Murray has recently put this treatment in the spotlight after having a non-surgical facelift herself.
To find out more about our non invasive facelift treatments and to book an appointment, please contact our clinics in London and Buckinghamshire on 0203 319 3637!
How To Find Us – Non surgical facelift near me
The Cosmetic Skin Clinic in London is within short walking distance of Oxford Circus, Bond Street and Baker Street tube stations. Regular trains are also available from the Paddington and Kings Cross St Pancras Train Stations.
The Cosmetic Skin Clinic in Buckinghamshire is situated in Stoke Poges and it is close to Gerrards Cross Chiltern Railway, Slough's – First Great Western station. It also has transport links with the M25, M4, M40 and A40 roads, making the clinic very convenient to reach from Wallingford, Wexham, Seer Green, Stokenchurch, Thame, Bracknell, Uxbridge, Windsor, Iver, St Albans, Rickmansworth, Sunningdale, Hazelmere, Headington, Beaconsfield, Farnborough, Farnham Royal, Farnham Common, Chalfont, Aylesbury, Chesham, Chinnor, Chorleywood, High Wycombe, Burnham, Maidenhead, Marlow, Princes Risborough, Wendover, Weybridge, Cookham, Cowley, Great Missenden, Haddenham, Harrow, Hayes, Richmond, Kingston upon Thames, Amersham, Ascot, Henley-on-Thames, Woking, Watlington, Oxford and the Surrey area.
For more details about our clinic's locations and the best ways to reach us by train, bus, car or by foot, please take a look at our dedicated pages.