Silhouette Soft Thread lift: Refine, lift and beautify your skin with this 60-min skin repositioning procedure
Collagen is a natural protein that keeps your skin firmed, toned and youthful. As you get older, collagen loses strength and its ability to stand up to the effects of gravity that pull the skin downward. Fat under the chin and lower cheeks results in jowls. Silhouette Soft stimulates type 1 collagen which is the youthful, elastic collagen we all want.
Silhouette Soft is an innovative technology with the unique double effect of lifting and regenerating facial skin to give gradual and natural results.
The thread lift treatment effects on your skin are immediate but improve over 12 weeks
You will achieve:
A repositioning effect: as soon as treatment is carried out, your medical practitioner is able to redefine the area treated by compressing and lifting the skin tissue thanks to the bidirectional and re-absorbable cones.
A regenerative effect: over the next 18 months, the poly-L-lactic acid suture thread will be naturally absorbed by your skin. The acid is used in many (FDA) approved therapeutic devices because it's biodegradable and fully compatible with our body. It will act on your deep skin layer to stimulate the body to produce its own collagen – redefining your facial features while maintaining volume.
Silhouette Soft Thread Lift Treatment Areas
Facial Contouring: Your facial contour is redefined, your cheeks look fuller and your skin regains its firmness.
Lower Jaw area: Your facial contour regains a defined shape.
Cheeks and Cheekbones: Your cheeks look fuller, defined and nasolabial folds are diminished.
Eyebrows: Your eyes become more open as the outer edge of your eyebrows are raised.
Neck: The skin on your neck regains its tone, looks and becomes smoother.
Contact our Silhouette Soft Thread Lift experts to book a consultation at our clinics in London, Buckinghamshire and Bournemouth.
Thread Lift Benefits
Double effect on your skin. This treatment lifts and regenerates your facial skin achieving gradual and natural results.
Stimulates natural collagen production. Improves wrinkles, gives you an overall smoother appearance and a youthful looking skin.
Quick recovery, immediate and long-lasting results.
Silhouette Soft Thread Lift Results
With Silhouette Soft Thread Lifting there is an immediate but natural lift effect in addition to a progressive regenerative volumising action over 18 months. See the results achieved for our beautiful patient and explore our thread lift before and after Gallery by clicking the "View Gallery" button below.
Silhouette Facelift Before and After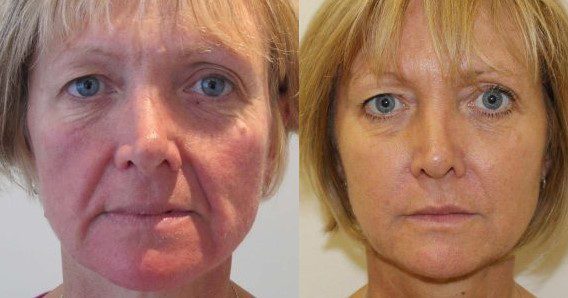 Silhouette Soft Thread Lift is available at our London, Buckinghamshire and Bournemouth clinics. Book a consultation with us today to find out more about this quick and effective skin tightening treatment. Fill in our online enquiry form or give us a call today on 0333 920 8783.