Best procedures for neck tightening and lifting and how to achieve a neck lift without surgery.
Botox for turkey neck
Botulinum toxin injections are an FDA-approved medicine often prescribed by doctors in the UK to treat medical conditions. Botox neck lift works as a neck muscles relaxant, tightening and redefining the neck and jawline for a youthfully contoured profile. Contact our expert practitioners to book a neck Botox consultation.
Non-surgical neck lift with Profhilo
Non invasive neck lift with Profhilo is a great way to treat necks that have a mild lines or sagging. Profhilo uses a unique 100% hyaluronic acid formulation that is slightly different to standard hyaluronic acid dermal filler treatments as it does not add volume to the areas treated. What it does instead is work to encourage the production of 4 different types of collagen and elastin whilst increasing the skin hydration and moisture levels. When Profhilo is strategically placed across areas of skin laxity on the neck, this helps to restore structure and smoothness to the skin on the neck and can give the impression of a subtle lift and tighter appearance to the skin. 
Profhilo Neck Before and After – Neck Lift Results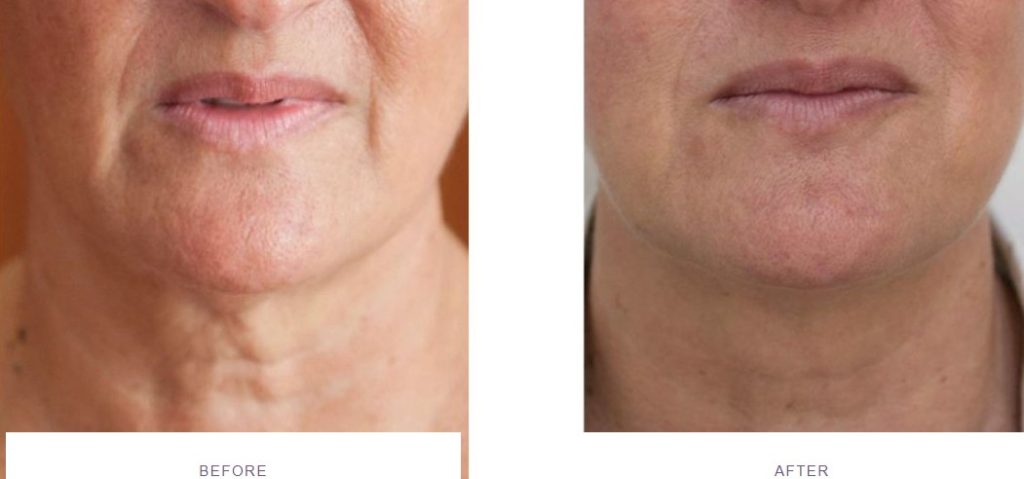 Silhouette Soft® thread lifting
Silhouette Soft® thread lifting has a unique double lifting and regenerating effect. Treatment is carried out using re-absorbable poly-L-lactic acid (or PLA) sutures; your medical practitioner then redefines the area treated by compressing and lifting the sagging skin tissue. Over the next 18-24 months, the biodegradable suture thread will be naturally absorbed by your skin, stimulating the body to produce its own collagen so that skin continues to rejuvenate. 
The number of threads used depends on the areas of the neck to be treated. Sometimes the threads will be inserted from the base of the jaw line and across under the chin. 
Ultherapy® for neck lift 
Ultherapy is the only FDA-cleared, non-invasive treatment for lifting the loose skin on the neck and chin by using tried-and-tested ultrasound technology to gradually strengthen your skin from deep within. Results can be effective because your practitioner can ensure the ultrasound energy is targeted to precisely where it is needed for a sculpted neckline. 
Ultherapy Before and After Neck Lift Results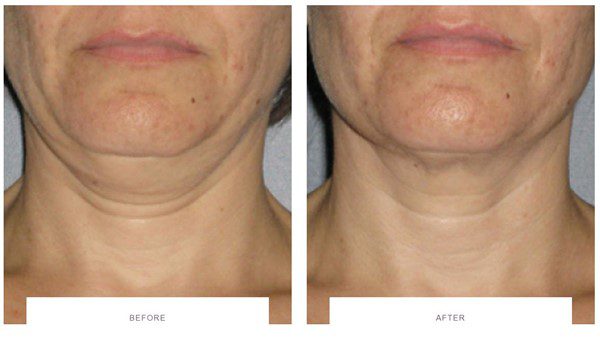 Morpheus8 neck lift
Morpheus8 is an effective and safe non surgical face and neck lift treatment that combines radiofrequency technology and microneedling to target wrinkles, fine lines and other skin related conditions. This game changing treatment will make you look youthful and refreshed by promoting collagen production from within the underlying dermis layers. Morpheus8 is available at our clinics in London and Bucks. To learn more visit our dedicated treatment page to see some amazing Morpheus8 before and afters and book a consultation with one of our expert practitioners.
Morpheus8 Before and After Neck Lift Results

To find out more about our amazing non surgical neck lift treatments contact our professional team of practitioners and visit us at our clinics in London and Buckinghamshire, today! 
How to Find Us – Non surgical neck lift near me in London and Buckinghamshire
The Cosmetic Skin Clinic in London, near Harley Street
Our London clinic is located near to Oxford Circus, Bond Street and Baker Street tube stations. Trains are available from Paddington and Kings Cross St Pancras Stations.
The Cosmetic Skin Clinic in Stoke Poges, Buckinghamshire
Our clinic in Buckinghamshire is close to Gerrards Cross – Chiltern Railway, Slough's – First Great Western station.  M25, M4, M40 or the A40 roads makes our clinic very easy to reach from Farnborough, Ascot, Beaconsfield, Farnborough, Marlow Wembley, Kingston upon Thames, Richmond, and the Surrey area.