Why are we The Botox Experts for you?
The Cosmetic Skin Clinic has 23 years of aesthetic knowledge and experience of creating bespoke yet natural results that help slow down the ageing process. With our Botox cosmetic treatments, you have expert practitioners who have long term experience and proven results. Our CQC-registered, multi-award-winning clinic is well-known for our fresher and more youthful Botox results, having even featured in Tatler's Top Doctors for this.
We embody the uniqueness of each patient and celebrate that with a bespoke approach. .
What to expect from your wrinkle relaxing treatment?
Using a very fine needle, Botox (Botulinum Toxin A) is administered to the treatment area with minimal discomfort over a 20-minute appointment. Due to the pain factor being minimal, there is no need for any anaesthetic. Our expert practitioners will effortlessly target your problem area/s such as forehead lines, frown lines, smoker's lines, neck lines etc. The Botulinum Toxin A will block the nerve signals to the muscles and the wrinkle relaxing effects will take between 2 and 8 days to get to work.
Areas that we can treat with BOTOX® wrinkle relaxing injections include:
Botox before and after results for frown lines also known as 11 lines and nose to mouth lines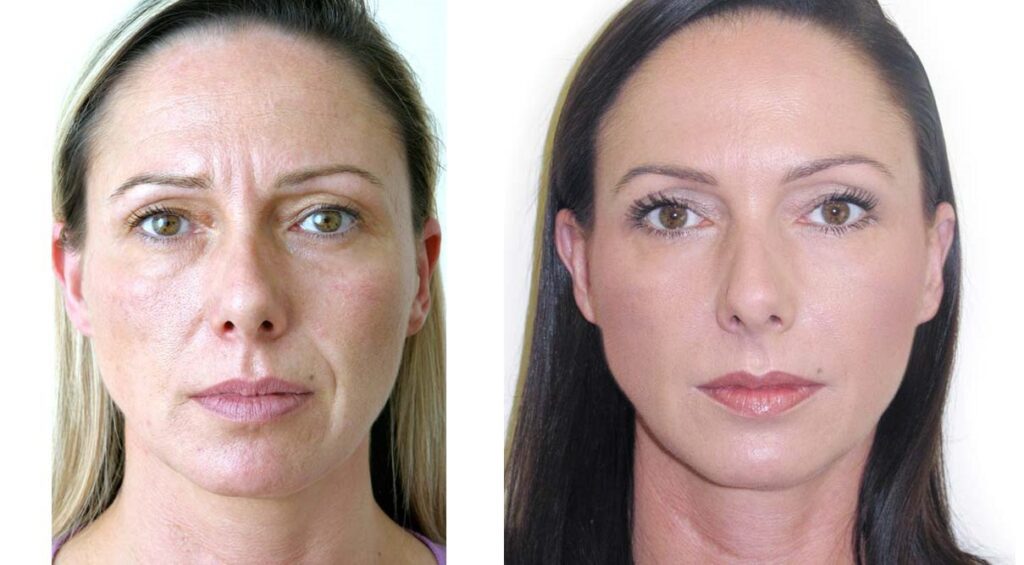 BOTOX® benefits:
Botulinum Toxin A diminishes the deep creases between your eyebrows, or crow's feet and forehead lines
Botox wrinkle relaxing injections reverse a puckered or pointy chin (known as a 'witchy chin') by relaxing the muscle that causes the puckering. It creates a smooth, dimple-free lower face.
Tightens and redefines the neck and jawline for an elegant and more youthful look through a 'Nefertiti Neck Lift'. Neck wrinkle relaxing treatment is a simple, and usually highly effective procedure without any downtime.
Wrinkle relaxing injections treat teeth grinding by relaxing the jaw muscles and reducing tension on the jaw joint.
Botulinum Toxin A treats gummy smiles and downturned corners of your mouth.
Treats excessive sweating (known as 'Hyperhidrosis'). Injecting Botulinum Toxin A into sweat glands in the armpits, hands or feet has had safe, dramatic and life-changing results for many of our patients.
Explore more information, pre-treatment care, tips on choosing the right BOTOX® practitioner and FAQs on our BOTOX® advice centre. For the best BOTOX wrinkle relaxing treatment in London and Buckinghamshire, please get in touch with our expert practitioners to book a Botox consultation. Botox price at The Cosmetic Skin Clinic in London and Buckinghamshire starts from £250.
How to Find us – BOTOX Near me in London and Buckinghamshire
The Cosmetic Skin Clinic in London is conveniently near Oxford Circus, Bond Street and Baker Street tube stations. You can also reach us by train with a quick ride from Paddington or Kings Cross St Pancras Train Stations.
The Cosmetic Skin Clinic in Buckinghamshire is located in Stoke Poges and it is close to Gerrards Cross (Chiltern Railway), Slough's (First Great Western) station, Marlow, Beaconsfield, Windsor and other surrounding areas in Bucks.