By Dr. TRACY MOUNTFORD, MBBS MBCAM
Sadly, as we age, we tend to lose volume around our mouth, especially in the lower corners. This creates the appearance of a downturned mouth. These drooping mouth corners can age the face, giving some patients a perpetual look of sadness or anger even if they do not feel this way. We explain the cause, best non-surgical treatment option, how it works and more.
What is a downturned mouth?
The corner of the mouth is the point where our upper and lower lips meet. Lines or indents in this area are also known as oral commissures or commonly referred to as a downturned mouth.
What causes a downturned mouth or droopy mouth corners?
The causes of a downturned mouth can be a combination of ageing factors these include:
cheek volume loss
the natural gravitational pull
facial muscle expressions
general shrinkage of the jaw area
the mouth and jaw have DAO (depressor angulis oris) muscles running from the corner of our lips down to the chin. Repetitive or overusing facial muscle action such as frowning can cause lead to an appearance of permanent drooping mouth corners or a downturned mouth look.
collagen loss associated with ageing. We lose collagen and elastin which are the proteins or the scaffolding for plump, firm, and youthful skin. This causes sagging or skin laxity and affects the lower face – from mouths corners to the jaw and neck.
Is a downturned mouth the same as marionette lines?
Downturned mouth or downward smile is often associated with marionette lines however they are not exactly the same.
Marionette lines extend from the corner of the mouth downwards to your jaw, creating lines that you see on marionette puppets. They can be connected as they are an extension of smile and frown lines because of the DAO muscle. Marionette lines can also create a sad and tired appearance.
If you have downturned mouth corners that connect to marionette lines or just have the beginnings of a downturned mouth but no marionette lines yet, our practitioners can expertly treat the concern as a current and preventative measure.
If you have marionette lines, see our dedicated page for the best solution to treating them here.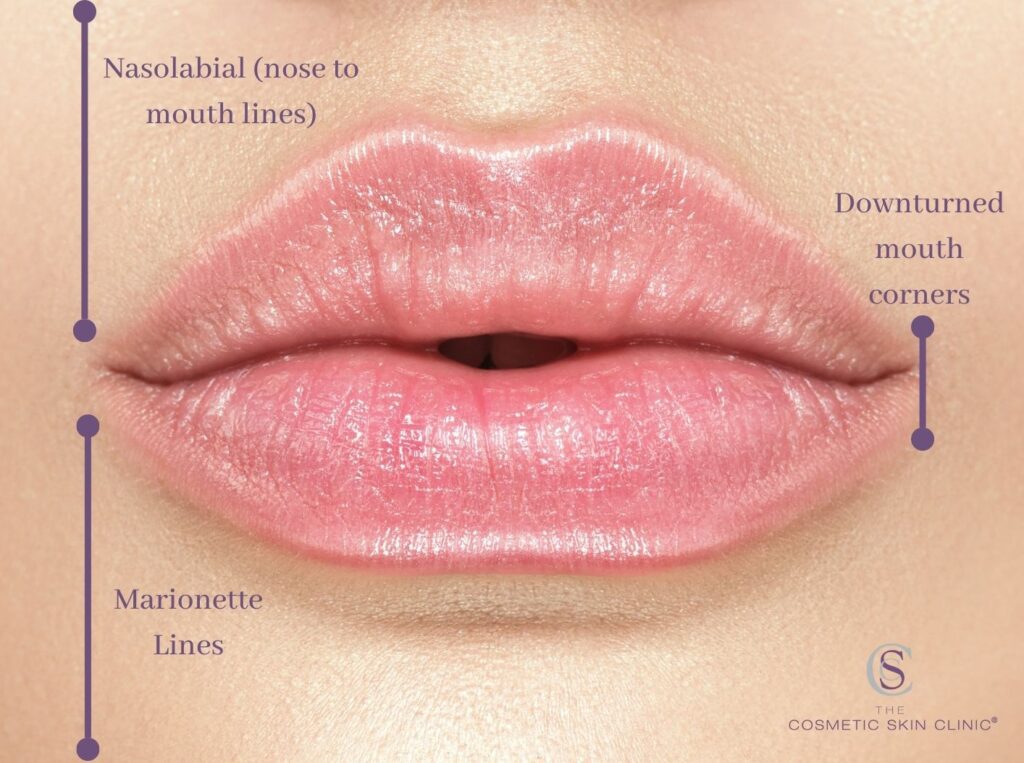 What are the treatment options for a downturned mouth?
With so many possible factors at play, we normally recommend a combination of treatments to lift the mouth corners back up. This is part of our bespoke approach.  We would consider a clever placement of Botox and Dermal Filler to address volume loss and the wrinkles and lines and overactive muscle stimulation that is causing the downturned mouth appearance.
Book a consultation at our clinics in London and Buckinghamshire
How does it work?
On separate treatment days, Filler will be injected underneath the mouth corners to lift and create structural support for the area. Dermal filler will be placed around the mouth and chin to add further support. 
Our practitioner will then look at the surround areas and strategically inject wrinkle relaxing injections to stop to the muscle from contracting and causing this problem to get worse. By relaxing the muscle there will be less contraction and pulling of the muscle and skin; this creates a smoother, elevated mouth corner and an ideally happier appearance.
When will I see results?
Botox results for downward smile normally take 5-7 days to work and see results. Dermal filler results can be seen immediately.  For the best results we do suggest allowing two weeks for the treatment to settle.
How long will they last?
Dermal Fillers break down over time but can last up to 9 to 18 months. Botox results can last up to 4 to 6 months.
Why do others choose this treatment?
The main two reasons this combination treatment is popular are:
It produces some excellent uplifted mouth corner results and
Is the perfect alternative for those who do not want to undergo surgery. This treatment is a quick yet safe fix for downturned mouth corners.
Treating a downturned mouth at The Cosmetic Skin Clinic
For Dermal Filler and Botox treatments at The Cosmetic Skin Clinic, you can be reassured that you will receive the highest standard of care and amazing results.
Know you can trust your downturned mouth corners with The Cosmetic Skin Clinic's experienced and medically qualified practitioners. With 23 years heritage, we have a strong foundation of aesthetic knowledge and experience. With safety as our top priority, our team is committed to providing impeccable service and results. You will be guided through your personalised journey by our experts to achieve the best results.
Transform your downturned mouth with our expert practitioners. Book your consultation here or give our London / Stoke Poges, Buckinghamshire clinic a call on 0333 920 1650.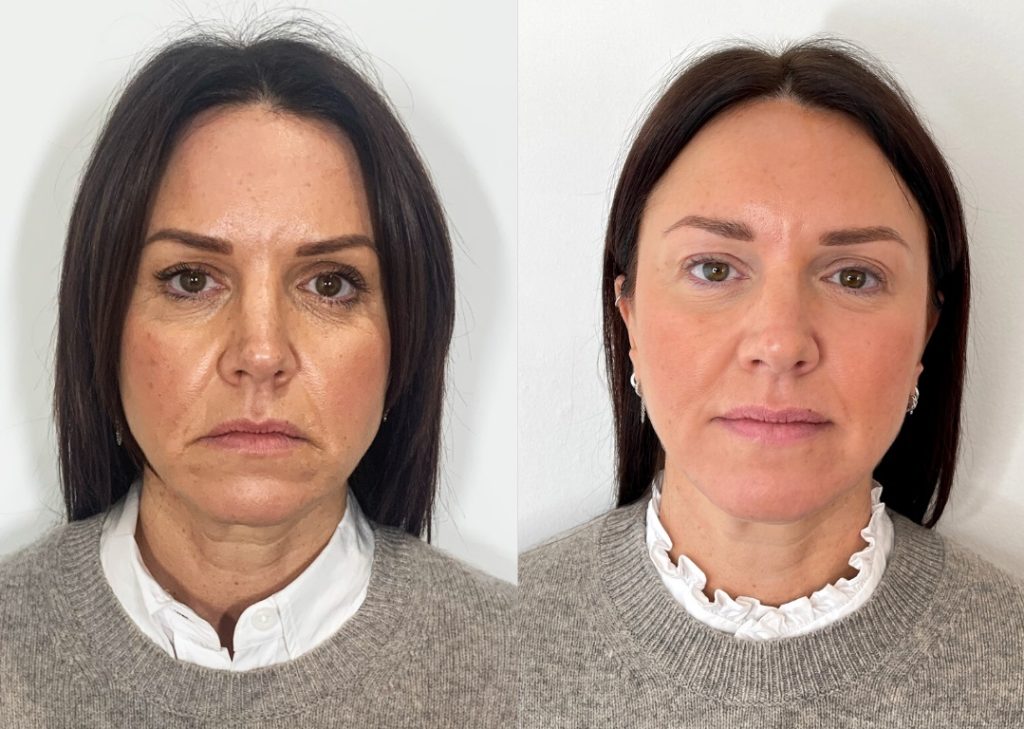 Downturned mouth treatment near me – how to find us
Both our London clinic and Stoke Poges clinic offer expert Dermal Filler and Botox treatments.
Our London clinic can be found at Devonshire Place, London, W1G 6HP
Our Stoke Poges clinic can be found at 84 Rogers Lane, Stoke Poges, SL2 4LF
You can reach our London clinic from the following surrounding boroughs: South Kensington, Hyde Park, Islington, Kensington, Kings Road, Primrose Hill, Regents Park, Victoria, West Brompton, Belgravia, Battersea, Hampstead, Soho, Chelsea, Earls Court, Bayswater, Fitzrovia, Fulham, Green Park,  St Johns Wood, Highgate, Holland Park, Knightsbridge, Marylebone, Mayfair, Notting Hill, Westminster and West End.
The nearest tube stations to our London clinic.
You can reach our Stoke Poges clinic from the following surrounding boroughs: Marlow, Oxford, Princes Risborough, Slough, Thame, Uxbridge, Kingston upon Thames, Little Chalfont, Maidenhead, Wendover, Aylesbury, Beaconsfield, Weybridge, Great Missenden, Chalfont St Peter, Chesham, Chinnor,  Haddenham, Harrow, Wallingford, Watlington, Wembley, Chorleywood, Henley-on-Thames, Farnborough, High Wycombe, Hayes, Windsor, Cookham, Hazelmere, Amersham, Richmond, Cowley, Gerrards Cross, Rickmansworth, Sunningdale, Ascot, Chalfont St Giles, Headington and Woking.