Lift and improve your skin elasticity with our minimally-invasive facial aesthetic treatments that require no downtime.
Our skin tightening treatments are some of the best in the industry, designed to lift and refresh sagging skin across the face and the body. 
Many factors contribute to the formation of loose or sagging skin, but ageing is one of the main ones. As we age, our skin loses vital structural components that keep it taut, firm and youthful. 
Our supportive collagen and elastin stores gradually degrade over time, and we lose bone and fat in our face, which can cause our skin to droop and sag. Other factors like repetitive facial expressions, smoking, weight loss, sun damage and pregnancy also contribute to loose and prematurely aged skin.
Our Lifting and Tightening Facial Aesthetic Treatments
Treatments at The Cosmetic Skin Clinic have been designed to target these ageing processes by instantly tightening and lifting the skin without any surgery or downtime. We treat a complete range of body areas so that patients can enhance their appearance in a holistic way. One of the most common areas we treat is the lower face, upper eye and jawline area, which suffer most from the effects of fat loss and gravity. We also treat the stomach, neck and arms with a range of different treatments, from radiofrequency technologies and ultrasound procedures to skin tightening injectables like Profhilo. 
What areas can be treated with Skin Tightening Treatments?
The following areas of the face and body can be treated with our skin tightening procedures:
Face

Jowls

Jawline

Cheeks

Neck

Upper Arms

Stomach

Under-eye bags

Upper eye area
Some of the most popular areas of treatment are detailed below:
Face Tightening for Loose Skin
Ageing, weight loss and weight gain can cause our skin to stretch and sag on the face. We lose supportive structures like collagen and elastin as we age, along with fat and bone. This can make our skin look less firm and plump. Injectable treatments can be applied to bring back volume while advanced skin tightening technologies can be used to stimulate collagen and elastin production in the skin's deep layers. 
Sagging necks
Sagging necks can form as a natural part of the ageing process. The issue can also be worsened by factors like weight change, genetics, sun exposure and gravity, which can all affect the severity of loose and sagging skin around the neck. This skin can be tightened with a combination of injectable and advanced technological treatments. 
Jowls
Jowls are the sagging pockets of skin that form around the lower jawline. Ageing is a primary cause, as our skin loses fat, bone and supportive proteins over time, causing the skin in this area to droop. Jowls can be tightened with a range of treatments to firm up the sagging skin and restore structure to the jawline. 
Expert-led Facial Aesthetics Treatments, Exceptional Results
At The Cosmetic Skin Clinic, we offer the most advanced skin tightening procedures available to help our patients achieve great results; take a look at the amazing before and after results that some of our patients have achieved following our skin tightening treatments with Ultherapy and Thermage. 
Ultherapy Skin Tightening Treatment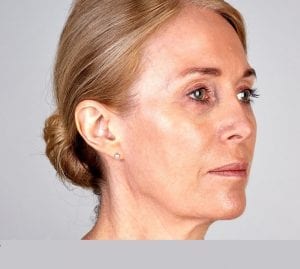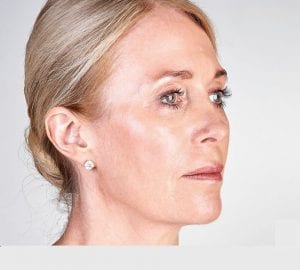 Thermage Skin Tightening Treatment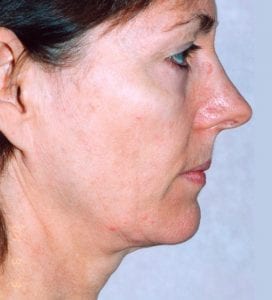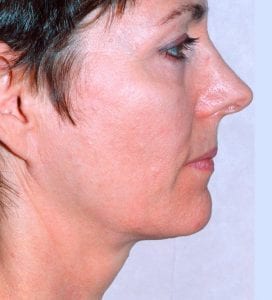 We are a multi-award-winning clinic with over 25 years' experience in tightening and lifting the skin.  95% of our customers have rated our cosmetic services as 'Excellent' on the Trustpilot website, and our expert clinicians have been meticulously trained by our founder and director Dr Tracy Mountford, who is known throughout the industry for her results-driven expertise.  
Book a consultation with us, and our dedicated practitioners will work with you to come up with a skin-tightening treatment plan. We treat thousands of patients every year with a variety of treatments to help them lift and firm their skin with longer-lasting results. 
Call our clinics in London and Buckinghamshire to book an appointment!