Did you know, the skin around our eyes is six times thinner than other areas on our face?
Cause of sagging and hollow eye areas
As we age, we lose supportive collagen and elastin proteins in our under-eye area, resulting in the hollowing of the skin and the formation of shadows, which can make our eyes look dark and tired.
How does Thermage Eyes treat it?
Thermage Eyes corrects these issues using its stimulating radiofrequency energy, which restores plumpness, strength and support across the eye area. Its patented monopolar technology naturally contracts collagen three-dimensionally so it naturally regenerates itself.  
Reduce fine lines and wrinkles around the eyes, including crow's feet, while targeting loose skin on the upper eyelids, as well as under eye bags. The result is improved texture, softness and vitality across the eye area and a marked reduction in signs of ageing and fatigue.  
With our three available packages, we can treat specific eye areas and concerns.
Contact our expert practitioners in London and Buckinghamshire to book a consultation.
Benefits of Thermage Eyes
Thermage Eyes leads the way when it comes to treating dark circles under eyes and under eye bags. Thermage FLX's advanced radiofrequency (RF) technology deeply stimulates collagen and elastin stores to replenish structure, strength and smoothness all around the delicate eye area. The key benefits of an eye tightening treatment with Thermage FLX are: 
With our Thermage FLX Eyes packages, you can expect eye opening revived and youthful results.
Book your Thermage Eyes consultation
Thermage for Eye Bags Treatment – How to Tighten Skin Under Eyes
Our Thermage eye bags treatment is the most popular as it minimises the appearance of bags under the eyes. Eye bags is a common condition as we age because the tissues around our eyes weaken. As our eye muscles lose strength, the fat stores that support our eyes become displaced, moving down from the lower eyelids and creating puffy bags beneath the eye. Fluid can also collect in these bags, adding to their swollen appearance. By utilising Thermage FLX in the eye area, we can improve the texture targeting loose or hooded skin. With the Thermage FLX Eyes treatment, we can stimulate collagen stores to smooth out and rebalance the skin, thereby minimising the appearance of eye bags.  
Treating Dark Circles Under Eyes with Thermage Eyes
Thermage Eyes also treats dark circles. Its radiofrequency energy heats up the underlying connective tissues deep within the skin, causing skin structures to tighten and smooth. This heating process also kickstarts the production of new healthy skin cells in addition to collagen, elastin and hyaluronic acid. These important skin proteins will lift the dark depressions and minimise under-eye hollows, which corrects the formation of shadows that cause dark circles to show through. Thermage FLX will target these dark circles, reducing their appearance, whilst working on collagen and elastin formation so your eyes will look brighter, more lifted and less tired.
Thermage FLX Eye treatment packages at The Cosmetic Skin Clinic
Thermage FLX Eyes treatment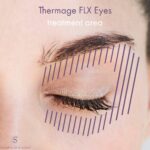 Thermage FLX eyes treatment specifically targets areas around the eye and brow, sticking to around the orbital bone as shown in the above infographic.
Thermage FLX Ultimate Eyes with shield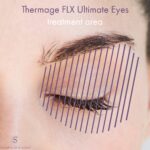 The Cosmetic Skin Clinic Ultimate Eyes package treats around and inside the orbital bone. This means it can be safely used on the eyelid, allowing us to achieve great non-surgical blepharoplasty-like results.
Thermage FLX Ultimate Eye combo with Ultherapy Brow Lift package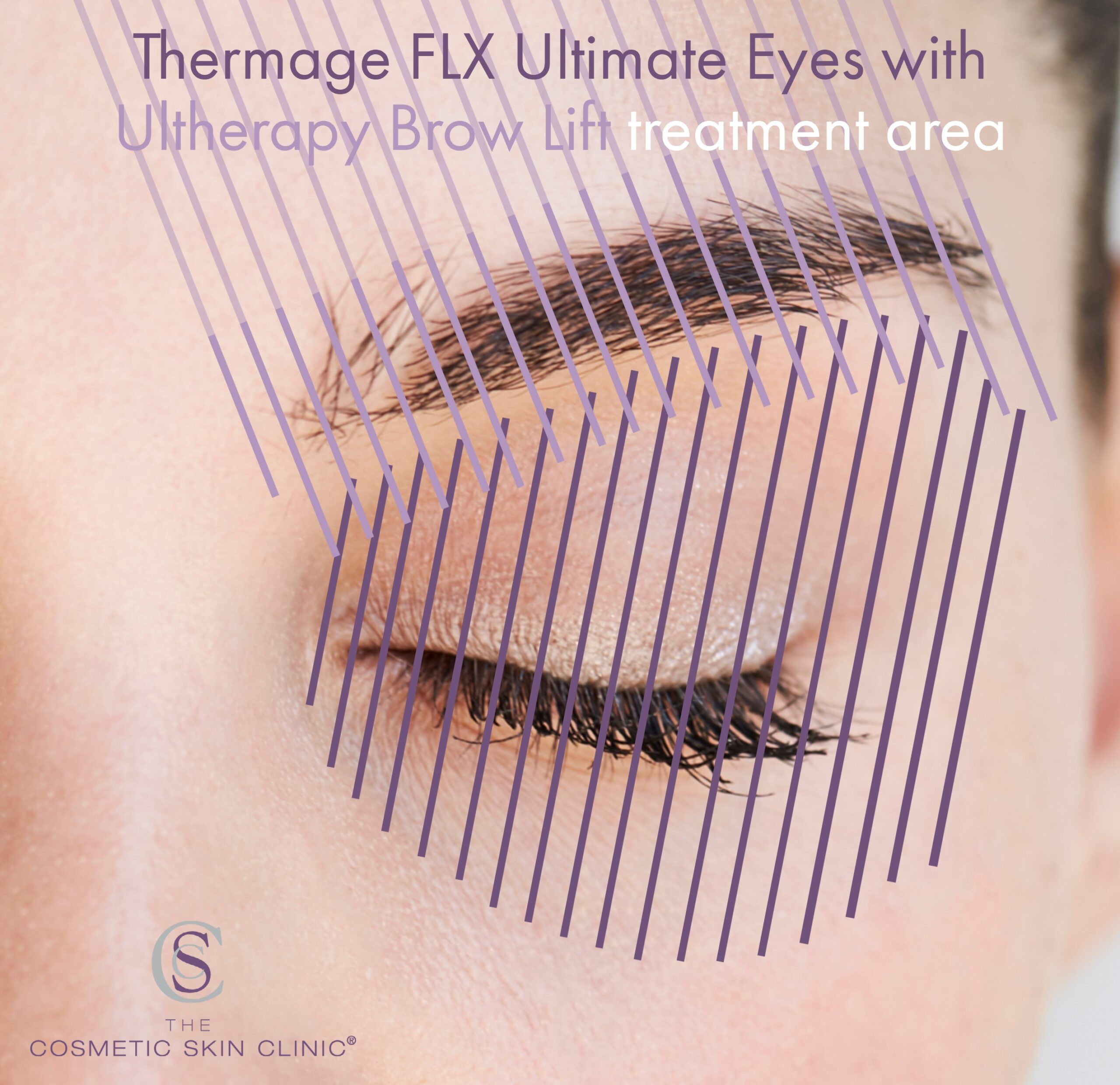 For the Thermage FLX Ultimate Eyes with Ultherapy Brow lift combo package, more surface area is covered with overlap of two impressive laser and ultrasound technologies. While Thermage FLX treats around and inside the orbital bone, Ultherapy reinforces the lift around the orbital bone including above the eyebrow to also give a brow lift. This two-in-one treatment effortlessly brightens and lifts the eye area.
As an award-winning clinic, we were one of the first medical practices to offer the Thermage treatment in the UK. As a leading aesthetics clinic, we are also well known for our outstanding results, with patients giving us an average 5-Star rating on Trustpilot.  
Contact our London and Buckinghamshire clinics directly on 0333 355 8165, or fill out our online enquiry form to arrange a personal consultation.