CoolSculpting Elite is a revolutionary non-surgical system to get rid of stubborn fat fast
Building upon CoolSculpting's leading fat reduction results, CoolSculpting Elite is the latest innovation in fat reduction technology. The system offers the world's most advanced fat freezing applicators which have been expertly re-designed and re-engineered with a more powerful chiller action. Their unique C-shaped design facilitates a perfect fit across the body's varied contours, giving our practitioners precise control to break down stubborn fat stores in much less time. The dual applicators are 18% larger than CoolSculpting's classic applicators, allowing our clinicians to radically boost their fat freezing ability and results in just one single session. Treat more areas of fat at once for maximum efficiency and stand-out fat reduction results:
Clinically proven fat loss (up to 27% fat reduction in one 35-minute session)
Reduce visible fat bulges across the body
Reshape, redefine and resculpt stubborn pockets of fat
Permanent fat removal in targeted areas
Quicker and more efficient fat loss than exercise or diet regimes
Zero downtime and recovery
Easy and painless procedure
Noticeable results within 8 to 12 weeks
Ability to treat multiple areas in one single session thanks to the specialised CoolSculpting Elite dual applicators
What areas can CoolSculpting Elite treat?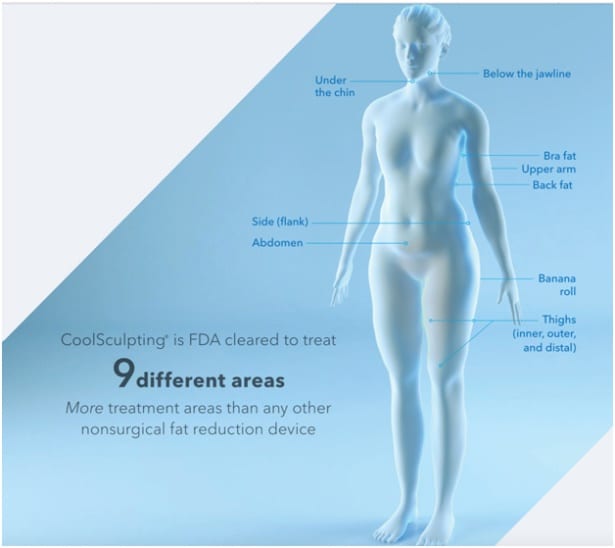 CoolSculpting Elite has been FDA approved to treat 9 different areas of the body. Minimise the appearance of fat and sculpt your look across the following key areas:
Experience amazing fat reduction results as early as four to six weeks post-treatment, with progressive improvement from fourteen to sixteen weeks.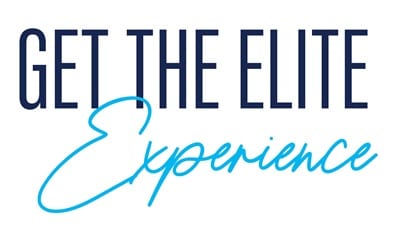 The Benefits of CoolSculpting Elite
CoolSculpting Elite is a safe, non-invasive and clinically proven way to treat and eliminate unwanted bulges with little to no downtime. Using CoolSculpting's leading non-surgical fat reduction procedure, it has been scientifically proven to contour your body by freezing unwanted fat using its uniquely patented cryolipolysis technology.
This leading fat freezing method was developed by body contouring experts at Harvard University to permanently destroy subcutaneous fat cells underneath the skin. It works by crystallising and breaking up fat cells using precise cooling energy. Once the targeted fat has been cooled and broken down with CoolSculpting, it shrivels and dies, and is gone for good. This means that patients can reduce unwanted pockets of fat across their body in a much more targeted and efficient way than standard diet and exercise programmes.
CoolSculpting Elite's contoured dual applicators also give patients the ability to treat multiple areas of fat in one single session. This gives patients the chance to permanently blast and breakdown fat across two areas at once, like the flanks and abdomen, in half the time that it would usually take. This makes it ideal for busy people with hectic schedules who require rapid fat reduction across multiple areas with maximum body sculpting results.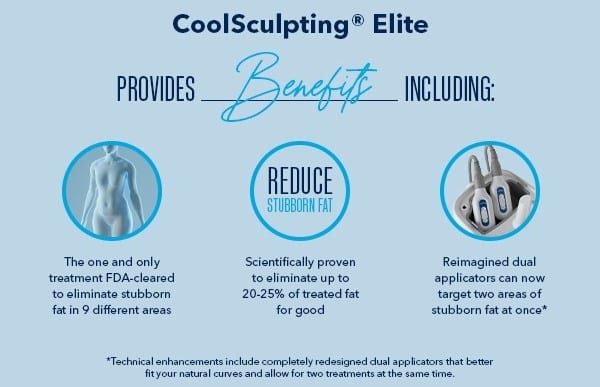 CoolSculpting Elite at the Number 1 CoolSculpting Clinic
The Cosmetic Skin Clinic is the UK's leading body sculpting clinic and has been named the No.1 CoolSculpting clinic in the UK and Europe for the past six consecutive years. We are the first clinic in the UK to offer the state-of-the-art CoolSculpting Elite applicators, and Dr Tracy Mountford, founder and medical director of the clinic, is the only UK doctor on the International Allergan CoolSculpting faculty. So, if you are considering a fat freezing treatment using the CoolSculpting Elite applicators, we are the leading experts to give you the results that you desire. Our 5-Star Trustpilot reviews and our 95% patient satisfaction rating is a testament to our high standards and our dedication to transformative patient results.
CoolSculpting Elite is available now at our London and Buckinghamshire clinics. Book a consultation with us today to find out more about this world-class fat reduction treatment.