CoolSculpting® is a non-invasive fat freezing treatment used to reduce unwanted body fat with little downtime and long-lasting results. 
CoolSculpting can deliver long lasting body fat reduction without the downtime that is otherwise associated with surgical procedures offering similar results. As the world's best fat freezing treatment, it has been performed over 8 million times across the world to date.
CoolSculpting areas
The procedure has been FDA-approved to reduce stubborn fat stores across a diverse range of body areas, detailed below: 
Arms: reduce under arm fat and the appearance of bingo wings
Chin: break down submental fat in the double chin area
Stomach / belly fat: break down fat stores that obscure your abdomen and 'six-pack' muscles
Legs: remove fat across problem-prone areas of your legs, like the banana roll 
Love handles / flanks: redefine and sculpt your love handles by reducing fat stores in this core area
Thighs: remove fat from your outer thighs and inner thighs 
Bra Fat: reduce the appearance of bra roll fat
Back Fat: remove back fat across the upper, mid and lower sections of your back 
Knee fat: trim fat from your knee area
Coolsculpting itself takes anywhere from 35 to 60 minutes depending on the areas being treated and is a comfortable treatment with many patients able to easily check emails, read or even fall asleep during their non-invasive procedure. Discover some of our patients' CoolSculpting treatment results in our fat freezing before and after photo gallery.  
CoolSculpting Fat Freezing Before and After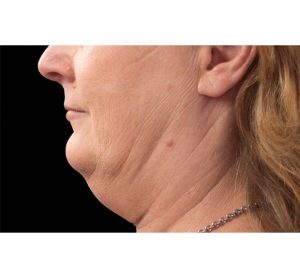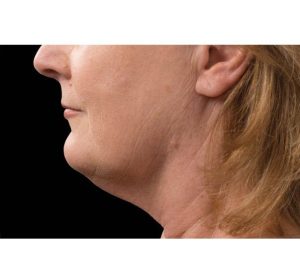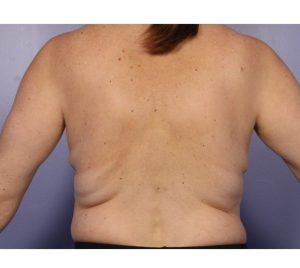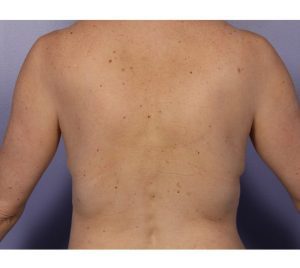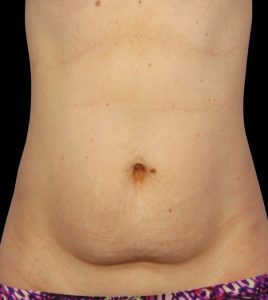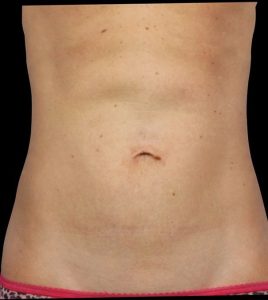 Coolsculpting itself takes anywhere from 35 to 60 minutes depending on the areas being treated and is a comfortable treatment with many patients able to easily check emails, read or even fall asleep during their non-invasive procedure. Our experienced team will help you to determine your suitability for CoolSculpting fat freezing and find out more about what to expect from this treatment. Discover more CoolSculpting treatment results in our fat freezing before and after photo gallery. 
How CoolSculpting Works?
CoolSculpting or cryolipolysis uses the power of cooling to eliminate stubborn fat, the safe, non-surgical way. Here's how CoolSculpting works: 
– Initial consultation: the doctor will assess your problem areas and create a bespoke treatment plan based on the results that you want to achieve.
– Treatment day: Arrive at your consultation wearing comfortable clothing. The practitioner will apply a gel pad to protect your skin and place the applicator which will deliver cooling and vacuum pressure to the targeted area. You may feel a cold and tingling sensation as the process starts but this will subside as the area gets numb. The stubborn fat bulges are targeted, cooled and destroyed. After the procedure, your practitioner will perform an after-treatment massage to encourage blood flow that will further help in the process.
– After the CoolSculpting treatment: Your body will start to naturally eliminate the dead fat cells which will result in an overall reduction of the fat layer.
– 12 Weeks Coolsculpting Follow-up Appointment: At this appointment we will assess your results, your weight will be taken, and you will be able to see your fat freezing before and after treatment results. You may continue to see improvement up to 6-months after your CoolSculpting treatment. 
CoolSculpting Fat Freezing Treatment Benefits
– Fat freezing results will begin to show through as early as four to six weeks after treatment, with progressive improvement up to fourteen to sixteen weeks.
– No recovery and no downtime needed
– CoolSculpting fat freezing can treat multiple areas of your body the same time for quicker and more efficient results.
– CoolSculpting will help smooth, tone and recontour those areas of the body that are resistant to diet and exercise.
– The effects of fat freezing treatments are long lasting as once the cells have been eliminated, they're gone for good. If you continue to stay healthy after your treatment, your results should remain stable.
– Coolsculpting has been rigorously tested through research and has many published peer-reviews and clinical papers that testify to its efficacy and effectiveness.
Lisa Snowdon's CoolSculpting Fat Freezing Experience
TV presenter Lisa Snowdon has undergone her own CoolSculpting treatment and is pleased by the body confidence it has given her:  
"CoolSculpting® has worked for me and it's given me more confidence in my body. My jeans fit me well now, and it really does complement my lifestyle." – Lisa Snowdon  
The UK's Leading CoolSculpting Clinic
The Cosmetic Skin Clinic is the No.1 CoolSculpting clinic in the UK and Europe and has been for the past six consecutive years, having performed over 50,000 treatments. All our practitioners have been to Allergan's 'CoolSculpting University' and Dr Tracy Mountford, founder of the clinic, is the only UK doctor on the International Allergan CoolSculpting faculty. Our five-star reputation from over 500 independent reviews on Trustpilot means that you can be sure you are in expert hands for your fat freezing treatment.
CoolSculpting and weight loss
CoolSculpting is not a treatment to tackle weight or fight obesity and the best results are seen in patients who maintain and retain a fit and healthy lifestyle. However if you struggle with problem areas such as the abdomen, muffin top, back fat/bra fat, inner and outer thigh, saddle bags, or the double chin  CoolSculpting is for you.  
DualSculpting twice as fast
The Cosmetic Skin Clinic in both London and Buckinghamshire also offer DualSculpting™ which means that we can use two machines to perform two CoolSculpting treatments at the very same time. The revolutionary CoolAdvantage™ applicator means our expert CoolSculpting team are now able to dual sculpt two areas in an average of 35 minutes, with increased patient comfort. We also offer our patients the enhanced CoolSculpting Elite dual applicators which improve the cooling distribution of CoolSculpting's cooling energy thanks to their 18% larger surface areas. 
Finding out more
If you would like to find out more about CoolSculpting's proven fat reduction results, explore the detailed academic study by Eric F Bernstein in the Journal of Cosmetic Dermatology.  
Coolsculpting London and Buckinghamshire
Our award-winning CoolSculpting treatments are available at our clinics in both London and Buckinghamshire.   
To book a consultation for CoolSculpting in London today, call our London clinic on 0203 319 3637.   
For CoolSculpting in Buckinghamshire, call our Buckinghamshire clinic on 01753 646 660.   
How To Find Us – CoolSculpting Fat Freezing near me
The Cosmetic Skin Clinic in London is within easy walking distance of Oxford Circus, Bond Street and Baker Street tube stations. It is also quick to reach by train via Paddington and Kings Cross St Pancras Train Stations.
The Cosmetic Skin Clinic in Stoke Poges, Buckinghamshire is near to Gerrards Cross – Chiltern Railway, Slough's – First Great Western station. It also has great transport links via the M25, M4, M40 and A40 roads, making the clinic very easy to reach from Wembley, Richmond, Kingston upon Thames and the Surrey area. The Cosmetic Skin Clinic in Stoke Poges, Bucks is also accessible from further afield by being linked up to nearby train stations at Gerrards Cross, Beaconsfield and Slough. It is also the ideal option if you are commuting from nearby areas like Burnham, Denham, Dorney, Eton, Farnham Royal, Farnham Common, Fulmer, Hedgerley, High Wycombe, Iver, Maidenhead, Marlow, Taplow, Wexham, Windsor and Uxbridge.
For more information about our clinic's locations and the best ways to reach us by train, bus, car or by foot, please take a look at our dedicated pages.