The UK's Leading CoolSculpting Clinic
The Cosmetic Skin Clinic is the No.1 CoolSculpting clinic in the UK and Europe and has been for the past six consecutive years, having performed over 20,000 treatments. All our practitioners have been to Allergan's 'CoolSculpting University' and Dr Tracy Mountford, founder and medical director of the clinic, is the only UK doctor on the International Allergan CoolSculpting faculty. Our five-star reputation from over 400 independent reviews on Trustpilot means that you can be sure you are in expert hands for your fat freezing treatment.
CoolSculpting Treatment Results
Fat freezing results will begin to show through as early as four to six weeks after treatment, with progressive improvement up to fourteen to sixteen weeks. This is due to the body continually flushing out the dead fat cells for up to six months post-treatment. 
Whilst CoolSculpting is not a replacement for a healthy diet and exercise, if you have stubborn areas of fat, this could be the ideal treatment for you, to help smooth, tone and recontour those areas of the body that are resistant to diet and exercise. The effects of fat freezing treatments are long lasting as once the cells have been eliminated, they're gone for good. If you continue to stay healthy after your treatment, your results should remain stable.  
CoolSculpting and weight loss
CoolSculpting is not a treatment to tackle weight or fight obesity and the best results are seen in patients who maintain and retain a fit and healthy lifestyle, but struggle with problem areas mentioned previously such as the abdomen, muffin top, back fat/bra fat, inner and outer thigh and even the double chin. If you would like to learn more about CoolSculpting under chin treatments, please take a look at our blog where we discuss more about this condition and share the journey of one of our patients who tried this procedure. We also have a dedicated blog on how to get rid of back fat with CoolSculpting. 
Cool
s
culpting in London and Buckinghamshire
Our award-winning CoolSculpting treatments are available at our clinics in both London and Buckinghamshire. 
To book a complimentary consultation for CoolSculpting in London today, call our London clinic on 0203 319 3637. 
For CoolSculpting in Buckinghamshire, call our Buckinghamshire clinic on 01753 646 660. 
Our experienced team will help you to determine your suitability and find out more about what to expect from this treatment. See previous patient's results in our CoolSculpting before and after photo gallery and check out our informative videos and FAQs below. 
Sarah Michelle Gellar & CoolSculpting
As of September 2020, the treatment is being spearheaded by the iconic actress and producer Sarah Michelle Gellar, who recently discovered the exceptional benefits of the treatment by using it herself. Her CoolSculpting® journey has been documented in an article in The Express.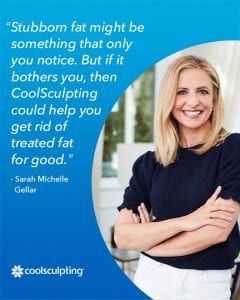 Finding out more
If you would like to find out more about CoolSculpting's proven fat reduction results, explore the detailed academic study by Eric F Bernstein in the Journal of Cosmetic Dermatology.