TATLER 
February 2023
The Cosmetic Skin Clinic's individual bespoke approach and highly esteemed team of expert practitioners have created a loyal patient following. Tatler explores our reputation for being trailblazers with our ground-breaking treatments, "extraordinary skill, attention to detail and empathy".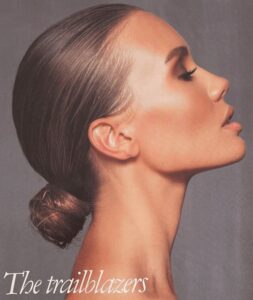 Deep dive into our award-winning clinic 
The Cosmetic Skin Clinic are the frontrunners in the non-surgical medical aesthetic industry. How do we do it? "The clinic's practice of meticulously matchmaking each patient with their practitioner sets it apart from the rest of the industry."  We truly understand the importance of firstly building a positive connection that harbours a relationship of trust with our patients. This is "essential to achieving the transformative results patients are looking for." 
"The Cosmetic Skin Clinic has always been a trailblazer, introducing ground-breaking treatments and technologies, many of which are now the industry standard. Renowned for extraordinary skill, attention to detail and empathy, the team knows that the initial foray into cosmetic treatment can be daunting, so they handhold patients through every step (which accounts for the loyal global clientele)." 
What is The Cosmetic Skin Clinic's strategy or method?
To ensure the best possible outcome, The Cosmetic Skin Clinic focus on these three pillars: restoring, maintaining and enhancing. 
An everyday treatment strategy could start with for instance, "dermal fillers to provide support and structure, replacing the skin's natural supply of hyaluronic acid, which diminishes with age." To elevate and heighten the results to "further strengthen the canvas of the skin, they may utilise the combination of Ultherapy or Morpheus8 or the signature Triple-Layer Lift." 
Why are we known as the go-to destination of body transformation?
Our practitioners have "all the latest technologies at their disposal" so we cleverly "combine bespoke state-of-the-art treatments to reduce fat, build muscle and tighten the skin." 
The Cosmetic Skin Clinic have worked hard to "set the standard for body contouring" as they have rightfully earned the title of being the "number one clinic for CoolSculpting". We don't stay in the past; we work pushing forward and constantly evolve making sure we can give our patients the very best.  
One way in which this is done is in how we seamlessly adopted the use of "CoolSculpting Elite, a newly evolved fat-freezing technology that utilises 'dual' applicators that are 18 per cent bigger, freeze the fat in two areas at the same time, in half the time (35 minutes)." So, what does this mean for our patients? Our experts are able to "sculpt and contour in a highly targeted way, breaking down a larger percentage of body fat in a single application" whilst also optimising our patients valuable time.  
Our approach of "conscious coupling" really works
 We champion the effective approach of coupling CoolSculpting Elite with EMSculpt Neo. Through electromagnetic stimulation, EMSculpt Neo works to build muscle "by an average of 25 per cent" and reduce fat "cells by an average of 30 per cent." 
By coupling the two together "they work to build muscle and reduce fat in those frustratingly challenging areas – abdomens, mummy tummies, waists, muffin tops, upper arms, saddle bags, love handles, inner thighs and double chins." 
Morpheus8, the smooth operator
"Morpheus8 is a revolutionary microneedling radiofrequency energy device that stimulates the collagen response in the skin" Morpheus8 is a popular fractional treatment that "penetrates deep" … "thus smoothing and contouring the face and body" creating smoother and tighter skin.  
The dynamic duo that is Morpheus8 and Ultherapy
The Cosmetic Skin Clinic's unique treatment, the Triple Layer Lift, "is a bespoke combination of Morpheus8 and Ultherapy" that is achieving amazing non-surgical results. 
"By combining these two energy-based treatments, age-related changes in three key layers of the face – skin, fat and muscle – are addressed." The benefits for this treatment are impressive including "resurfacing textured or dull skin, refining skin tone, diminishing the signs of scarring and ageing, remodelling and contouring, and boosting natural collagen." 
"Non-surgical facelift as an artform" with Dermal Fillers
The Cosmetic Skin Clinic excel at "combining advanced injectables with sophisticated skin tightening and high-level innovative technology".  
How do we achieve results that rival a surgical facelift?
The Cosmetic Skin Clinic use "premium FDA-approved facial fillers specifically developed for volumising, smoothing and recontouring the face's natural structure."  
What complex areas do we focus on?
Our team of experienced practitioners regularly address complex areas "such as the temples, tear troughs and jawline redefinition, along with 'corrective' procedures, such as a weak chin, underpinning and volume." 
What are the results like?
We can confidently say that the results are "an airbrushed look that everyone will notice but no one will question." 
The Cosmetic Skin Clinic anti-ageing arsenal
Three of our hard-hitting anti-ageing treatments are Profhilo, Ultherapy and Morpheus8 for good reason. 
PROFHILO
As a skin tissue rejuvenating treatment, Profhilo, utilises "the purest form of hyaluronic acid, which delivers intense hydration and radiance while triggering collagen and elastin production." 
ULTHERAPY
"Using ultrasound to stimulate the production of collagen and elastin, Ultherapy is a one-off procedure that takes less than an hour and offers long-lasting results with no downtime." The Cosmetic Skin Clinic are very proud to say we have been ranked number one in the UK for Ultherapy treatment for the ninth consecutive year! 
Ultherapy is popular with celebrities including television presenter, Tess Daly. She has Ultherapy to help maintain a beautiful, fresh and natural look, saying, "I believe investing in my skin as I do in my general health, looking after what you've got." 
MORPHEUS8
As said before, the revolutionary fractional treatment that is Morpheus8, encourages the body to stimulate collagen giving us a smooth and contoured result for our face and body.