Eliminate fat and build up muscle mass with EMSculpt Neo's game-changing treatment innovation.
EMSculpt Neo® is a fat burning and muscle building treatment that builds upon the impressive legacy of its predecessor. The newly launched EMSculpt Neo medical device improves upon EMSculpt's Gold-Standard body-contouring treatment by combining 2 technologies into one for superior results. The new device can treat patients with a BMI of up to 35.
Gain 30% more fat reduction (*on average) in four 30-minute sessions
Achieve 25% more muscle volume (*on average) in four 30-minute sessions
Build and strengthen your core whilst burning through fat cells
Experience intense muscle contractions equivalent to 24,000 sit-ups or crunches per 30-minute session
FDA-cleared for the abdomen, arms (biceps and triceps) legs (calves) and glutes (buttocks)
It is the first and only non-invasive body-shaping procedure that combines radiofrequency (RF) energies with electromagnetic energy to reduce fat and build muscle in one short session. By emitting both energies at once, patients can gain enhanced fat reduction and muscle growth results in much less time.
The Benefits of EMSculpt Neo
Its unique combination of radiofrequency (RF) and high-intensity electromagnetic (HIFEM+) technologies gives patients more fat loss and muscle building control. This has made it the modern-day industry-leader in muscle-building and fat reduction.
Independent clinical studies have proved this by showing how EMSculpt Neo generates a higher percentage of fat loss compared to other non-invasive body-sculpting methods. While other methods deliver a 22.4% loss in fat, EMSculpt Neo delivers a 30% fat loss reduction. This makes it one of the fastest and most cost-effective ways to redefine and recontour your body. You can maximise your muscle mass and reduce your fat in one simple non-invasive way, without any downtime.
With just 4 treatment sessions lasting 30 mins each, and scheduled 5-10 days apart, you will see superior results in less time with fewer treatments required.
Book a Complimentary consultation
EMSculpt Neo Treatment Areas
One of the stand-out benefits of EMSculpt Neo is its versatility. It can tone, sculpt and build up muscle mass across core areas of the body that matter most. Patients can target excess fat issues like banana rolls and saddlebags around the thighs, for example, or reduce the size of bingo wings while defining muscle tone as well. It can even make your calve muscles and six-pack more defined thanks to its dual fat loss and muscle building approach. Use it to treat:
Abdomen (six-pack muscles)
Buttocks (saddlebags)
Inner Thighs
Outer Thighs (banana rolls)
Front Thighs
Back Thighs
Biceps
Triceps
Calve muscles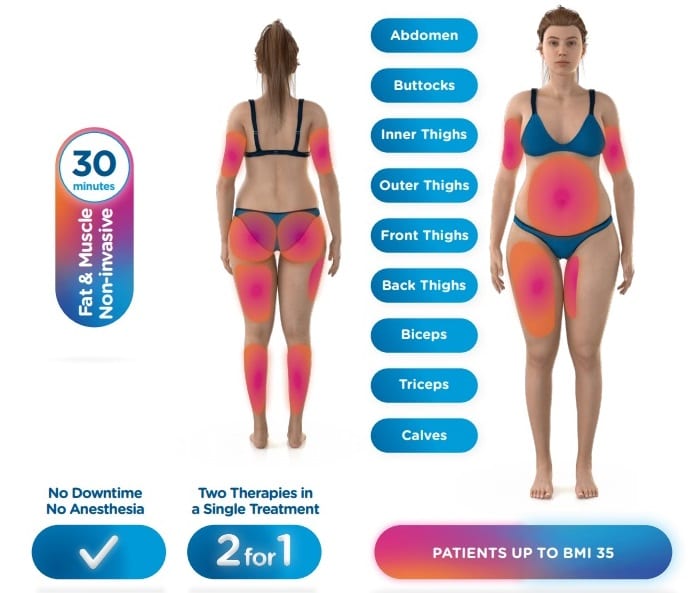 The Cosmetic Skin Clinic is delighted to be one of the first clinics in the UK to offer this groundbreaking treatment. It is available at our Buckinghamshire clinic. Book a consultation with us today to find out more about it.