Profhilo is a nourishing injectable moisturiser that stimulates natural production of collagen and elastin for flawlessly dewy and revitalised skin. 
Its unique skin remodelling formulation is one of the first injectable hyaluronic acid (HA) treatments that remodels and renews skin tissue while directly treating skin laxity. It is a fantastic treatment to target sagging or wrinkled skin thanks to its unique tissue healing properties, which have been verified in a range of medically reviewed clinical studies. As one of the most powerful and hydrating hyaluronic acid treatments available in the aesthetics industry today, it has the power to stimulate four different types of collagen and elastin to help patients achieve strengthened, hydrated and firm skin. Its skin firming and skin lifting results last up to 6 months after treatment, as Profhilo gradually reboot's our body's own ability to refresh and renew collagen and elastin proteins. The result is plumper, healthier and fresher looking skin that looks completely balanced and natural.  
Profhilo Treatments at The Cosmetic Skin Clinic in London and Buckinghamshire
Profhilo for the face
Profhilo has become known as an 'injectable lift' because of its powerful collagen and elastin stimulation. By renewing these key structural proteins deep within the skin, a non-surgical lift can be achieved across different areas of the face. It is ideal for targeting sagging across the cheeks or laughter lines around the mouth as well as adding greater definition, smoothness and support to drooping jawlines. 
Watch Linda Lusardi have her Profhilo skin treatment and see her Profhilo results.  
Profhilo for the neck
Profhilo neck treatments address the underlying causes of sagging skin across the neck and décolletage area. When we age, we can lose collagen, elastin and fat stores in this zone in particular, resulting in 'turkey neck' skin folds and lines. But with Profhilo's transformative benefits, we can tighten up the skin's structure in the neck while plumping out fine lines.  
Profhilo is also a great treatment to correct fine lines and wrinkles on your hands. Its deeply hydrating hyaluronic acid formulation allows the delicate, thin skin in our hands to hold onto more water, which in turn helps to firm up aged and wrinkled skin.  
Profhilo is a highly effective treatment at targeting skin sagging and wrinkles around the upper arms. We can directly target issues like the formation of bingo wings by injecting Profhilo into strategic areas of the arms to restore strength, support and skin elasticity. 
Profhilo has extended its expertise to treat the body. Read more about the ground-breaking "profhilo body" treatment. Contact our expert practitioners in London and Buckinghamshire to book a consultation.
Profhilo Before and After
To see how Profhilo can lift, tighten and hydrate your skin, take a look at our range of Profhilo before and after photos.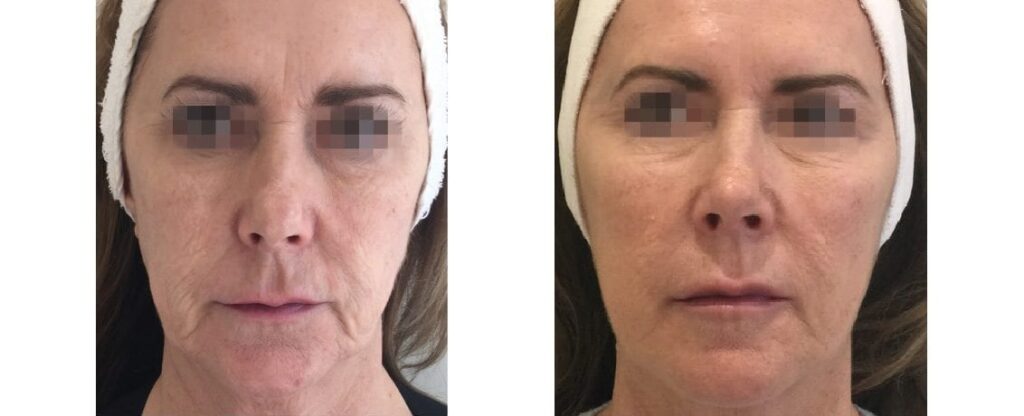 Find out more about our leading Profhilo treatments by contacting our London and Buckinghamshire clinics directly, or completing our online contact form.
The Benefits of Profhilo
Thanks to its unique tissue healing properties, it has been heralded as true breakthrough in anti-ageing medicine. Unlike fillers, it doesn't over-volumise the skin and enables patients to target fine lines and wrinkles and tighten sagging skin in a subtle but impactful way. This has made it a go-to treatment for patients who are looking to refresh and rejuvenate their skin in a natural-looking way. The treatment has a multitude of benefits that can help individuals to improve skin laxity, strength and texture across a variety of hard-to-treat areas. Profhilo: 
– Stimulates 4 different types of collagen and elastin
– Improves skin hydration and moisture levels
– Restores skin luminosity and dewiness
– Reduces the appearance of fine lines and wrinkles
– Improves skin elasticity
– Lifts lose, sagging skin and improves skin laxity
– Tightens skin for a more taut, youthful appearance
– Restores volume to sunken or hollow areas
– Strengthens and firms skin texture
– Non-invasive with minimal downtime 
Why choose The Cosmetic Skin Clinic for Profhilo treatment in Bucks and London, near to Harley Street
At The Cosmetic Skin Clinic, we are UK leaders in delivering amazing skin tightening and lifting results using the very latest technologies like Profhilo. Our practitioners have received numerous awards for their product knowledge and high standards of patient care. We use the Profhilo BAP Injection Technique to maximise comfort during your treatment and achieve the best possible results. During your Profhilo treatment with us, our trained clinicians will create a bespoke treatment plan and enhance your look in a subtle yet transformational way to capture your own natural beauty and make it even better. Our patients have been consistently impressive by this strategic approach, having given us a 96% patient satisfaction score and a 5-Star rating on Trustpilot.