What Is Coolsculpting?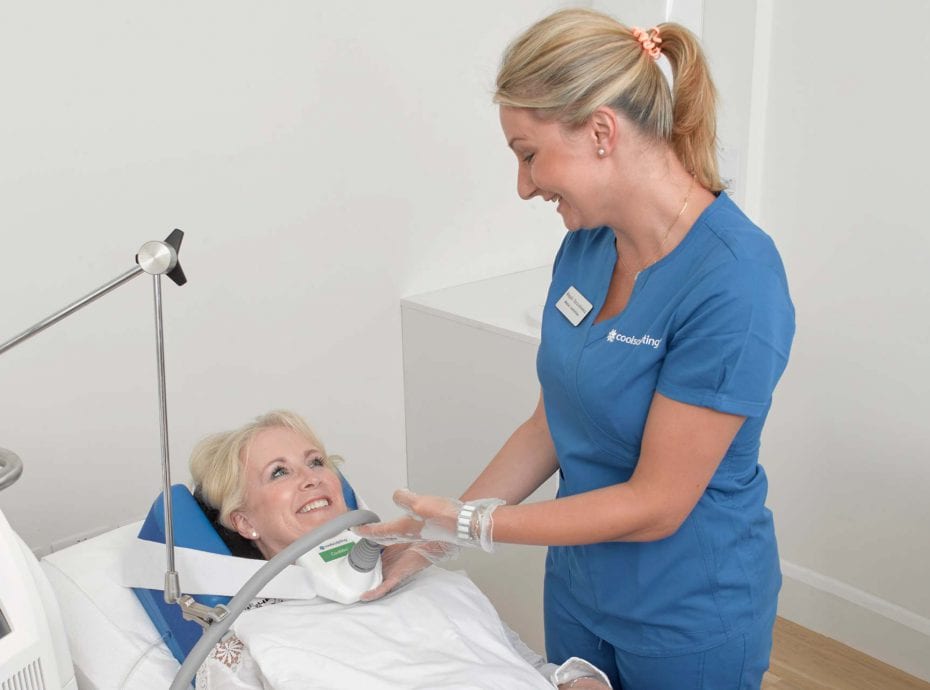 CoolSculpting is a treatment trusted by hundreds of thousands of patients looking to remove fat bulges from specific areas.
It is noninvasive, it is quick, the results are permanent and patients can typically resume an active life immediately after treatment.
It is also a treatment that has its initial roots in an observation of children eating ice lollies. More on that later.
In this page, we will run through everything you need to know about CoolSculpting, leaving you in a great position to decide if it might be the treatment for you.
First though a quick word about us. The Cosmetic Skin Clinic is one of the most experienced CoolSculpting clinics in the UK and Western Europe and has been the No1 clinic for the past six years. We offer CoolSculpting in London and Buckinghamshire.
With more than 15,000 Coolsculpting treatments and a five-star reputation from more than 300 independent reviews on Trustpilot it is fair to say we know what we are talking about.
What is CoolSculpting – the basics
CoolSculpting, also known as fat freezing and cryolipolysis, is a non-invasive treatment to target fat concentrated in certain areas of the body.
It is a treatment that targets visible bulges. Often a patient will have one or two areas of their body where they have unwanted fat they want removing. As an example, this might be a double chin, or fat on the abdomen and flank (love handles), or around the thighs, buttocks or arms.
Fat in these areas commonly has cutesey-sounding names like mummy tummy, muffin tops or love handles. But to a person with excess body fat in these areas the impact can be less cute: poor self-image and low self-esteem being two potential outcomes. CoolSculpting is a quick way to target such areas without using invasive treatments like liposuction.
How CoolSculpting Works
CoolSculpting works by freezing fat cells in the targeted area, hence why it is also commonly called fat freezing.
The treated cells crystallise and then shrivel and die over the coming weeks, the body then disposing of them naturally.
The effects are long lasting as the cells have been removed for good – compare this to exercising to reduce fat whereby the fat cells remain but deflate
Of course, we do not mean to underplay the importance of exercise, we're merely pointing out just how effective CoolSculpting is at tackling fat bulges in specific areas.
CoolSculpting and Weight Loss: Does it work?
If CoolSculpting is perfect for focusing on problem areas, what it is not suitable for is as an all-round weight loss solution.
Bar the impact of some fat cells being frozen and killed off, CoolSculpting does not tackle weight, nor is it a way to fight obesity.
CoolSculpting cannot be used to tackle serious obesity issues. Instead, it is a treatment for people who are generally healthy but have a problem area or two where they really wish they could get rid of that bulge or sag.
Why CoolSculpting is Popular
CoolSculpting is so popular because it is so straightforward. After an initial consultation and discussion of the treatment plan it is simply a case of turning up, having the treatment, then going about your normal daily business. The fat cells will be dying off, flushed from the body inside the next 12 to 24 weeks, and the results of the treatment will become visible.
The CoolSculpting / Cryolipolysis Process
As with any treatment, the first step is a thorough consultation whereby the patient's suitability for CoolSculpting can be assessed and a bespoke treatment plan created highlighting the aims of the treatment and desired results.
**If you would like to see if CoolSsculpting is suitable for you, then you can book your initial consultation here**
Is CoolSculpting Safe?
The CoolSculpting process itself is fast and generally pain free, patients at most feeling some minor
discomfort. A gel pad is applied to the area where fat is to be frozen and an applicator then used.
The nature of the cooling process number the area under treatment, the only discomfort a firm pulling sensation on the fat being treated. Many patients read or check their phone during this process, others watch TV or fall asleep!
Dualsculpting
At Cosmetic Skin Clinic, we routinely offer Dualsculpting which can perform two treatments simultaneously, thus halving the treatment time.
While this is not suitable in every case, Dualsculpting cannot be used for double chins for example, it has the potential to cut body sculpting of two areas to just 35 minutes.
The process is proven and tested, it is the only FDA-cleared non-surgical fat reduction (cryolipolysis) treatment and its safety and effectiveness has been highlighted in 52 published journal articles.
Many patients come back for a further treatment on other areas, such is the popularity and effectiveness of fat freezing there have been more than 7 million treatment cycles worldwide.
CoolSculpting Side Effects
Following the treatment, patients may experience minor side effects such as redness, swelling, bruising and numbness – most of these typically only last a matter of days though localised numbness can persist for a few weeks. None of these side effects should stop a patient from going about their normal routines.
There are a few conditions which would rule a prospective patient out from being a candidate for CoolSculpting (cryoglobulinaemia, cold agglutinin disease or paroxysmal cold haemoglobinuria for instance), the thorough consultation would of course cover suitability.
If it all sounds straightforward it is because it is. A one-off CoolSculpting treatment can potentially reduce the number of fat cells in a treated area by 27% after six months and those cells have gone, killed off, disappeared and never to be seen again. Bar coming in for a routine follow-up appointment, that's it.
Some patients have a number of treatments in different areas of the body to achieve the 'wow' factor.
Cheap Alternatives to CoolSculpting
As with any popular fat-fighting technology, there is a danger of cheap alternatives hitting the market and this has happened with CoolSculpting.
If you are considering this treatment please check that it is genuine CoolSculpting. Look at the reviews of the treatment, check how many treatments the clinic has undertaken and evidence. If you have any doubts, you can check with Allergen, the owners of the technology, as they keep full records of how many treatments each centre has undertaken.
If a treatment stands out because it is far cheaper than established clinics can offer warning bells should sound.
How Much Does CoolSculpting Cost?
At Cosmetic Skin Clinic, our prices start from £800 for one treatment. Package fees available. Please get in touch for further information or to arrange a consultation.
What About Ice Lollies?
Good memory – we mentioned how ice lollies played a part in the development of fat freezing technology.
Years ago, Harvard University scientists noticed that some children get dimples in their cheeks when eating ice lollies. Dieter Manstein, MD and R. Rox Anderson, MD took this observation to work on a hypothesis that ice could selectively damage small pockets of fat cells.
They developed the idea and proved that cold can target fat cells without damaging the skin or surrounding tissue; cryolipolysis, the science on which CoolSculpting is based, became established.
What Next?
If you have any queries about CoolSculpting or would like to arrange a consultation at one of our clinics, please do get in touch.
The internationally renowned Cosmetic Skin Clinic have their designated CoolSculpting body contouring centres in London and Buckinghamshire – fill in our Contact Form to get in touch.