TEOSYAL by TEOXANE is a range of dermal fillers made of hyaluronic acid that stimulates natural production of collagen and elastin for a strong, firm, and hydrated skin.
Areas treated with TEOXANE Fillers
Teoxane fillers are used to treat all areas of the face including:
Forehead – Forehead filler can help to reduce the appearance of wrinkles, frown lines and fill areas of depression on the skin.
Temples – Temple filler treatment can help to lift and rejuvenate the upper face and reducing the appearance of crows feet wrinkles.
Eyes – Tear trough filler to reduce the appearance of dark circles and under eye hollows.
Cheeks – Teoxane Cheek filler to reduce the appearance of smile lines and add volume to sunken cheeks.
Nose – A non-surgical nose job can be performed to alter the shape of the nose.
Around the mouth – Nasolabial lines run from the nose to the corners of the mouth which can be reduced with Teoxane filler.
Lips – Teoxane Lip filler can treat lines around the lips (lipstick lines) and also adding volume to thin lips.
Chin/Jawline – Chin fillers add volume to a weak chin to improve facial balance
Jawline – Jawline filler to reshape the jawline for a more contoured appearance.
Chest/Neck – Rejuvenate lines and wrinkles on the décolletage.
Hands – The backs of hands can be treated with dermal filler to reduce a 'crepey' appearance associated with ageing.
The benefits of TEOXANE Filler Treatments
Made of 100% non-animal origin and biodegradable hyaluronic acid.
Not tested on animals.
Long lasting results (Up to 18 months).
Less inflammation, pain and swelling.
Increases collagen production.
Improves water retention.
Formulated to stretch and move more with facial expressions for a more natural result.
Best Injectable Skin Booster – 7th Anti-aging & Beauty Trophy Winner
Injectable product of the year – Aesthetic Awards 2018 Winner
Since opening, The Cosmetic Skin Clinic have carried out over 200,000 injectable treatments. We are proud to have been awarded 'Clinic Of Excellence' by Teoxane UK for our expert practitioners coveted holistic and natural approach to dermal filler treatment using the advanced Teosyal range.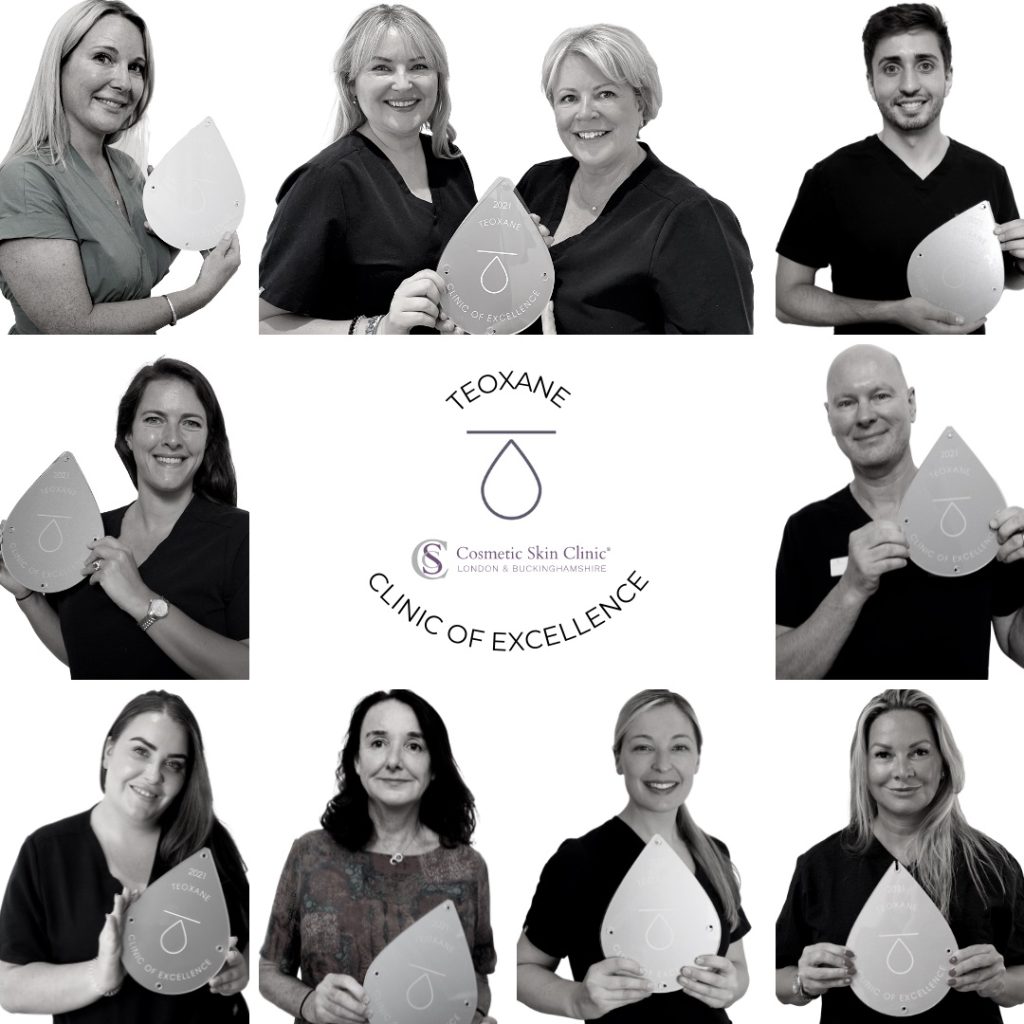 To find out more about our TEOXANE Filler treatments and to book an appointment with one of our expert practitioners, please contact our London and Buckinghamshire clinics or fill-in our online contact form. Explore our Teoxane Filler before and after Gallery below!