Revitalise your eyes with our exceptional Eyebrow Lift non-surgical treatments.
The Cosmetic Skin Clinic is a UK leader in non surgical brow lift treatments. We offer some of the most advanced techniques available to give your brows a flattering lift without the need for surgery or downtime.
One of our most popular techniques to achieve a brow lift is Ultherapy®, a sophisticated ultrasound technology that lifts and tightens skin with long-lasting results. This FDA-approved procedure boosts collagen and elastin production deep within the skin to give your brow better strength, definition and structure.
Our No 1 Ultherapy Brow Lift Treatment
Launched exclusively at The Cosmetic Skin Clinic in 2019 to a host of top cosmetic journalists, our unique Ultherapy® Brow Lift has become a top beauty favourite amongst celebrities and influencers alike.
Smooth away fine lines and wrinkles and elevate your brow with natural-looking results. Our Ultherapy Brow Lift stimulates collagen and elastin stores around the brow using micro-focused ultrasound with visualisation (MFU-V) energy. When stimulated and restored using this advanced technique, these vital structural proteins lift hooded eyelids to give your brow a refreshed and youthful look.
The quick brow lift treatment takes 60-90 minutes to perform and generates an immediate lift, with results lasting up to 1 year after treatment.
Maximum Results in Trusted Hands
The Cosmetic Skin Clinic has been voted as the No 1 Ultherapy Treatment Provider in the UK for the 7th year in a row, meaning that you will be in the very best of hands when having your Ultherapy Treatment.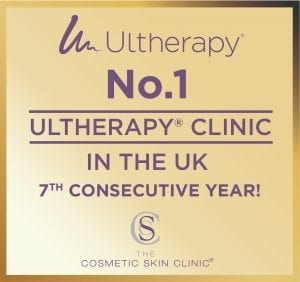 Dermal Fillers Brow Lift Treatment
A non-surgical brow lift with dermal fillers involves injecting fillers into the area above the eyes which adds volume to the upper eyelid. This may sound counteractive but hollow looking eyelids can actually give the appearance of ageing and drooping eyes so by treating this area with dermal filler it gives the appearance of an eyebrow lift and achieves a more youthful appearance of the eyes. We can also treat underneath the eyes with dermal filler which is known as tear trough filler treatment which helps to reduce the appearance of dark circles for a full eye rejuvenation treatment.
Eyebrow Thread-Lifting Treatment
Silhouette Soft® thread lifting can achieve a brow lift through unique dual results in lifting and regenerating. This thread lift treatment is a new concept in facial rejuvenation, carried out using re-absorbable poly-L-lactic acid sutures once the threads are in place. Your medical practitioner then redefines the brow area treated, by compressing and lifting the skin tissue to achieve the desired results. Over the next 18 months, the biodegradable suture thread will be naturally absorbed by your skin, stimulating the body to produce its own collagen so that skin continues to rejuvenate.
Thermage Eyes Non-Surgical Eye Lift Treatment
Thermage Eyes is a safe, non-invasive radiofrequency (RF) technology that that is clinically proven to help smooth, tighten and to re-contour the skin with long-lasting results with little to no downtime. It naturally and three-dimensionally contracts collagen in skin to create a refreshed, rejuvenated and overall younger appearance.
Botox Brow Lift Treatment
Botulinum toxin injections are an FDA-approved medicine often prescribed by doctors in the UK to treat medical conditions. Botulinum toxin is a naturally purified protein that works as a muscle relaxant. By relaxing the muscles ('brow-freezing'), it smoothes wrinkles and prevents deeper lines forming.
Combine our unique Ultherapy with other non-surgical upper eye lift treatments like dermal fillers, thread-lifting and Thermage® CPT to achieve the best beautifying results. Book a consultation with one of our expert practitioners today and we can develop a personalised treatment plan to instantly uplift your look.
Find us in London and Buckinghamshire
The Cosmetic Skin Clinic in London, near Harley Street
Our London clinic is situated near to Oxford Circus, Bond Street and Baker Street tube stations. Trains from Paddington and Kings Cross St Pancras Train Stations are available.
The Cosmetic Skin Clinic in Stoke Poges, Buckinghamshire
Our clinic in Bucks is near to Gerrards Cross' Chiltern Railway and Slough's First Great Western station.  If you're travelling via the M25, M4, M40 or the A40 roads our clinic is very easy to reach from Wembley, Kingston upon Thames, Richmond, and the Surrey area.