Revitalise your eyes with our exceptional Brow Lift treatments
The Cosmetic Skin Clinic is a UK-leader in non-surgical brow lifts. We offer some of the most advanced techniques available to give your brows a flattering lift without the need for surgery or downtime.
One of our most popular techniques to achieve a brow lift is Ultherapy®, a sophisticated ultrasound technology that lifts and tightens skin with long-lasting results. This FDA-approved procedure boosts collagen and elastin production deep within the skin to give your brow better strength, definition and structure.
Our No 1 Ultherapy Brow Lift Treatment
Launched exclusively at The Cosmetic Skin Clinic in 2019 to a host of top cosmetic journalists, our unique Ultherapy® Brow Lift has become a top beauty favourite amongst celebrities and influencers alike.
Smooth away fine lines and wrinkles and elevate your brow with natural-looking results. Our Ultherapy Brow Lift stimulates collagen and elastin stores around the brow using micro-focused ultrasound with visualisation (MFU-V) energy. When stimulated and restored using this advanced technique, these vital structural proteins lift hooded eyelids to give your brow a refreshed and youthful look.
The quick brow lift treatment takes 60-90 minutes to perform and generates an immediate lift, with results lasting up to 1 year after treatment.
Maximum Results in Trusted Hands
The Cosmetic Skin Clinic has been voted as the No 1 Ultherapy Treatment Provider in the UK for the 7th year in a row, meaning that you will be in the very best of hands when having your Ultherapy Brow Lift Treatment.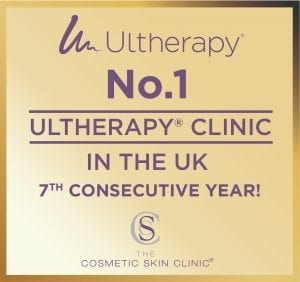 Why not combine our unique Ultherapy Brow Lift with other non-surgical lifting treatments like dermal fillers, thread-lifting and Thermage® CPT to achieve the best beautifying results. Book a consultation with one of our expert practitioners today and we can develop a personalised treatment plan to instantly uplift your look.