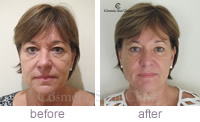 click on image to enlarge

click on image to enlarge
Linda: Restylane®
Linda before treatment using Restylane® for the semi-circular creases that run along the bottom of the lower eyelid just above the cheek bone.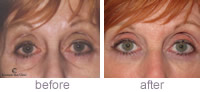 click on image to enlarge
The Result:
The dark hollow lines are dramatically reduced giving a softer 'less tired' appearance.
Tear Troughs
The area between the lower eyelid and upper cheek is referred to as the 'Tear Trough'. As we age these change in appearance becoming longer, deeper and more shadowed. This is a normal part of the ageing process but gives the impression of being tired and less youthful looking.
Various factors contribute to this formation and your practitioner may suggest a treatment plan that includes strengthening the upper cheek to support the area as well as treating the Tear Trough itself for the best cosmetic result. These treatments are delivered with dermal fillers for a soft and natural correction. The strength of the skin in this area is another factor to consider and you may be recommended a treatment to improve the quality of the skin ranging from a topical treatment to radio frequency skin tightening.
Treatment options for Tear Troughs include:
Liz's Testimonial
The treatment Laurie gave me was perfect. It looked absolutely natural and I felt that I actually looked better at 45 than I did in my thirties. Since I've had it done, numerous people have told me how lovely I look, without any suspicion that I've had a "treatment".