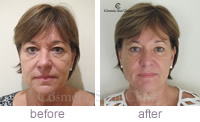 click on image to enlarge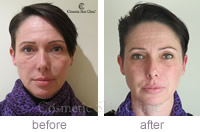 click on image to enlarge
Angela: The Y-Lift
Angela Before: has had a loss of volume to the face and heavy wrinkling due to lifestyle factors.
Angela After: Using Restylane® Vital skin rejuvenation, Restylane® Sub Q for cheek enhancement, Restylane® Touch for lipstick and frown lines and Restylane® for her nose-to-mouth lines.
Results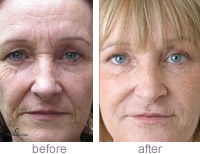 A dramatic lifting effect to the face replacing volume loss to the cheeks, restoring a youthful shape and contour to Angela's face with an overall softening of wrinkles.
Restylane Sub Q - Volumisers
For instant non surgical reshaping and contouring to restore youthful facial shape.
What is Restylane Sub Q?
Restylane Sub Q is an innovative aesthetic treatment that gets to the heart of facial ageing - instantly enhancing your appearance by adding volume to restore youthful facial shape and contours.
How does Restylane Sub Q work to achieve its results?
Restylane Sub Q is made from a unique form of hyaluronic acid, a substance that binds water in the skin to restore fullness, giving a youthful shape and contour to the face. It offers an instant and natural solution for facial reshaping and contouring. A facelift can tighten your skin and reduce the appearance of fine lines and wrinkles but it cannot replace lost volume in the skin. This treatment offers greater convenience, predictability and cost effectiveness.
Which areas are Restylane Sub Q commonly used in?
Restylane Sub Q adds definition to flat cheeks, cheekbones, chin and jaw, giving them a more sensual line, enhancing great cheekbone structure will give a more glamorous look. Used in conjunction with carefully placed Botox along the jaw and neck it works as a necklift redefining the triangle of beauty. Also widely used to replace volume loss in the chin.
How long does Restylane Sub Q last?
Restylane Sub Q is long lasting in excess of a year.
Who is a suitable candidate / patient for treatment with Restylane Sub Q?
Patients with facial volume loss due to ageing, sudden or extreme weight loss or certain medical problems such as facial asymmetry or droop can benefit from treatment with Restylane Sub Q. However patient selection is important to discuss suitability with this treatment.
Will an anaesthetic be required with this type of filler?
Most patients have a comfortable experience aside from feeling a slight initial pinprick. Occasionally if a lot of volume is required for extra skin projection patients may feel slightly sore for which Paracetamol after the treatment will be appropriate to relieve the discomfort. For patients with a needle phobia we offer topical numbing cream to alleviate any anxieties.