Mim Grey Testimonial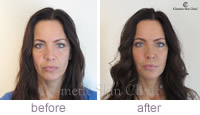 " I looked a fresher younger version of myself and that is exactly what I wanted to achieve!"
Juvéderm® Ultra:
Juvéderm® ULTRA is a range of smooth consistency gels made of hyaluronic acid (HA), a naturally occurring substance in our skin that helps to hydrate and adds volume. It instantly smoothes away facial wrinkles and folds and restores the skin's volume; it can also be used to redefine lips. It is a smooth consistency gel that flows easily into the skin for a smooth, natural look and feel.
This product is unique because it contains Lidocaine (a built-in anaesthetic) which makes the injection process a more comfortable experience. No allergy/skin test is required as the products are of natural origin. Results are instant with minimal down time.
Linda Blay: JuvédermTM Treatment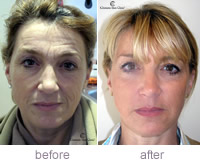 ...I made a phone call which has changed my life. I do look in the mirror, I smile even more than I ever did and I am not self conscious any more.
As with all dermal fillers, how long the results of the treatment last varies from patient to patient and is due to a number of factors. However, results usually last in excess of 6 months and in some cases, can be up to a year. To retain the results, we would recommend maintenance treatments.
Juvéderm® ULTRA - Comes in three formulations for more natural-looking, customisable results.
Juvéderm® ULTRA 2 - Erases moderate lines, especially those around the lips and corners of the eyes and those very close to the surface of the skin.
Juvéderm® ULTRA 3 - Smoothes wrinkles between the nose and corner of the mouth and around lips. It can be used very subtly to plump out lips in order to maintain a youthful smile.
Juvéderm® ULTRA 4 - Works on the most noticeable folds and lines, and improves the contour of the face.
Joanne Owen - Treatment Performed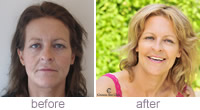 "A combination of muscle relaxants and fillers was used to lift the brow. The results were achieved very gradually. Soon after initial treatment, everyone just kept commenting on how well I was looking. The treatments also improved my skin condition. My skin looks much plumper and smoother. The frown line has also gone but I still have lots of movement so it looks incredibly natural. the treatment has made such a difference to my life. Before I would pile lots of make-up on before I left the house to hide the effects of ageing but now I would say I look better with much less make-up on".