By Dr. TRACY MOUNTFORD, MBBS MBCAM
This week we are catching up with professional singer & musician Mim Grey who recently visited our Buckinghamshire clinic for her refresher filler treatment.
Mim has been a much-valued patient of The Cosmetic Skin Clinic for a number of years. But she wanted to give her face an uplift with one of our refresher treatments. She comments:
"I've been coming here for years and never been anywhere else. But I wanted a freshen up of my face, which is why I have returned today."
In order to enhance Mim's look, our Senior Medical Practitioner Karolina Jendras conducted a detailed consultation with Mim to determine the best approach for maximum results.
Mim's Dermal Filler Treatment explained
Mim already has prominent cheekbones, so our Senior Medical Practitioner Karolina Jendras recommended dermal fillers to address the areas of volume loss just beneath Mim's cheekbones. This cheek filler treatment is designed to bring back support and structure so that Mim's sculpted cheeks are adequately supported.
Karolina also recommended that Mim tidy up her nose-to-mouth lines that have developed across her face as a result of ageing. By smoothing and filling these lines with dermal filler, it softens and balances the rest of Mim's facial features. Watch the video below to explore Mim's treatment journey and her positive reaction to the full treatment results:
Karolina explained how results will build and enhance themselves over time, as the hyaluronic acid continues to revive Mim's natural collagen stores. By replenishing the lost volume with this treatment, Mim will be more hydrated, blusher will stay on better as it has improved the contours of the cheeks and jawline and even improved the upper neck as well.
Mim's Dermal Filler Results
The results made such a big difference to Mim's overall look:
"I really love it, I'm so happy. The procedures that they carry out here make such a difference that no one even notices you have had anything done. People just compliment me saying that I look well, rested and my skin looks good… I couldn't recommend it more."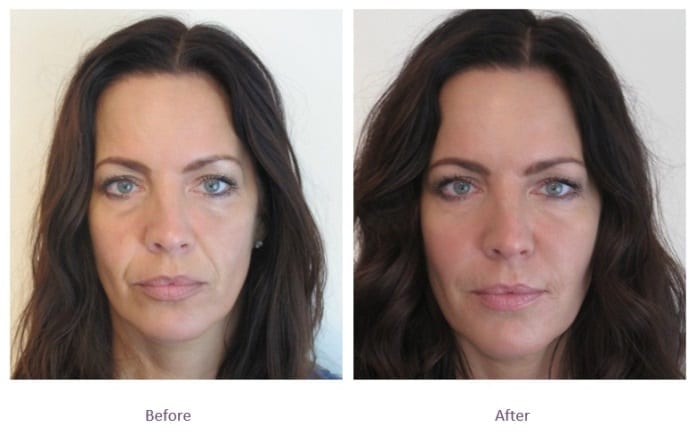 Dermal fillers are semi-permanent and usually last about 12 months as they naturally break down over time. This is why refresher treatments are ideal to maintain optimal results. By having follow-up treatments from time to time, your skin will always look lifted and refreshed, with a natural glow and full hydration.
If you are interested in finding out more about the treatments you have seen in the video, call us to discuss which treatment might be suitable for you on (0) 203 319 3637 (London clinic) or 01753 646 660 (Buckinghamshire clinic). Also be sure to follow our weekly Q&A on YouTube for more on non-surgical treatment tips and advice!