By Dr. TRACY MOUNTFORD, MBBS MBCAM
The Daily Mail Nip & Tuck 16th January 2017
The Daily Mail Nip & Tuck articles by Dr Tracy Mountford appear weekly, in print and online for the Monday Inspire magazine'. And in this week's column a reader asks about the options for having a non-surgical eyelift:
Is there such a thing as a non-surgical eyelift?
This reader is concerned about her sagging eyelids and wants to know about treatments available to her. As Dr Mountford explains, as we age, we lose volume in the temple area and because of this, the eye can sag and droop. In order to combat this, she recommends a combination treatment of non-surgical brow and eye lift. To provide structure and support, dermal fillers are placed in the temples. In addition, muscle relaxant is used on the brow and eyes to encourage lift. In combination with these treatments, Ultherapy is also recommended to lift the upper lid/brow. This is an ultrasound procedure which strengthens existing collagen and stimulates the product of fresh, new collagen.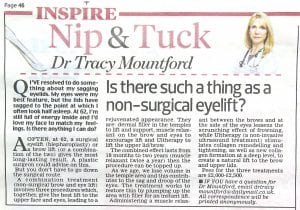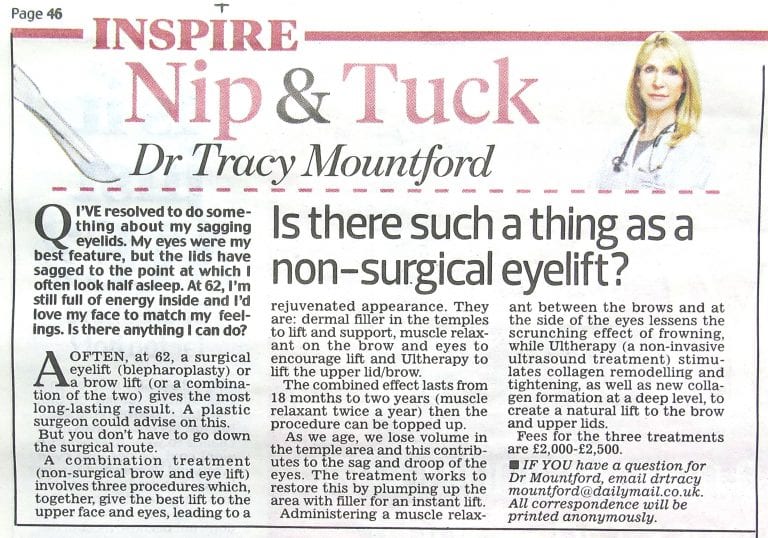 *DISCLAIMER Patient experience and results may vary. These are dependent on a number of factors such as lifestyle, age and medical history.
Copyright © The Cosmetic Skin Clinic. All rights reserved. Unauthorised use and/or duplication of this material without express and written permission from this site's author and/or owner is strictly prohibited. Excerpts and links may be used, provided that full and clear credit is given to The Cosmetic Skin Clinic with appropriate and specific direction to the original content.