By Dr. TRACY MOUNTFORD, MBBS MBCAM
Is summer really here? This week looks as though it's going to be a scorcher. It may get you thinking about getting into your swimming costumes and bikini's quicker than you think! If you have been dieting for the onset of summer or have a post-pregnancy tummy, you could be an ideal candidate for Thermage CPT radiofrequency skin tightening. In a single treatment, Thermage can tighten, firm and shape the skin on your abdomen, thighs, arms and buttocks. It restores firmness to post-pregnancy crêpey skin, improving dimples while smoothing your skin texture with long-lasting results. But what is it and how does it work?
What is a Thermage contouring treatment?
Thermage is a skin tightening and lifting procedure that has become a firm favourite with a range of famous celebrities including Jenifer Aniston and Gwenyth Paltrow. It utilises non-invasive radiofrequency technology to tighten and re-contour a person's skin without any surgery or downtime. By heating the deep collagen-rich layers of our skin, it encourages our body to reproduce new collagen proteins to give the skin a firmer and more supported texture. It also remodels our existing collagen stores to improve our skin elasticity while smoothing out the effects of sagging and wrinkles.
What areas can be contoured using Thermage CPT?
The radiofrequency technology of Thermage has impressive advantages when it comes to re-contouring skin across different areas of our bodies. We can smooth dimpled 'orange peel skin,' and cellulite thanks to its collagen-boosting properties, and it can also be used to improve the tone and texture of sagging, aged and wrinkled skin across problem-prone areas like our jawline, abdomens, bingo wings, arms and knees. It can even be used to tighten and smooth skin aged skin in patients who are suffering from a 'turkey neck.' Thanks to its versatility and non-invasive nature, this is why it has become one of the leading treatments that patients can rely on to re-contour their summer bodies without diet, exercise or downtime.
The Benefits of Thermage CPT Contouring
Thermage CPT offers a safe, effective and non-surgical way to lift, contour, tighten and redefine the skin. The procedure:
Tightens and smooths skin texture
Softens the appearance of wrinkles
Uplifts sagging and drooping skin
Remodels existing collagen
Encourages the growth of fresh collagen proteins
Improves the appearance of cellulite and crepey 'orange peel' skin
Reduces the appearance of jowls
Involves no needles or surgery
Zero downtime needed
Am I a suitable patient for Thermage CPT treatment?
Thermage is ideal for patients who wish to improve the firmness, elasticity and smoothness of their skin. If you suffer from sagging skin with an uneven texture, or skin that is marked by multiple lines and wrinkles, then Thermage CPT offers a great way to bring back strength, smoothness and vitality. It works on patients of all skin types and colours, and is a fantastic way to help patients achieve their ultimate summer body without having to resort to invasive surgical procedures.
Thermage Body Contouring Results
After a 45-90 minute treatment, some patients notice an immediate improvement in their skin tone and texture. Think reduced or softened wrinkles and a firmer overall look. Your body will gradually restore its lost collagen stores after the Thermage treatment has been applied. In just 2-6 months, skin will appear tighter, more sculpted and more lifted as a result. In just one treatment, these amazing contouring results can last for years. Jane, one of our valued Thermage CPT patients utilised the procedure to firm up her wrinkled tummy in the run-up to summer, with dramatic results, as shown below: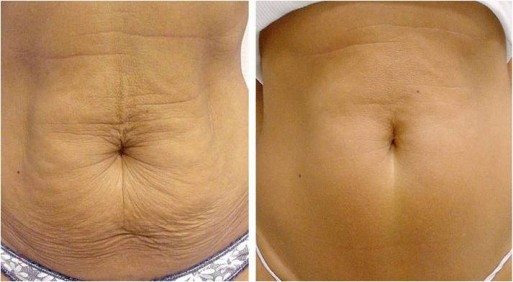 "Immediately after Thermage I was able to get back into my favourite pre-pregnancy jeans. All the sit-ups in the world couldn't tighten my loose skin. Now I feel more confident to wear my bikini again. It was a quick, comfortable and non-invasive which was the most important thing for me. Everybody at The Cosmetic Skin Clinic was so friendly and I can't thank them enough, I am absolutely delighted."Jane – Berkshire
Why choose Thermage Body Contouring at The Cosmetic Skin Clinic?
The Cosmetic Skin Clinic is a UK leader in delivering Thermage CPT treatments. It has been presented with the prestigious 'Thermage Black Diamond Award' for being the top clinic in the UK for Thermage treatment results.
If you would like to know more about our Thermage skin tightening & re-sculpting procedures, please call our clinics in London and Buckinghamshire on 0333 355 9274, or fill out the enquiry form.