By Dr. TRACY MOUNTFORD, MBBS MBCAM
Profhilo is the anti-ageing injectable treatment that treats the source of ageing and not just the symptoms.
It has gained well deserved popularity for its amazing results for skin laxity. The buzzwords surrounding Profhilo is the BAP technique. In this Profhilo deep dive, we explain exactly what the Profhilo BAP technique is and why it is great. You will learn exactly where your face will be injected with Profhilo, and see some great natural before and afters. From the injection points to comfort levels – we break it all down.  
WHAT IS PROFHILO? 
As a nourishing injectable moisturiser, Profhilo stimulates natural elastin and collagen production for hydrated, dewy, and revitalised skin. 
Made with a patented NAHYCO technology, Profhilo has a unique skin remodelling formulation. Making it one of the first injectable hyaluronic acid (HA) treatments that can directly treat skin laxity while also remodelling and renewing skin tissue to be firm again. 
Apart from being able to remodel ageing and sagging tissue, Profhilo also boosts and hydrates the skin. 
HOW DOES PROFHILO WORK? 
Profhilo works by being precisely injected into the treatment area to tighten, moisturise, and strengthen the skin. The high strength hyaluronic acid is injected across strategic points where it will gradually disperse. Profhilo stimulates collagen and elastin, attracting water within the deeper layers of the skin. This provides structural support and hydration. 
Once it has settled, the skin remodelling process begins. The advanced formulation stimulates the body's elastin and collagen proteins. This stimulation will show results of significant tissue improvement through the skin tightening and lifting effect. 
WHAT AREAS CAN BE TREATED WITH PROFHILO? 
Common areas of treatment with Profhilo include the face, neck, hands, decolletage and arms. Profhilo has expanded its expertise to the rest of the body, thanks to Profhilo Body. This ground-breaking treatment allows for more body areas to be treated.  
Profhilo is suitable for both men and women and can offer amazing skin benefits for patients of all ages. 
WHAT IS THE PROFHILO BAP TECHNIQUE? 
The BAP technique is also referred to as the Bio Aesthetic Points technique. The Profhilo BAP technique is spread across the malar and sub-malar areas of the face. In simpler terms, these injections are spread evenly across the face, with five injections of each side of the face. The Profhilo BAP technique maximises treatment comfort and results with fewer syringes. 
WHERE ARE THE 5 INJECTION POINTS FOR PROFHILO? 
The 5 injection points on each side of the face for Profhilo using the BAP technique are the upper cheek, nasal base, lower cheek, jawline, and chin.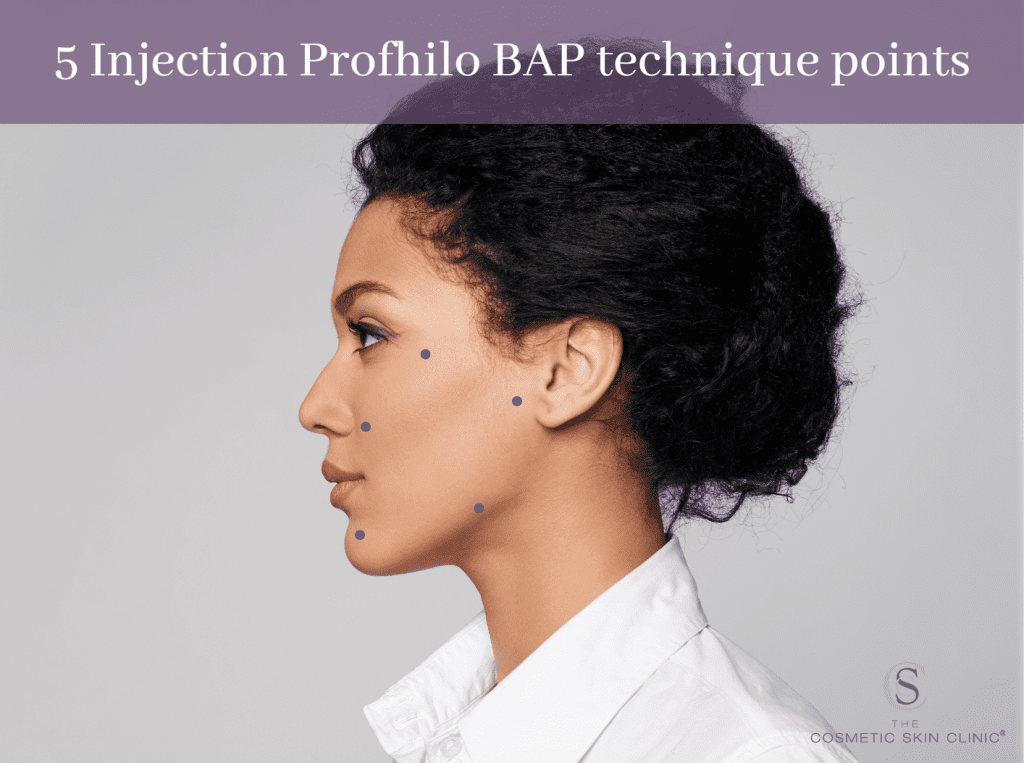 The Profhilo BAP technique was clinically tested to ensure maximum efficiency and patient comfort. With the above localised injection sites, Profhilo can get to work on improving your skin with a minimal number of injecting points.
WHY IS THE PROFHILO BAP TECHNIQUE GREAT? 
There are many benefits to the Profhilo BAP technique. It leads to the treatment time being quicker. There is less soreness and swelling thanks to the precise injection points. The BAP technique is also more comfortable for the patient as it requires less injections. 
WHAT ARE THE BENEFITS OF PROFHILO? 
Profhilo is a breakthrough treatment in the anti-ageing industry. It has a multitude of benefits including: 
Improving skin hydration and moisture levels

 

Stimulating 4 different types of collagen and elastin

 

Reducing the appearance of fine lines and wrinkles

 

Restoring skin luminosity and dewiness

 

Lifting loose, sagging skin 

 

Improving skin laxity

 

Restoring volume to sunken or hollow areas

 

Tightening skin for a youthful and more taut appearance

 

Strengthening and firming skin texture

 

Being non-invasive with minimal downtime

 
DOES PROFHILO LOOK NATURAL? 
Profhilo creates very natural looking results. It effectively remodels the skin to appear smoother and tighter. Profhilo does not affect the shape of the face or volume. Its power lies in how it deeply hydrates, targets skin laxity and gives skin that glow, therefore the results look very natural. It will effectively turn back the clocks like you can see in the great before and after patient photos below. 
PROFHILO BEFORE AND AFTERS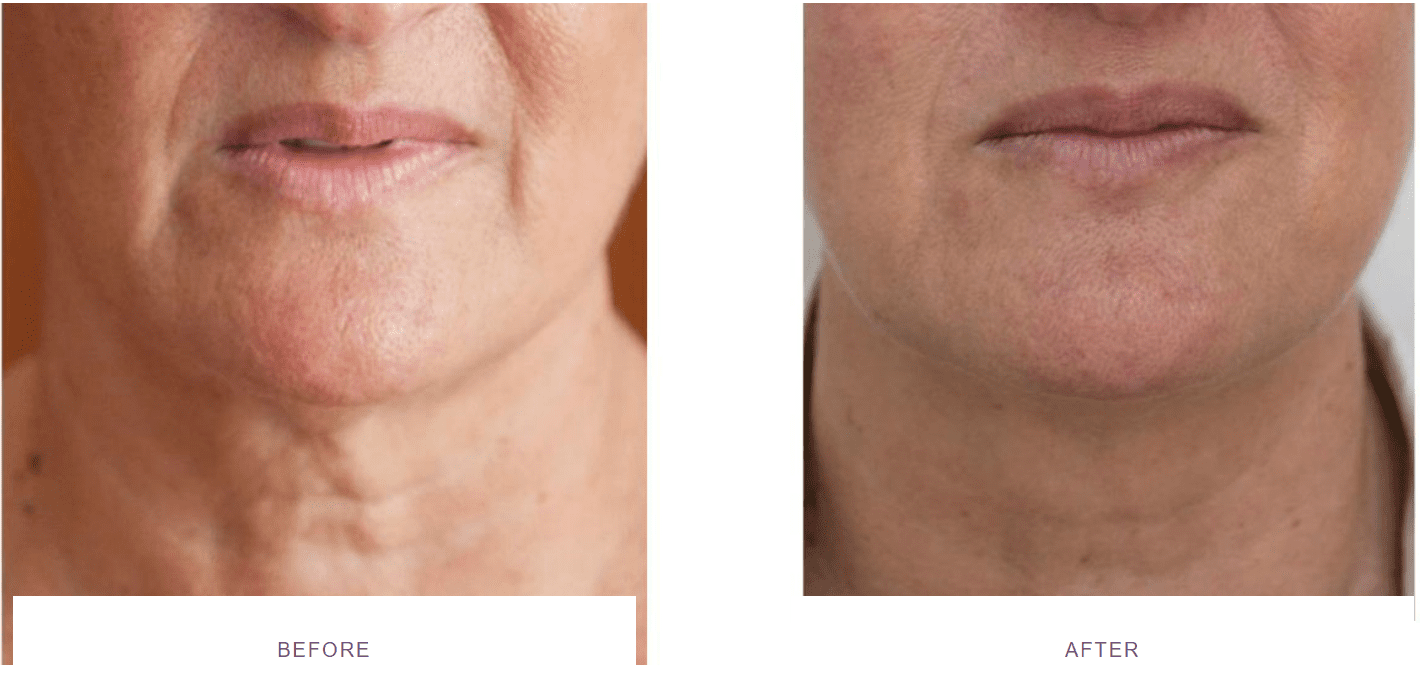 Profhilo was used to treat the neck area. Image courtesy of Dr Rodriguez Abascal.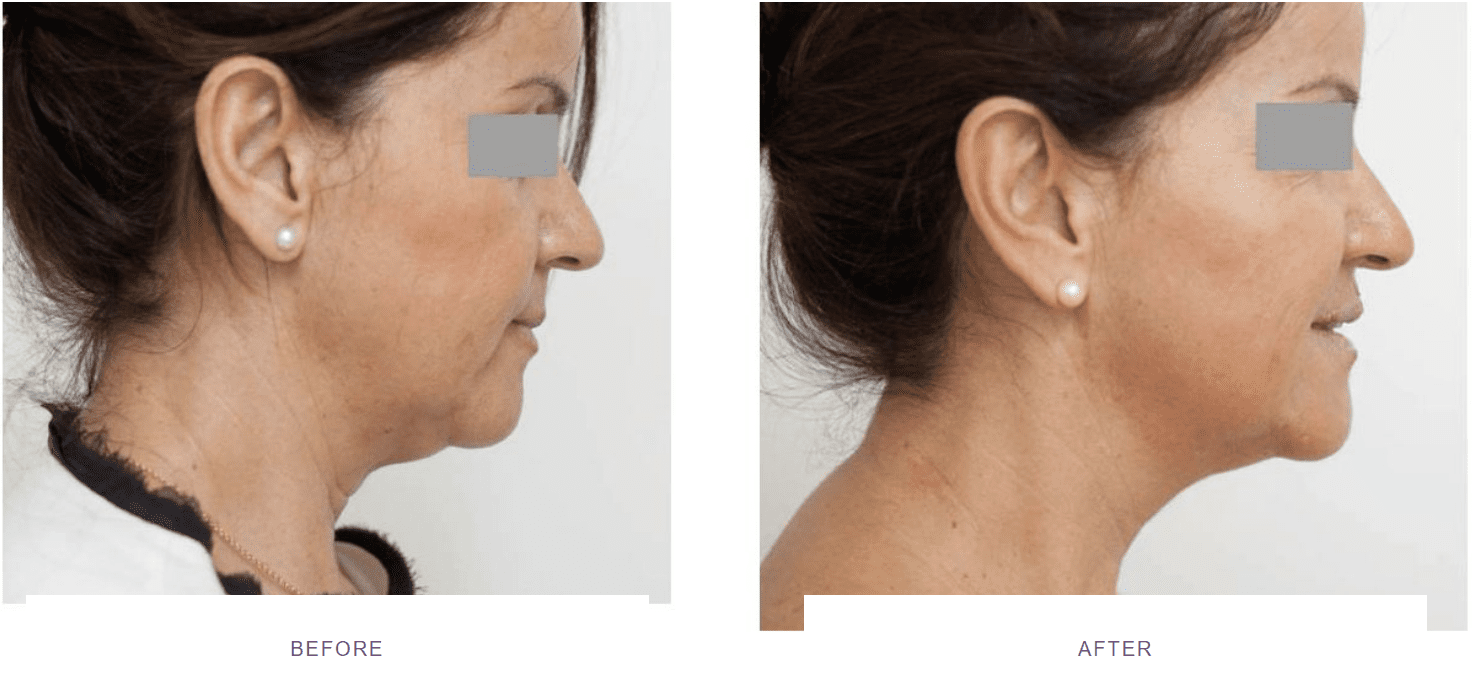 Profhilo was effectively used to treat this patient's face, resulting in a tighter appearance. Image courtesy of Dr Rodriguez Abascal.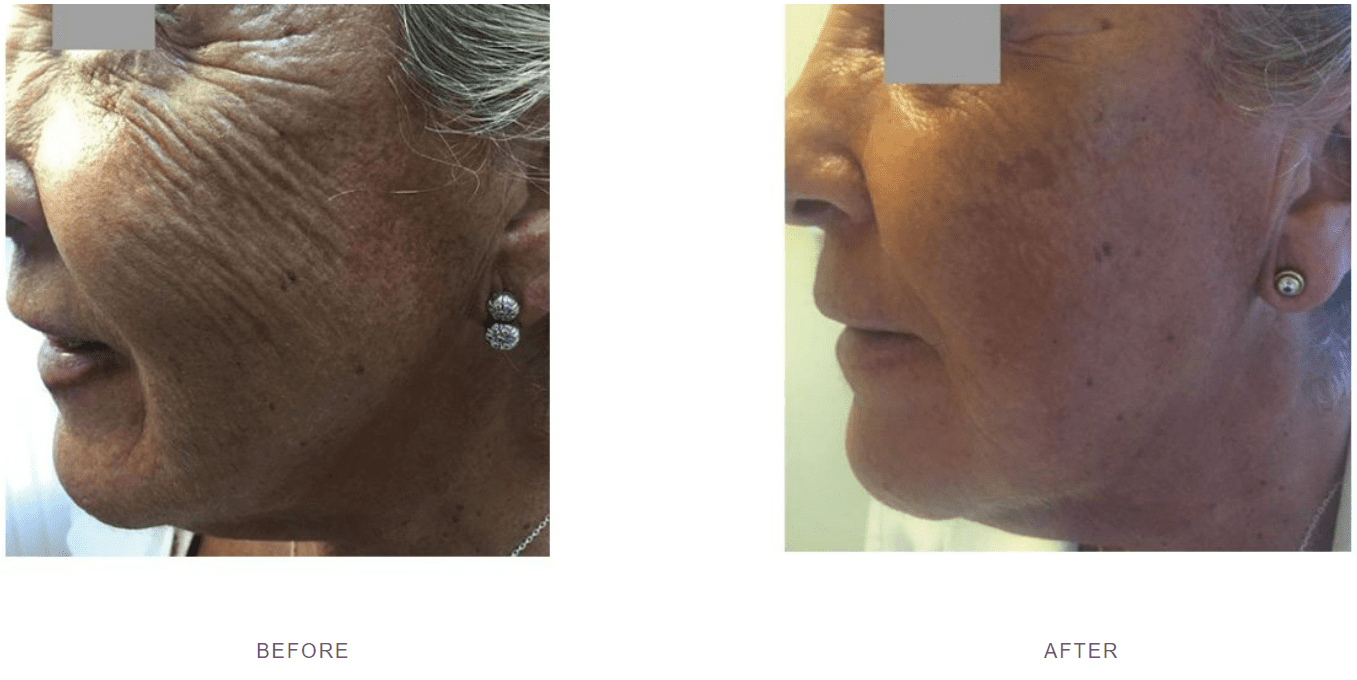 To treat this patient's skin laxity and lines, Profhilo achieved impressive results. Image courtesy of Dr Rodriguez Abascal.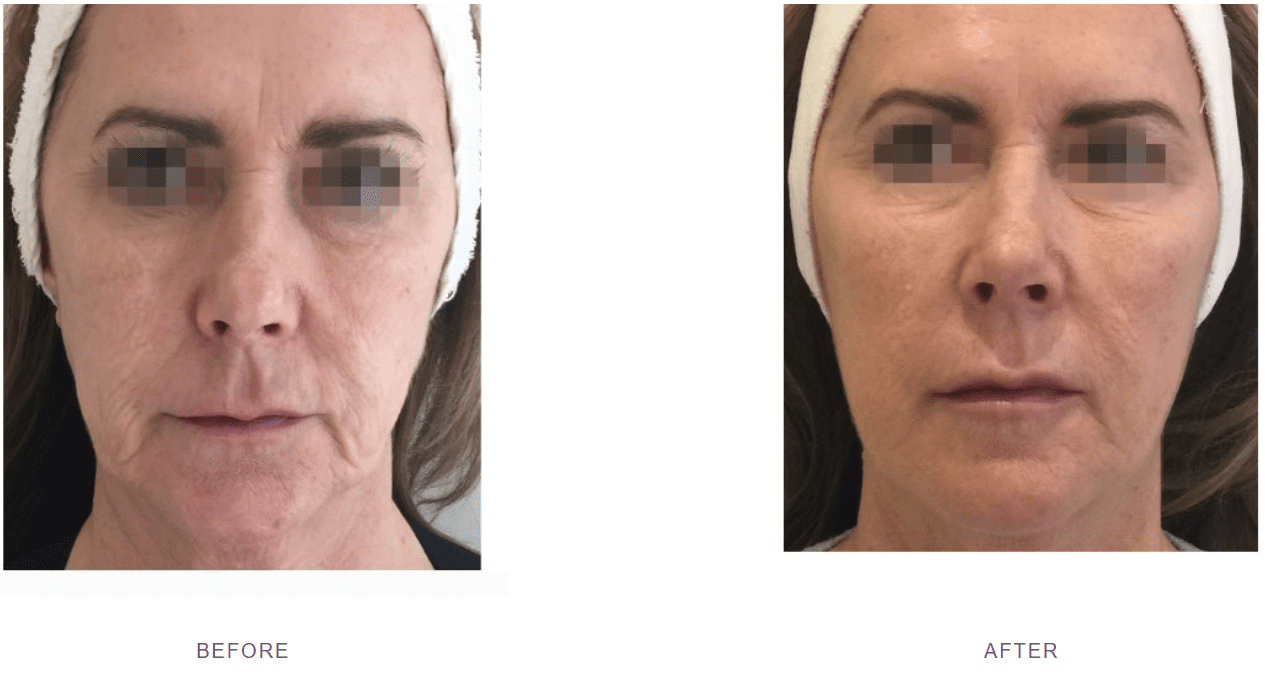 This patient's face was treated with Profhilo. Image courtesy of Dr Emma Ravichandran.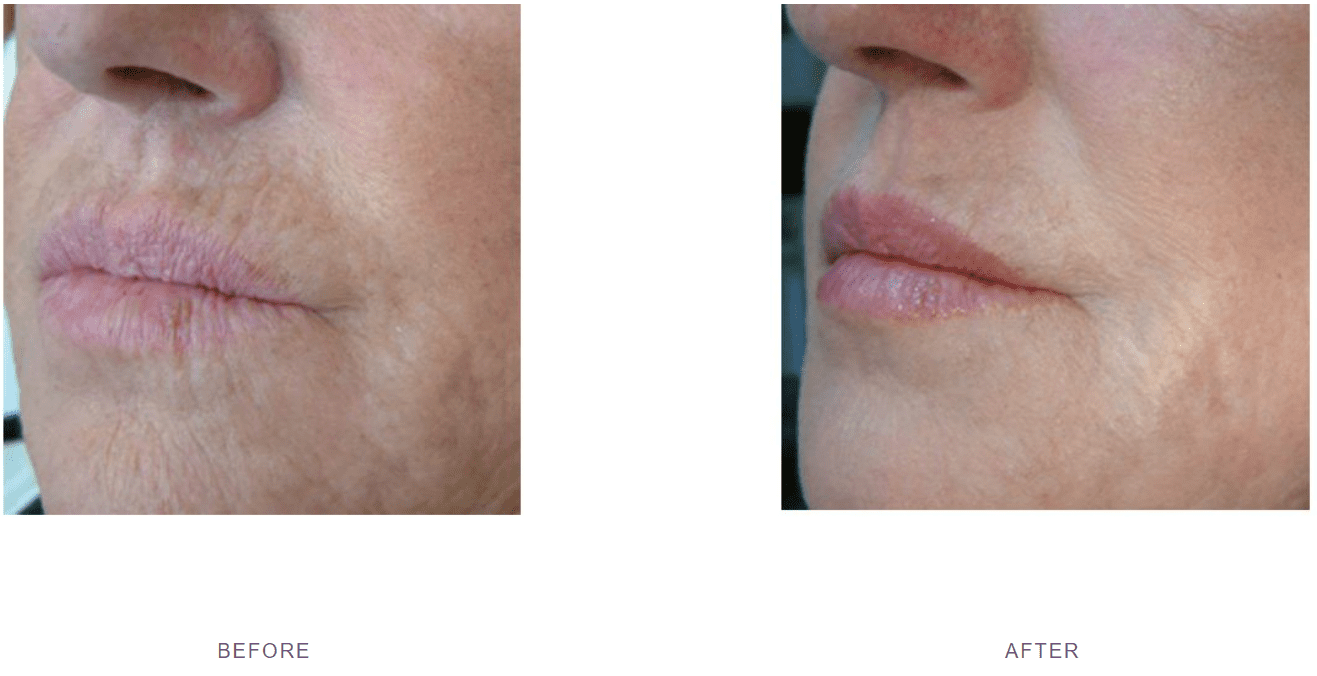 This patient's lip area was treated with Profhilo. 
HOW MANY TREATMENTS WILL I NEED WITH PROFHILO? 
The Profhilo treatment is divided into two or three treatment sessions, depending on the level of ageing of the patient. These Profhilo treatments are done 4-6 weeks apart with any required maintenance treatments, but approximately twice a year. For optimal results, the Profhilo treatment cycle can be performed twice a year. 
HOW QUICKLY WILL YOU SEE THE RESULTS FROM PROFHILO? 
After your Profhilo treatment, you will notice an immediate improvement to the texture and tightness of the skin within a month. Patients do require maintenance treatments twice a year, to maintain the effect. 
HOW PAINFUL IS PROFHILO? 
At the initial stage of injection, there may be a brief sting, but patients report very mild discomfort. Profhilo distributes itself evenly under the skin. Thanks to the strategic injection points, the Profhilo treatment is more comfortable for patients. 
Also, there is the added benefit of the product being a high concentration of Hyaluronic Acid, so the uplifting effect is maximised. 
WHAT IS THE PROFHILO DOWNTIME? 
With Profhilo, there is no downtime. At most, at the site of the injections, you may experience slight swelling or bruising. However, these should be minor and can be easily covered with mineral make-up once it is fine to do so. 
PROFHILO AT THE COSMETIC SKIN CLINIC 
At The Cosmetic Skin Clinic, our expert practitioners are well versed in the Profhilo BAP technique. If you suffer from skin laxity, whether it is moderate or severe, our team can put together a bespoke treatment plan to help you reach your aesthetic goals.  
With a highly trained team of injectors, our practitioners will revive your body confidence with glowing yet natural results. To find out more about Profhilo, head over to our dedicated treatment page. If you are ready to start your Profhilo journey, book your consultation here or give our London or Buckinghamshire clinic a call on 0333 363 6560.