As seen in the Daily Mail today 'fat freezing' is fast becoming the latest 'must have' of new mums! These women are looking for a treatment that gives real results in the fastest time in a speedy yet healthy way. At The Cosmetic Skin Clinic we have seen a huge increase in demand for this procedure from both male and female patients, so much so that we are now the busiest 'fat freezing' CoolSculpting clinic in Europe.
The reason for the popularity of this 'fat freezing' cryolipolysis procedure is;
Non-invasive
Non-surgical
No Downtime
Kills fat cells with long term results
Results are seen in as little as 6 to 8 weeks
Recently top Beauty Journalist Leah Hardy said she was delighted with her results and had lost more than 3 inches off her waist within 9 weeks of her procedures and it had given her, her confidence back. You can see her video testimonial here.
We have a team of fully qualified medical practitioners that carry out our fat freezing procedures in a private dedicated Coolsculpting Suite, where you can carry on working, reading, skyping, all in complete privacy.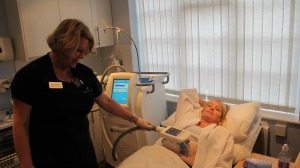 Coolsculpting by Zeltiq is the only FDA cleared Cryolipolysis device in the UK.
For more information on our fat freezing treatment call our reception team on: 01753 646 660