BRIDES Readers Event at The Café Royal
Brides Magazine held a special event for their readers at London's beautifully refurbished Hotel Café Royal this month. It was designed to give brides access to the top cosmetic doctors in the UK, who were all on hand to give advice and information on the most effective treatments available to help brides achieve their dream look.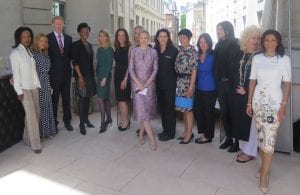 Held in the elegant Pompadour Suite, it was the perfect setting to talk all things 'bridal beauty'. During the afternoon, we met with lots of brides-to-be, their maids and mothers-of-the bride. All of these lovely ladies were interested to find out how we could help them prepare for their big day.
Two of the most popular questions asked from the brides-to-be were related to skin quality and body contouring:
"How can I improve the quality of my skin so it is flawless for my wedding day?"
For skin improvement treatments, depending on the individual patient's age and skin quality, we recommended Clear+Brilliant laser treatment and IPL (Intense Pulsed Light) to improve the texture, tone and luminosity of the skin. Both of these treatments stimulate the natural production of collagen giving way to firmer and more dewy looking skin. Clear+Brilliant will also reduces pore size.
"Is there a treatment to help slim my arms if I'm going to wear a sleeveless wedding dress?"
For slimming the arms, we recommended and demonstrated CoolSculpting. This is the FDA-cleared fat freezing treatment that can also address many other areas of concern on the body, such as the tummy, back fat, bra fat, inner & outer thighs and even double chins…
Throughout the afternoon, we ran live CoolSculpting demos with Lisa Liddiard – Zeltiq Practice Development Manager – and our CoolSculpting expert, Ria Murch. Guests were shown how quick and simple the procedure is.
We also demonstrated Dual Sculpting (which means that you can treat two areas at the same time) reducing overall treating time from as little as 35 minutes for two areas. There is no downtime and results are visible in as little as 3-4 weeks, with optimum results seen at 8 weeks.
As well as the live CoolSculpting demonstrations, Dr Mountford was on hand to offer one-to-one consultations for facial rejuvenation, with advice on how to achieve the most natural, subtle results combining sprinkles of 'Baby Botox' with light dermal fillers.
The sun shone, the champagne cocktails flowed and the excitement of impending nuptials was contagious! This was a fabulous event in a stunning location.
To find out more about CoolSculpting and Facial Rejuvenation treatments, contact our Reception Team who will be happy to answer your questions.