With many options to choose between when considering cryolipolysis in London it can be difficult to know which version of the treatment to have and which clinic to visit. The Cosmetic Skin Clinic' expert practitioners have over 20 years' experience and have performed over 50,000 CoolSculpting treatments. 
Autumn Packages are Available. Enquire Today.
On this page, we will talk about why Coolsculpting stands out among cryolipolysis treatments – it is the only FDA cleared cryolipolysis option – and why you  may wish to consider contacting The Cosmetic Skin Clinic, which is the UK's  and London's leading  Coolsculpting clinic for the past six years.
Why Cryolipolysis in London Means Coolsculpting in London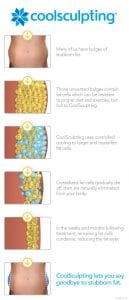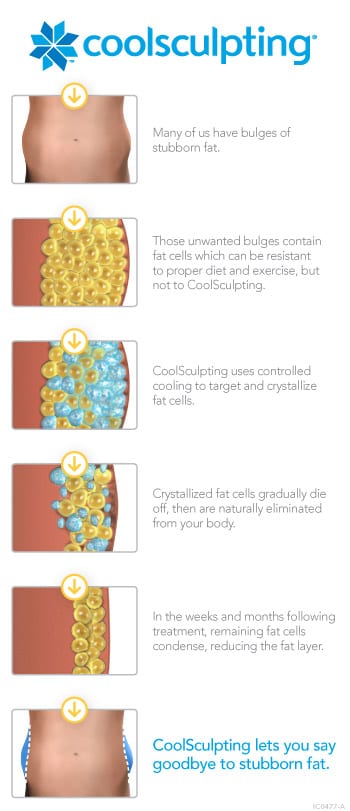 Anyone seeking cryolipolysis, or fat freezing, should consider Coolsculpting. As mentioned, it is the only FDA cleared option and is universally considered the market-leading choice, as indicated in a paper by the Journal of Cosmetic Dermatology.** Given any cryolipolysis treatment is targeting fat cells inside your body,  it is wise to think very carefully before considering an unproven version of the procedure, even if it may be cheaper.
When talking about cryolipolysis in this post, we will mainly be referring to the benefits of Coolsculpting. It is worth noting that whoever you choose for your cryolipolysis treatment in London you should check which version of the treatment they are using, is it Coolsculpting or is it an alternative?
It is a truism to say that if something seems too good to be true, far cheaper than other clinics, then it is unlikely to be a Coolsculpting treatment. Check reviews, check that they do offer Coolsculpting, you can even check with Allergan, the owners of the Coolsculpting technology, as they keep records of all their approved practitioners in London and the UK
The Benefits of Cryolipolysis
Cryolipolysis is a non-invasive treatment that freezes fat cells in targeted areas.  These cells then shrivel and die and are then naturally excreted via your body's lymphatic system over the following weeks. It is also a durable treatment, once the fat cells are gone they are gone for good.
While not a procedure for overall weight loss, it is perfect for eliminating problem deposits of fat  on the body, for example a double chin, tummy fat, flanks, inner and outer thigh fat and many more areas.
These are often areas where  stubborn fat remains even despite maintaining a healthy diet and exercising. Exercise of course has many benefits but it will not quickly target fat in any specific area. The fat cells slowly get smaller, rather than being removed.
Coolsculpting can cut fat cells in a targeted area by up to 27%, this in a treatment that can take as little as half an hour. Post treatment, there can be minor short term side effects such as redness and swelling and localised numbness, but nothing that should stop the patient going about their usual daily routine.
This is an exciting treatment for anyone looking to make non-surgical, noticeable improvements to their body without the need for expensive, invasive surgery. We are proud to be the leading clinic providing cryolipolysis treatment in London, or indeed in Western Europe for the past six years.
Why choose the Cosmetic Skin Clinic for Cryolipolysis Treatment in London?
Our record speaks for itself. Our team has 20 years' experience, and we are the no 1 Coolsculpting clinic in the UK. We have performed 50,000 CoolSculpting treatments. On the independent Trustpilot website we have had more than 500 reviews and maintain a 5-star reputation.
Our reputation is built not just on the quality of the treatment itself and the results but also the level of care for those coming in for treatment. We make it a relaxing process, our Marylebone clinic perfectly located nr Harley St in London, is easy to access and highly equipped. As you can see by looking on Google Maps, we are close to Baker St, Regent's Park and Oxford Circus as well as multiple underground stations.
The latest technology on offer extends to Dual Sculpting – while not suitable in every case, this is a version of Coolsculpting that enables us to treat two separate areas simultaneously, making treatment time quicker. Two areas of a cryolipolysis treatment can be performed in just 35 minutes.
Our expertise also extends to ensuring that this really is the right treatment for you. Everything starts with a consultation with an experienced member of our team. All of our practitioners have been to Coolsculpting University, and Dr Tracy Mountford, founder of the clinic, is on the Allergan faculty and is the only UK member on the Allergan Coolsculpting Faculty in the UK..
The consultation will take a holistic approach, looking at the body as a whole and then identify your specific areas of concern. Everything will be discussed in detail and a bespoke treatment plan created, which any patient is of course then able to consider.
We have the experience to know what is likely to be the best treatment option and to advise how tackling different areas can lead to the desired results – for instance fat bulges from thighs as well as belly fat and bra fat.
We of course also know when any cryolipolysis treatment is not suitable for a patient, this includes  when the person seeking the procedure has certain specific medical conditions, or if the type of fat is visceral fat.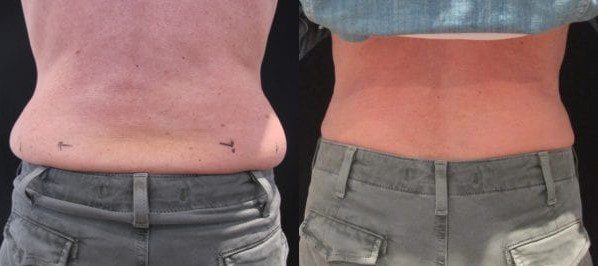 Cryolipolysis: Next steps
On this site, you can see our before and after gallery of our patients who have had treatment in London. You can also see many of our treatment videos that may also help to answer some of your questions.
You can also find out more about us as a clinic, our ethos, our accreditations and information on our experienced team, including founder Dr Tracy Mountford.
If you would like a consultation to discuss treatment in London please use the online form to get in touch or give us a call on 0333 242 9285.