By Dr. TRACY MOUNTFORD, MBBS MBCAM
Following the hustle and bustle of a busy Thursday clinic, Dr Tracy Mountford opened the doors of her London clinic for an exclusive event, showcasing some of the latest advancements in non-surgical cosmetic medicine.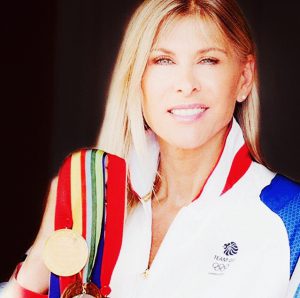 Our VIP guest for the evening was existing patient and close friend of the clinic Sharron Davies MBE, who was keen to share her treatment experiences with other patients. Famous for representing Great Britain in the Olympics and her work as a media personality, Sharron talked about how the industry of 'lights, camera, action' magnifies your awareness of flaws that develop as we age, as well as heightening the need for any cosmetic intervention to be both subtle and natural looking.
"All those celebrities 40+ that look incredible and say "it is all natural" are not always telling the whole story… We all need a little bit of help and I have found Dr Mountford to be the best there is" Sharron Davies
Dr Mountford kicked off the evening with a thought-provoking discussion on the new 'Coded' approach to facial fillers, talking briefly about her own unique strategic approach to rejuvenating the whole face naturally to achieve lift, support and balance as well as natural movement. Throughout this discussion, Dr Melissa Fitzgerald expertly treated our patient Susan Beckwith with Silhouette Soft Threads. One side of the patients face was treated initially and then Susan was brought out of the treatment room to display a direct before and after comparison of the treatment, enabling patients to appreciate the artistry that goes in to this procedure as well as the immediate results that can be achieved.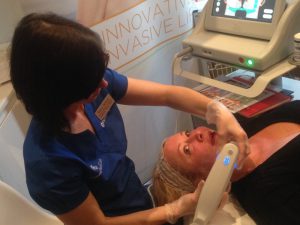 Following on from this there was a presentation on CoolSculpting fat freezing and a presentation on Thread Lifting to explain the theory of this procedure. Patients were then invited to circulate between the treatment rooms, allowing them to see live Ultherapy and CoolMini treatments, as well as Susan's final Thread Lifting results. Throughout the evening, complimentary consultations were also available for all treatments showcased, including a personal assessment's from Dr Mountford herself.
The feedback from this evening was very positive:
"Having the opportunity to discuss a personalised treatment plan with Dr Mountford was fantastic!"
and
"Seeing live treatment demonstrations, particularly the Thread Lifting in stages, gave a real and honest insight into what to expect"
If you want to learn more about any of the treatments discussed visit our website here, or call our reception team on 01753 646 660 to book a private consultation.