By Dr. TRACY MOUNTFORD, MBBS MBCAM
Lip fillers are a non-surgical injection solution used to fill lip lines and wrinkles across the lips while restoring volume.
Lip fillers can lift, reshape and add definition to your lips instantly, without any invasive surgery or downtime. Here, we demonstrate the visible benefits of lip filler treatments with our lip fillers before and after images. We also explain how you can maximise the visible results.
In less than an hour, patients can benefit from plumper and more revitalised lips that capture a sense of natural beauty. The key to achieving lustrous and beautiful lips lies in the subtle and strategic placement of nourishing hyaluronic acid fillers, without over-inflating the look of the lips. Our gold-standard lip filler treatments use naturally biodegradable formulations to produce exceptionally long-lasting results. Fill in vertical 'smokers' lines' and lipstick lines, rebalance drooping lips and nourish dry, flat or deflated lips in an instant, with hydrated and contoured results that last.
Lip Filler Before and After
Discover the beautifying impact of lip filler treatments with our lip fillers Before and After pictures below. See how patients have been able to hydrate, plump and add definition to their lips while minimising the appearance of lip wrinkles and sagging. Patients can enhance or build upon these effects with subsequent treatments if needed. But the key to lip beauty lies in taking a discreet yet transformational approach. Head over to our dedicated lip fillers treatment page for more information on how we achieve this subtly enhanced yet head-turning look.
Lip Fillers Before and After Thin Lips
Adding volume to thin lips with subtle lip filler treatment: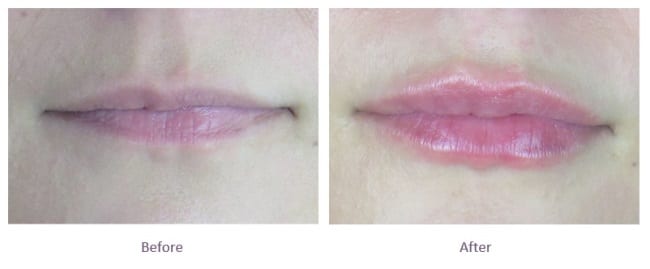 Top Lip Filler Before and After
Enhancing the shape of the Cupid's Bow and hydrating the top lip:

Subtle Lip Filler Before and After
Fillers for Lip Lines – Achieving a subtle boost of lip definition: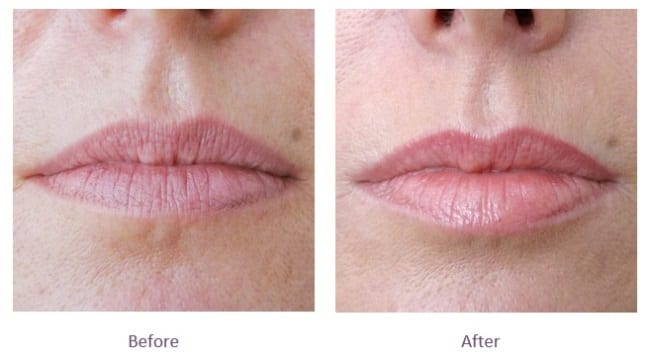 Restylane Lip Filler Before and After
Lip filler applied with Restylane® hyaluronic acid fillers: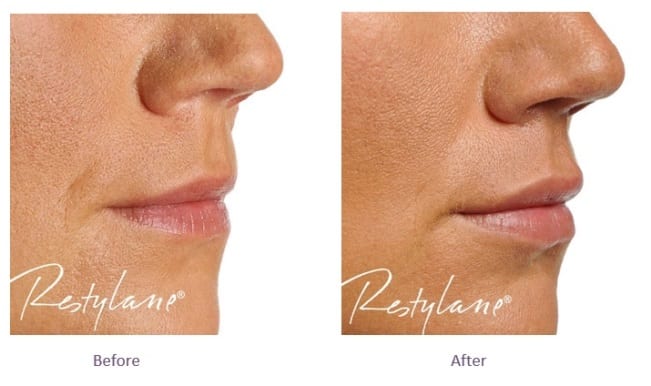 Juvederm Lip Fillers Before and After – Fillers for lip lines
Lip enhancement using Juvederm® Volbella – Filler Before and After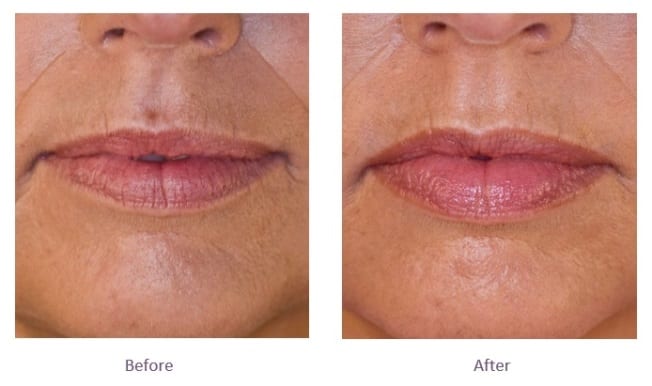 Maintaining your Lip Filler results
Although lip fillers are a temporary skin rejuvenating solution, they define and volumise the lips for up to 9-12 months. However, patients can maximise the longevity of these effects with these skincare and filler preservation tactics:
Maintain a healthy, balanced diet: The first tip to boost and preserve lip fillers in the skin is to eat healthy, anti-inflammatory foods that are rich in Vitamin C and antioxidants. Filler breaks down when skin becomes inflamed, so avoid sugary and unhealthy foods. Eating healthy foods with amino acids and vitamins allows our skin to build up natural levels of collagen and hyaluronic acid. This can help lip filler effects to last longer.
Utilise medical-grade lip boosters: Applying nutrient-rich topical creams and lotions is a great way to further boost collagen support. Perfect your pout with hyaluronic acid lip boosters that further plump your lips over time. Also embrace SPF lip balms to shield your skin from damaging wrinkle-forming UV rays.
Consider combination treatments: Patients can create the ultimate wow factor with their lips by combining lip fillers with skin tightening treatments like Ultherapy. This treatment stimulates collagen creation in the lips even further using ultrasound energy to firm up and lift surrounding skin.
Lip Filler Results
Lip fillers revitalise the skin by injecting it with a natural sugar-based gel that delivers plumpness and fullness straight away. The treatment takes just a few minutes to complete and results are immediately noticeable. Lip lines are hydrated and volume is restored to flat or drooping areas that have lost their shape. Patients can also transform the look of their Cupid's Bow, the attractive heart-shaped feature that sits at the top of some women's lips, and famously showcased by iconic women including Marilyn Monroe and Taylor Swift.
Patients will see best results 5-7 days post-treatment. By this time, residual swelling has ceased, and the hyaluronic acid has started to boost the patient's own natural collagen renewal.
Lip Filler Reviews
Throughout history, perfectly shaped lips have always attracted attention. Women who have been lucky enough to have them, from Bridgett Bardot to Angelina Jolie have always stood out for their beauty. Perhaps this is why lip filler treatments are now one of the most in-demand aesthetic procedures at our clinic. Our customers seek out our lip enhancement treatments thanks to our delicate and professional approach. We seek to enhance a patient's own natural beauty in line with their personal expectations. We don't over-emphasise the lip shape by copying celebrity styles or over-inflating lips into an unnatural 'trout pout.' Instead, we treat with integrity and understanding to achieve optimum results for all.
Sara Taylor, a patient of ours utilised our Restylane lip fillers to bring back definition to her top lip. She commended our empathetic approach: "I always had a thin top lip, and as I've got older, it seems to have completely disappeared. Now my lips appear fuller and more lustrous. For me, I wanted to make sure the clinician was going to be sympathetic to what I wanted. I needed an empathetic and trustworthy approach, which I got at The Cosmetic Skin Clinic."Sara, Lip fillers patient, Cosmetic Skin Clinic
Nicola Brookes also selected our lip fillers and was pleasantly surprised by the impeccable results:
"My lips started to turn down a little bit and I think this is the first area on women that you notice, where they start to look older. Now my lips are perfectly shaped thanks to Restylane lips fillers." Nicola, Lip Fillers patient, Cosmetic Skin Clinic
Lip Filler Side Effects
Dermal lip fillers can sometimes generate redness, mild bruising and swelling at the injection site. But we minimise these lip filler side effects by applying ice to the lips immediately after treatment. This helps to reduce any inflammation that may occur.
Some patients also worry that lip filler injectables can be painful. But at The Cosmetic Skin Clinic, we use lip fillers that contain a mild anaesthetic to minimise pain and discomfort. We can also apply a numbing cream to the injection site for any patients who are particularly nervous. However, most of our patients find lip filler treatments to be much more comfortable than they first anticipated. Patients are also able to return to their normal activities without the need for disruptive downtime.
Lip Fillers at The Cosmetic Skin Clinic
At The Cosmetic Skin Clinic, we stand out for the quality of our lip filler treatments. Our founder Dr Tracy Mountford is a much-respected ambassador for the dermal filler industry, having treated a range of stars and celebrities throughout her career. She has also been voted as one of the Best Filler Doctors in the UK by Tatler magazine and has personally handpicked a team of specialists who apply lip filler treatments with delicate yet transformative results.
Our customers have commended this approach by giving us a 95% patient satisfaction rating and 5-star Trustpilot score. So you can be sure to benefit from our exacting standards, impressive experience and unrivalled reputation for excellence when taking a treatment with us.
Learn more about our world-class lip fillers by getting in touch with our friendly team today. We will tailor your treatment to your exact personal needs to give you the perfect pout that you've always wanted.
Book a consultation with our team. Or call our clinics directly on 0343 253 8240 (London and Buckinghamshire).
How To Find Us – Lip Filler Clinic near me
The Cosmetic Skin Clinic in London is within easy walking distance of Oxford Circus, Bond Street and Baker Street tube stations. It is also conveniently located a train ride away from Paddington and Kings Cross St Pancras Train Stations.
The Cosmetic Skin Clinic in Buckinghamshire is located in Stoke Poges and it is near to Gerrards Cross (Chiltern Railway), Slough's (First Great Western) station. It also has great transport links via the M25, M4, M40 and A40 roads, linking the clinic to the Surrey area, Wembley, Kingston upon Thames and Richmond.