By Dr. TRACY MOUNTFORD, MBBS MBCAM
CoolSculpting has just refined its technology even further! It is now possible with the new CoolAdvantage treatment applicator to have a CoolSculpting treatment carried out in just 35 minutes! That's as long as it takes to get your nails done!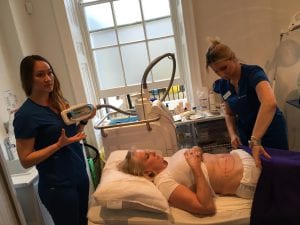 Just over a week ago on Tuesday 24th May; Dr Tracy Mountford was invited by Zeltiq the inventors of CoolSculpting to launch their latest innovative applicator 'CoolAdvantage' to the UK's national beauty press.
The beauty journalists attending were invited by Zeltiq and The Cosmetic Skin Clinic to a live demonstration and an exclusive first look at the new CoolAdvantage. They were so impressed with the new technology that each one of them have already booked in for treatment for when the new applicator arrives. The Cosmetic Skin Clinic is the first clinic in the UK to have this new applicator, which will be available in both our London and Buckinghamshire clinics.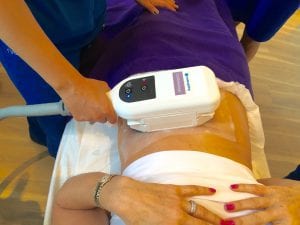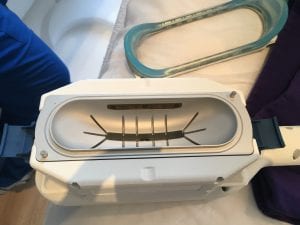 So what is this new innovation that has captured the journalist's attention? 
The new CoolAdvantage treatment applicator is set to revolutionise the already-popular fat reduction treatment by offering lower temperatures that cut treatment times nearly in half, due to the revolutionary cup design and colder temperatures.
More fat treated – The new design provides a larger cooling area
Even greater comfort – patients report 45% improvement in comfort
Shorter treatment time – 35 minutes cuts treatment time by nearly half, due to the revolutionary cup design and colder temperatures
"This new applicator is very appealing to our busy patients. Nowadays time is very precious as we all lead very hectic lifestyles says Dr Tracy Mountford. The fact that we can now treat a larger area of fat in almost half the time is very exciting. Add to this the procedure is even more comfortable than before means that the best just got even better!  This also means we can now offer 'dualsculpting' and treat two areas at the same time in just 35 minutes and multiple areas are now being treated in half a day compared to a whole day, which is a massive improvement for our patients."
CoolSculpting is ever popular with many celebrities as a leading fat loss treatment, it was recently featured on 'Keeping Up With The Kardashian's' on Sunday 22nd May with Kris Jenner Kardashian. Kim and Khloe Kardashian are reported to be fans of CoolSculpting too. Most anyone is a candidate for CoolSculpting as long as you have stubborn pockets of fat that you cant get rid of through exercise and healthy diets, it's accessible to everyone.
If you would like to find out more about the new CoolAdvantage applicator or book a complimentary CoolSculpting consultation, call our reception team on: 01753 646 660