'Age no barrier to beauty'
The Mail on Sunday
October 2018
by Sam Lewis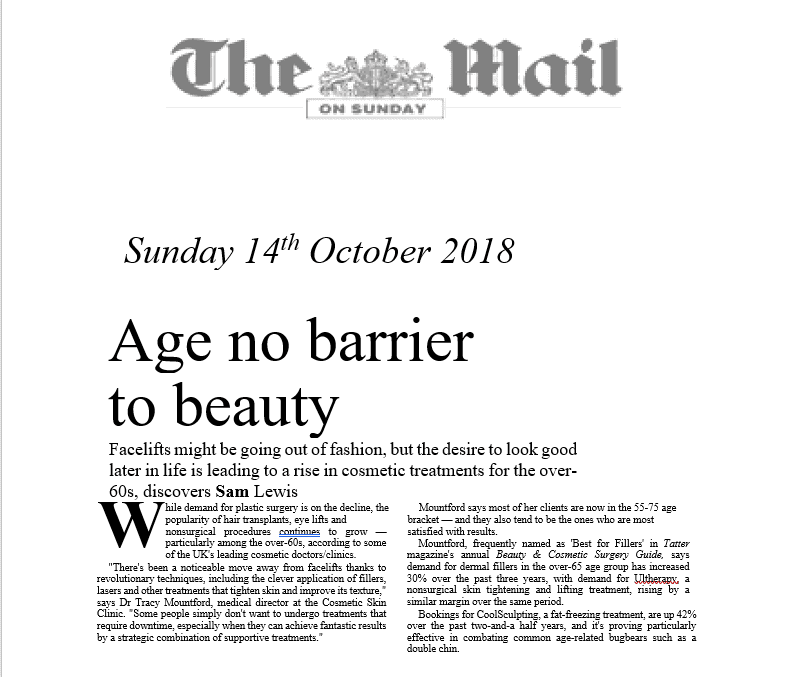 Sam Lewis interviews Dr Tracy Mountford and reports on how facelifts are going out of fashion, but the desire to look good later in life is leading to a rise in cosmetic treatments for the over-60s.
'There's been a noticeable move away from facelifts thanks to revolutionary techniques, including the clever application of fillers, lasers and other treatments that tighten skin and improve its texture' says Dr Tracy Mountford, Medical Director of The Cosmetic Skin Clinic. 'Some people simply don't want to go undergo treatments that require downtime, especially when they can achieve fantastic results by a strategic combination of supportive treatments.
Dr Tracy Mountford went on to say that demand for dermal fillers in the over-65 age group has increased 30% over the past three years, with demand for Ultherapy, a nonsurgical skin tightening and lifting treatment, rising by a similar margin over the same period. Bookings for CoolSculpting®, a fat-freezing treatment, are up 42% over the past two-and-a half years, and its proving particularly effective in combating common age-related bugbears such as a double chin.
To find out more about Dermal Fillers, CoolSculpting® or Ultherapy treatments please call our London clinic on 0203 319 3637 or 01753 646 660 for our Buckinghamshire clinic or email [email protected]