By Dr. TRACY MOUNTFORD, MBBS MBCAM
Botox for the face is one of the most popular treatments at our Botox Buckinghamshire clinic due to its great results and proven effectiveness.
Our goal at The Cosmetic Skin Clinic is to ensure you look rejuvenated, refreshed, and wrinkle-free without sacrificing movement. We cover what it is, areas that can be treated, botox benefits and more.
In our state-of-the-art clinics, we personally handpick and train our staff in the Botox methodology. With this holistic approach, all of our expert injectors produce consistently unique results. By enhancing natural features, this method creates a lifted, defined yet refreshed appearance. Because everyone is different, we can intuitively inject and create a bespoke treatment based on the mantra "minimal intervention, maximum impact.".
WHAT IS BOTOX?
Botox® is a naturally purified protein that is used as a muscle relaxant. Doctors in the UK often prescribe it to treat chronic migraines, eyelid spasms, and hyperhidrosis (excessive sweating in the armpits, hands, and feet).
WHAT AREAS CAN BOTOX TREAT?
Botox can be used to treat a number of areas including:
Bunny lines
Dents in the chin
Check out our comprehensive guide to find out what age to look at for Botox matched with areas of concern here.
BOTOX BENEFITS
Results are quick and prove to work with no recovery time.
Diminishes crow's feet and forehead lines or worry lines, as well as deep creases between your eyebrows
Reverses a puckered or pointy chin (called a 'witchy chin') by relaxing the muscles that cause it. As a result, the lower face appears smooth and dimple-free.
Treats teeth grinding by relieving jaw joint tension and muscle tension.
You can use this treatment to treat gummy smiles and downturned corners of your mouth.
By performing a 'Nefertiti Neck Lift', the neck and jawline are tightened and redefined for a more elegant and youthful appearance.
A 'Nefertiti Neck Lift' is when the neck and jawline are tightened and redefined for a more elegant and youthful appearance. Without any downtime, this procedure is simple and highly effective.
It is used to treat excessive sweating (also known as hyperhidrosis). Many of our patients have had life-changing results from Botox injections into sweat glands in their armpits, hands, and feet.
BOTOX BEFORE AND AFTERS
Here is a small selection of Botox before and afters: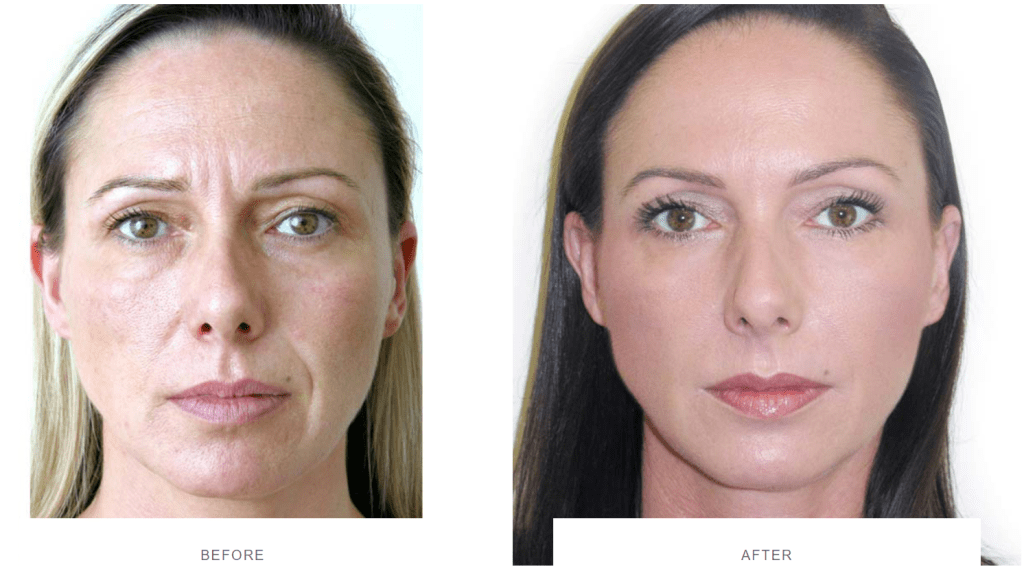 Our patient was treated with BOTOX® and Restylane® to the glabella (smooths the part of the forehead above and between the eyebrows), Restylane® Skinboosters™ to lips and Restylane® to the lower face.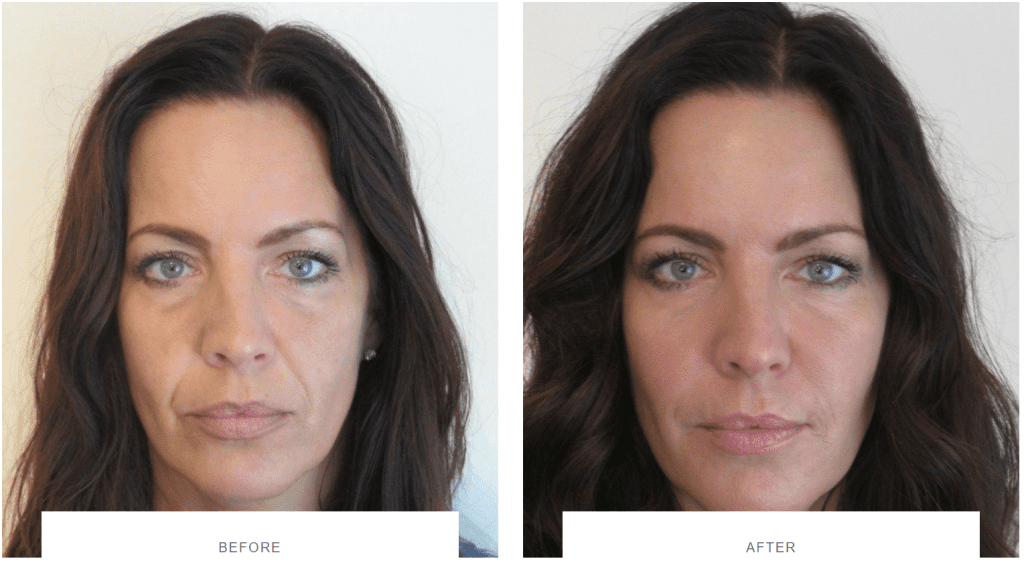 This patient was treated with BOTOX for her forehead and crow's feet to create a smooth and refreshed appearance to the brow and around the eyes.
HOW LONG DOES BOTOX LAST?
To maintain your fresh and natural appearance, you may need to repeat treatment approximately every three to four months over a twelve-month period. Several clinical trials have reported that some patients need only one or two treatments a year after they have undergone treatment over 12-months. Your medical practitioner will give you all the advice you need.
HOW LONG DOES BOTOX TAKE TO WORK?
A BOTOX® injection, brow freezing or crow's feet freezing treatment usually takes 5-7 days to work. Using natural and subtle techniques, The Cosmetic Skin Clinic helps you look great for your age with natural and subtle results.
BOTOX REVIEWS AT THE COSMETIC SKIN CLINIC BUCKINGHAMSHIRE
As every patient is unique, our injectors create a bespoke treatment approach that accurately reflects each individual's needs. With our top-rated injectors, you will feel and look like "you" again. See what our patients say about their Botox experience:
5 stars
Tara has been doing my Botox for a few years now and I'm always super happy with the results. I recently had filler for the first time and was apprehensive – Tara completely put me at ease and reassured me, although I needn't have worried as the results were absolutely perfect. Highly recommend booking in with Tara 👌
Katy G
5 stars
Absolutely THRILLED with my results
I had Botox & lip filler with Tara and I couldn't be happier with how both have turned out. Wouldn't go anywhere else now. LOVE ❤️💗
Holly Richards PMU
5 stars
I recently had Botox and fillers with Dr Ward and I am totally over the moon with my results! She listened carefully to my concerns and has achieved exactly what I wanted. I would highly recommend Dr Ward, she was very friendly and knowledgable. I will be a patient for life!
Gemma
5 stars
I've been going to see Lee for a few years now for botox and he's brilliant. Knows exactly what I want without even telling him. It always looks so natural. Would highly recommend.
Camille Sullivan
5 stars
Lee Garrett – 5 Stars – Thank you!
I have been a dedicated client of Lee Garrett's for many years. I've been with Lee as his practice has grown and developed and I am very grateful for his expertise. There are several things which I really like about Lee – he is kind and patient in his manner and incredibly precise and knowledgeable in his technique
Lee is constantly engaged in either training other practitioners or in learning about and offering the latest technologies. I am very pleased to know Lee and to have him as part of my health care regimen.
Lee's Botox injecting technique is impeccable and far more thorough than any other practitioner I have seen. He carefully maps out the face prior to injecting and through a series of "micro-injections" he addresses far more points on the face and in a given area than other providers I have seen.
This creates a natural, individualized and fine-tuned appearance. Lee is always happy to welcome me back ten days later should any further adjustments be necessary. I have seen numerous practitioners over the years and all over the world for Botox and I have never seen another practitioner who was nearly as precise or focused in administering these injections.
PMM
5 stars
I have had 2 appointments with Lee; first consultation and treatment and then follow-up 2 weeks later. With botox injections primarily for pain and headache management. Lee is genuinely kind and super positive and also willing to put together a unique plan for me. I look forward to my next visit and would highly recommend!
Kelly
MORE ABOUT OUR EXPERT BUCKS BOTOX TEAM
Our Buckinghamshire clinic is a trusted multi-award winning, CQC registered medical clinic. In The Cosmetic Skin Clinic, you will find a highly skilled team of cosmetic doctors, advanced aesthetic medical specialists, and high-level medical aestheticians. We are committed to delivering impeccable service and results you will love with safety as a top priority. All clinic practitioners are qualified with the appropriate medical training and have years of experience.
Begin your Botox journey with our medically qualified practitioners. Book your Botox consultation or give our Stoke Poges, Buckinghamshire clinic a call on 0371 705 2776.
BOTOX CLINIC NEAR ME – WHERE YOU CAN FIND THE BEST BOTOX CLINIC IN BUCKINGHAMSHIRE, near Ascot, High Wycombe, Beaconsfield, Marlow, Windsor
In the heart of Buckinghamshire, our botox clinic is close to the picturesque Colne Valley Regional Park. Our full address is:
84 Rogers Lane, Stoke Poges, SL2 4LF
Our Stoke Poges clinic is easily reached from the following surrounding areas: Marlow, Ascot, Beaconsfield,  Gerrards Cross, Amersham, Maidenhead, High Wycombe, Windsor and further afield.