Find out about the best wrinkle relaxing treatments by top rated Botox practitioners.
"Injectable treatments are an incredible non-surgical tool for ageing well and looking good, but still looking age-appropriate with minimal downtime" – Dr Johanna Ward
Anti-wrinkle injection, Botox, softens and prevents the appearance of fine lines and wrinkles. Botox (Botulinum Toxin Type A) is a well-known cosmetic treatment that effectively tackles dynamic lines by preventing facial muscles from contracting. It blocks signals from the nerves to stop the muscles contracting or moving. Botox therefore relaxes facial muscles. This results in facial wrinkles like forehead lines, crow's feet, frown lines, marionette lines being smoothed out.
Revolutionise your skin by getting rid of fine lines and wrinkles, and enjoy refreshed, younger and healthier looking results.
If you have noticed forehead lines and wrinkles, smoker's lines, frown lines, smile lines or other ageing skin concerns, preventative Botox treatment may be the best option for you.
Unique and bespoke Botox results begin with a consultation.
Taking a patient's journey into consideration, we believe that the first consultation with your practitioner is of the utmost importance. Botox practitioners at The Cosmetic Skin Clinic adopt a holistic approach to every patient. Our expert Botox injectors will assess your condition and design a treatment plan tailored to your areas of concern.
Conditions and areas of the face that you can treat with Botox.
A huge pro of Botox is that it can be used to treat a wide variety of conditions and facial areas. These include: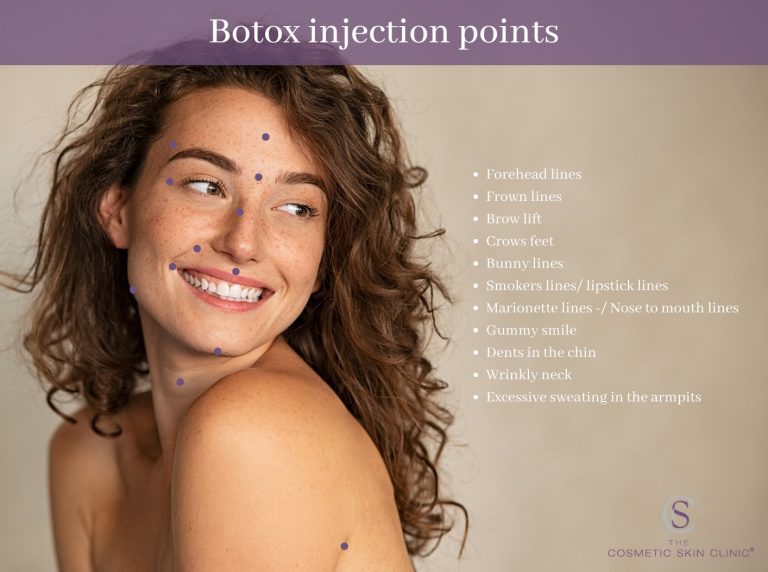 Forehead Lines – these horizontal lines appear across the forehead. Botox can soften and diminish their appearance.
Frown Lines – these vertical lines (also called 11 lines) appear between the eyebrows. Botox injections improve and minimise the appearance of frown lines.
Crow's Feet – Botox safely relaxes the muscles around the eyes to not create the tell-tale signs of crow's feet lines.
Eyebrow Lift – Botox is effective at lifting a heavy brow and creating a brow arch that can open up your facial features.
Bunny Lines – from actions of scrunching our face and others, bunny lines can appear on both sides of our nose but can be minimised by Botox.
Upper lip lines / Lip Flip – Sometimes our mouth movements can cause our upper lip muscle to slightly roll upward creating a lip flip effect.
Neck Lines – Whether you have horizontal or vertical neck lines, Botox can be injected to relax the dynamic muscles achieving softer and younger looking skin.
Hyperhidrosis (excessive sweating) – Excessive sweating in the armpits, palms and feet can be reduced with the help of Botox relaxing the muscles and nerves that overstimulate the sweat glands.
How long is the Botox treatment?
Dependant on the treatment area and how many areas are being treated, the Botox treatment itself is quite quick, usually taking up to 15 minutes.
Is there any pain or downtime with Botox?
The needles used for Botox are small and thin, and when done by expert injectors you'll find that the majority of patients do not need any pain relief during this procedure. You will also be able to resume your normal day to day activities right after your appointment as there is no downtime required with anti-wrinkle injections.
When will I see results and how long do they last?
You can see the full Botox results at 10-14 days, and they can last up to 6 months.
The best Botox results at The Cosmetic Skin Clinic in Buckinghamshire
BOTOX UPPER AND LOWER FACE BEFORE AND AFTER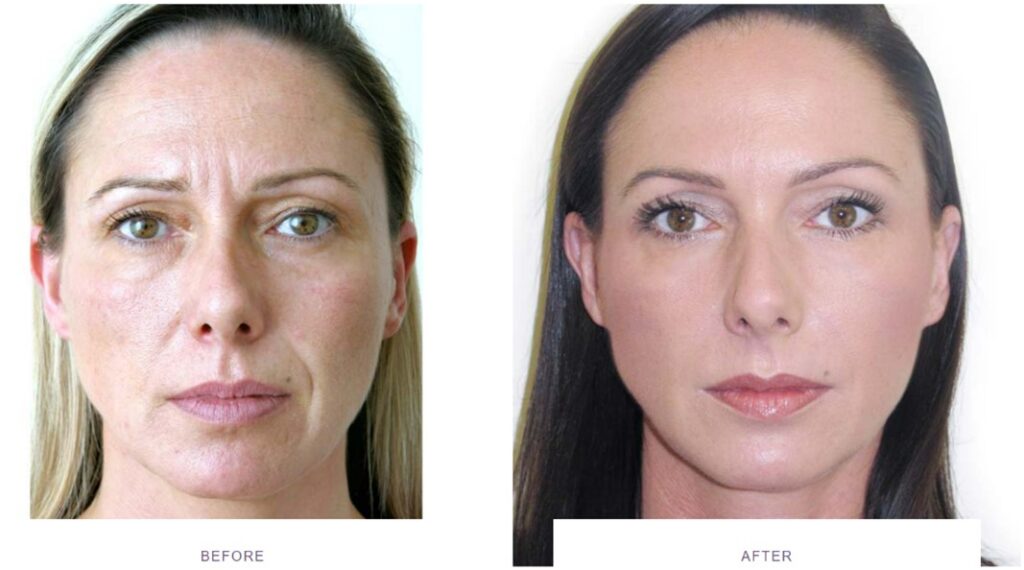 Our lovely patient had a Botox treatment to treat frown lines and forehead lines around the eye area, and also to treat her nose to mouth, and lip lines in the lower face.
BOTOX UPPER AND LOWER FACE BEFORE AND AFTER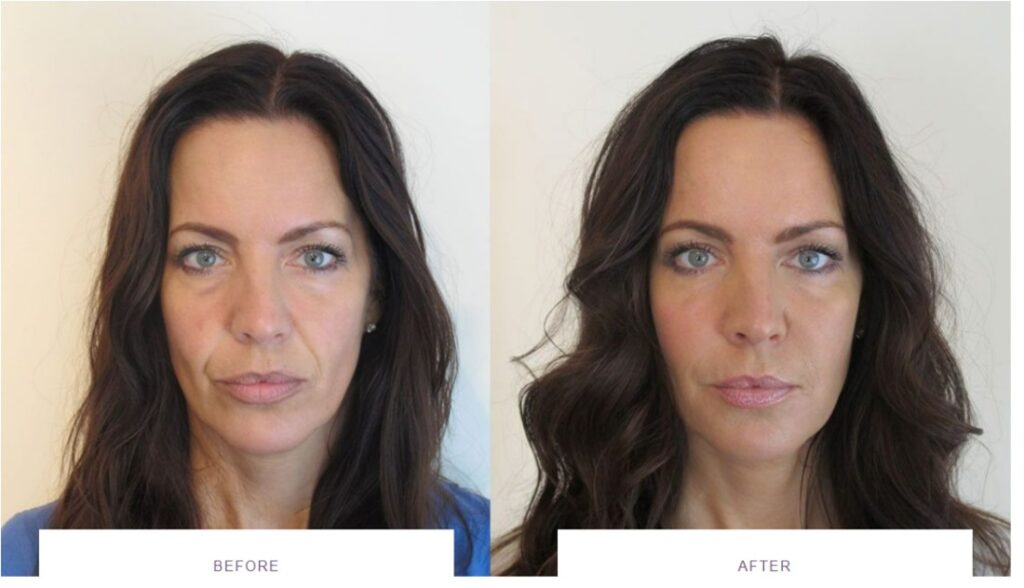 Our beautiful patient had Botox to smooth and refresh the forehead above and between the eyebrows, along with treating the lower face smile lines.
Visit our dedicated Botox gallery page.
Our top Botox practitioners in Buckinghamshire
Which practitioner you choose is everything and you need to get it right. At The Cosmetic Skin Clinic our aesthetic medical practitioners have been trained to the highest levels of expertise in the country. With years of experience, our team consistently create unique and sought-after results. We have treated thousands of patients, ensuring expertise, safety, and excellent patient care.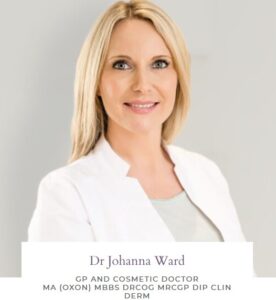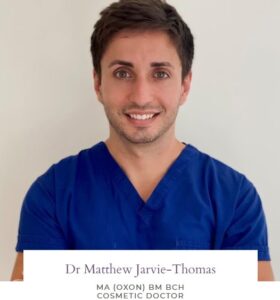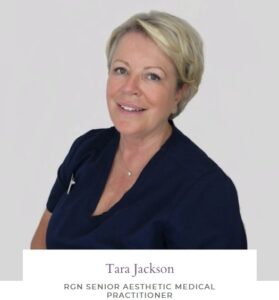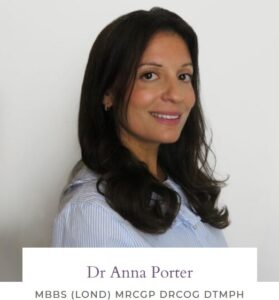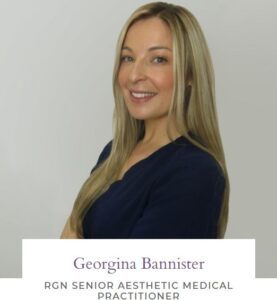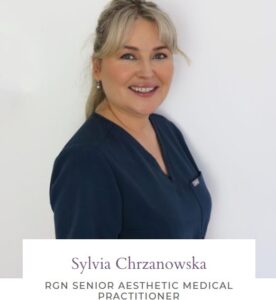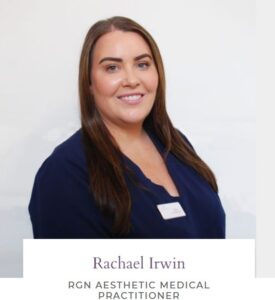 "Botox is a wonderful preventative treatment that softens the muscles that lead to wrinkles" – Tara Jackson
Read here for The Cosmetic Skin Clinic's Top Botox Reviews.
Why The Cosmetic Skin Clinic?
We are experts in Botox treatment, with thousands of treatments!
We offer the offer the most comprehensive Botox Advice centre for our patients. Read our Botox FAQs, pre-treatment and aftercare tips, what to look for when choosing your Botox practitioner and more…
We take a holistic approach to ensure our expert Botox doctors and medical practitioners create consistently unique results for our patients. This method has been crafted to enhance natural features, creating a lifted, defined yet refreshed look.
Our Buckinghamshire clinic is a trusted multi-award winning, CQC registered medical clinic.
We have a team of highly skilled cosmetic doctors, advanced aesthetic medical specialists and high-level medical aestheticians.
On the independent Trustpilot website, we have a 5-Star average rating, with 95% of our patients rating us as excellent.
This reputation stems from the acclaimed ethos and experience of Dr Tracy Mountford, The Cosmetic Skin Clinic' founder.
Dr Tracy Mountford founded the Buckinghamshire clinic in 1990 and built our esteemed reputation from the ground up. She is known for her injector expertise and has handpicked and mentored each team member. She has trained her team of aesthetic specialists to deliver the highest levels of patient care and professional results.
Contact our clinics to book your Botox near me treatment in Buckinghamshire
To find out more about Botox, book a consultation with any of our expert Botox practitioners. Contact our Buckinghamshire clinic on 0330 057 2965 or fill out our online enquiry form and we'll get back to you.
If you're looking for a full-on refresh, the consultation can also discuss other Botox compatible treatments such as Dermal Fillers and skin tightening treatments. Please ask when you speak to your medical practitioner.
Request a BOTOX appointment at The Cosmetic Skin Clinic
How to find us – Botox near me
In the heart of Buckinghamshire, our Botox clinic is close to the picturesque Colne Valley Regional Park. Our full address is: 84 Rogers Lane, Stoke Poges, SL2 4LF.
The Cosmetic Skin Clinic in Buckinghamshire is situated in the charming village of Stoke Poges, where excellent transport links from Marlow and the Surrey area. The clinic is also easily accessible from nearby train stations at Gerrards Cross, Beaconsfield, Iver, Slough, and Windsor in Berkshire.
Our Stoke Poges clinic is easily reached from the following surrounding areas: Marlow, Rickmansworth, Ascot, Aylesbury, Beaconsfield, Chalfont St Giles, Chalfont St Peter, Farnborough, Little Chalfont, Maidenhead,  Sunningdale, Slough, Thame, Uxbridge, Wallingford, Watlington, Chorleywood, Hayes, Cookham, Amersham, Cowley, Gerrards Cross, Oxford, Princes Risborough, Great Missenden, Haddenham,  Hazelmere, Headington, Henley-on-Thames, High Wycombe, Wendover, Chesham, Chinnor, Weybridge, Windsor and Woking.