By Dr. TRACY MOUNTFORD, MBBS MBCAM
Botox is on the tongue of more and more people as the anti-ageing movement is constantly growing and evolving.
Whether it is to hold time back or to age gracefully or to look your age and not older – Botox definitely pops up in that search journey. Discover exactly what Botox is, how long does it last and more Botox need-to-knows.
What is Botox?
Botox is an FDA approved naturally purified protein that works as a muscle relaxant. It is also often prescribed by UK medical professionals to treat other medical conditions including:
Chronic migraines
Eyelid spasms
Excessive sweating (hyperhidrosis via the feet, armpits and hands)
What factors can affect the efficacy of Botox?
There are a number of factors that can affect the Botox efficacy like:
Your age
Depth of your wrinkles
Elasticity of the skin
Treatment area
Your lifestyle
The experience of the injector / practitioner
Your aesthetic treatment history
How long does Botox take to work?
Botox normally takes about 5-7 days to work.
How long does Botox last?
Botox results can last approximately 3 months.
How often can you get Botox?
Maintenance appointments are recommended as it is not permanent
Botox benefits
FDA approved
Reduces appearance of wrinkles for 3-6 months
Proven to work
No downtime or recovery time
Not permanent – keeping you in control of maintaining or letting things go back to normal
Fast and painless
Reduces excessive sweating
Can help with migraines and teeth grinding
Can slim the jaw and face
Risks are minimal
Results can be seen in as little as 5-7 days
What can Botox be used for?
Anti-wrinkle injections can be used on a number of areas including:
Chin dents
Bunny lines
Excessive armpit sweating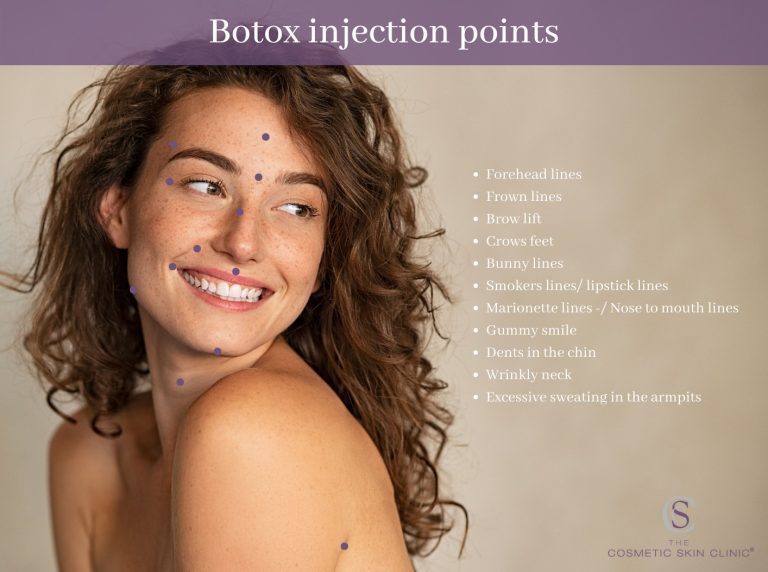 If you've ever wondered when to get Botox, read our comprehensive guide on what age you should get Botox, from preventative to your 60s.
How long does the Botox treatment take and is there any downtime?
Botox treatment normally takes about 20 minutes. The treatment is quite quick and commonly referred to as the perfect lunchtime treatment.
There is no expected downtime with Botox, that you can resume your normal activities right away. At the most there is a small chance of bruising but this can easily be covered with makeup.
The Cosmetic Skin Clinic for your Botox treatment
Our team of highly experienced and skilled practitioners at The Cosmetic Skin Clinic are experts in non-surgical Botox treatments that deliver great, long-lasting results.
A natural yet youthful appearance can be achieved by our expert practitioners without giving you a frozen look. By removing the depth of those lines, you are still able to create natural movement in your face without aging signs.
Tatler's annual Cosmetic Surgery guide has rated The Cosmetic Skin Clinic Botox treatments as one of the best. With fully qualified and trained injectors, we successfully create natural bespoke Botox results.
Book your consultation with our expert team or call our London or Buckinghamshire Botox clinic today on 0330 057 2117.
Find your nearest The Cosmetic Skin Clinic in London and Buckinghamshire
Our London Clinic
You can easily get to our London clinic from the following surrounding boroughs: Battersea, Westminster, Bayswater, Victoria, West Brompton, Islington, Kensington, Kings Road, St Johns Wood, Fitzrovia, Fulham, Green Park, Hampstead, Highgate, Regents Park, Soho, South Kensington, Hyde Park, Knightsbridge, Chelsea, Earls Court, West End, Marylebone, Mayfair, Notting Hill, Primrose Hill, Holland Park, and Belgravia.
The nearest tube stations to our London clinic.
Our Buckinghamshire Clinic
You can easily get to our Stoke Poges clinic from the following surrounding boroughs: Ascot, Slough, Uxbridge, Windsor, Gerrards Cross, Beaconsfield, High Wycombe, Kingston upon Thames, Little Chalfont, Maidenhead, Marlow and further afield..