By Dr. TRACY MOUNTFORD, MBBS MBCAM
Once upon a time, if someone wanted an eyebrow lift, they would have to resort to surgical procedures to tighten and lift skin. This had the chance of scarring and was expensive with recovery time. Thanks to Botox, we have an alternative treatment. For those who are at a loss with how to open-up and refresh their tired, hooded eyes, we say try The Cosmetic Skin Clinic's Botox Brow Lift. The overarched eyebrow might spring to mind, but at the hands of our trained and experienced team you will get natural results. Discover below how it works, the benefits and more.

 
What is a Botox brow lift?
A Botox Brow Lift also called an Eyebrow lift, is a non-surgical procedure that treats frown lines between the eyebrows. With the use of FDA-approved Botox, we can elevate your eyebrows through relaxing the muscles. 
How does the Brow Lift Botox work?
The Brow Lift works by carefully placing Botox between the eyebrow. This will relax the muscles to give the appearance of smooth skin, whilst also allowing the forehead muscles (also called frontalis muscle) to pull up the relaxed muscles elevating the eyebrows and refreshing the eyes.   
A skilled practitioner will be able to judge whether you need additional Botox injections at the end of your eyebrows to relax and further open up the eyes if needed. 
The Cosmetic Skin Clinic's Botox expert, Tara Jackson (RGN Senior Aesthetic Medical Practitioner) explains that, "a browlift with Botox involves injecting Botox directly to between the brows this allows the forehead muscles to take over and lift the brow into their original position . A Botox browlift can vary between 1 and 3 mm, it all depends on the natural shape of your brows. Most patients benefit from a further injection at the tail of the brow."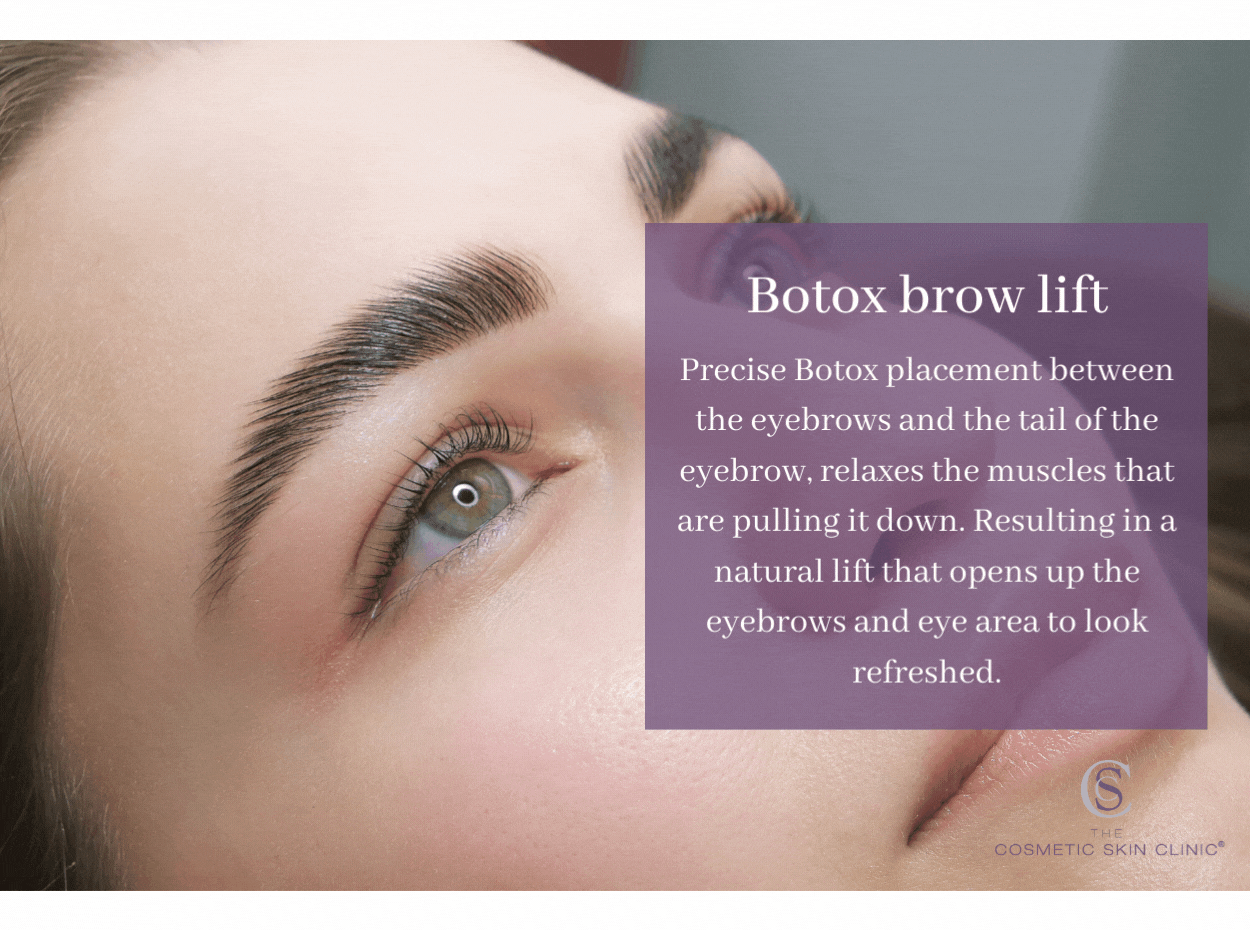 Benefits of a Botox Brow Lift versus a traditional Brow Lift
A traditional brow lift is an invasive type of cosmetic surgery that involves incisions and removal of skin to achieve that lifted look. The downside with this surgery is the scarring, downtime and that results are permanent. However, the Botox Brow Lift is non-surgical, so there is no scarring and results can last up to 6 months. 
Benefits of a Botox Brow Lift include:
Time – a Botox Brow Lift treatment can take around 20 minutes.

 

It takes 5-7 days for Botox results to take effect which is fast

 

No downtime – get back to your normal activities right away

 

Non-surgical so no scarring

 

FDA-approved so it is safe when administered by an expert

 

Can be combined with other non-surgical eye lift treatments like

dermal fillers

 

Results are effective which is why it is popular!

 
Can I get a brow lift without the Botox?
People believe they can get a brow lift through skincare and facial massages. If only it was this simple. In cases of a brow lift, this relies on the muscular dynamism which requires the helping hand of Botox. 
Is a Botox Brow Lift a suitable treatment for you?
Both men and women can suffer from having frown lines. If these are on the scale of moderate to severe, then a Botox brow lift may benefit them. The ideal candidate is anyone who has significant sagging skin, drooping eyelids or low-hanging eyebrows.  
The Botox brow lift is the perfect treatment for anyone who has a heavy brow area and doesn't want to go through invasive surgery to open up and lift that area. 
Your Cosmetic Skin Clinic practitioner will assess your suitability based on a number of factors and will recommend the right treatment to uplift your brow. 
The best clinic near you for a Botox Brow Lift
The brow area can be one of the first tell-tale signs of ageing on our face. Addressing any issues in these areas can help to us to hold back the clock on ageing for a while.  At The Cosmetic Skin Clinic, our expert team of practitioners are highly skilled and experienced in achieving great, long lasting non-surgical Botox brow lift results.  
The Cosmetic Skin Clinic Botox treatments have been rated as one of the best in Tatler's annual Cosmetic Surgery guide. With fully qualified and trained injectors, successfully create natural bespoke Botox brow lift results. 
Find your nearest The Cosmetic Sk
in Clinic in London and Buckinghamshire
You can easily get to our London clinic from the following surrounding boroughs: Battersea, Westminster, Bayswater, Fitzrovia, Fulham, Green Park, Hampstead, Highgate, Regents Park, Soho, South Kensington, Hyde Park, Knightsbridge, Chelsea, Earls Court, West End, Marylebone, Mayfair, Notting Hill, Primrose Hill, Victoria, West Brompton, Islington, Kensington, Kings Road, St Johns Wood, Holland Park, and Belgravia.   
The nearest tube stations to our London clinic.   
You can easily get to our Stoke Poges clinic from the following surrounding boroughs: Ascot, Beaconsfield, Chalfont St Giles, Chalfont St Peter, High Wycombe, Marlow, Slough, Windsor, Gerrards Cross and further afield.   
Directions to our Stoke Poges, Buckinghamshire clinic.   
Book your Botox brow lift consultation with our expert team or call our London or Buckinghamshire botox clinic today on 0330 057 2117.