By Dr. TRACY MOUNTFORD, MBBS MBCAM
Achieving a slim, sculpted and smoothly shaped physique is something that doesn't come easy for most of us. Sticking to a healthy diet and a regular exercise routine takes a lot of dedication and hard work. But even when we do these things, stubborn areas of fat can linger across our bodies in problem areas like the thighs, tummy, upper arms and love handles.
Tackle weight gain successfully with non-surgical fat removal treatments
For many of us in the UK, we may also be facing the new reality of weight gain. A representative survey of 2,254 people by King's College London and Ipsos MORI for example recently revealed that 48 percent of respondents put on weight during the lockdown period. This weight gain trend has prompted many of us to look at new ways to get rid of fat fast as we re-emerge from this unsettled period.
You can certainly use classic fat reduction surgery methods like liposuction to fast-track your fat removal results. Yet this option can seem a little excessive if you only have a few extra pounds to lose. You may only have just a few hard-to-shift fat bulges to work on. This is where non invasive fat removal can help.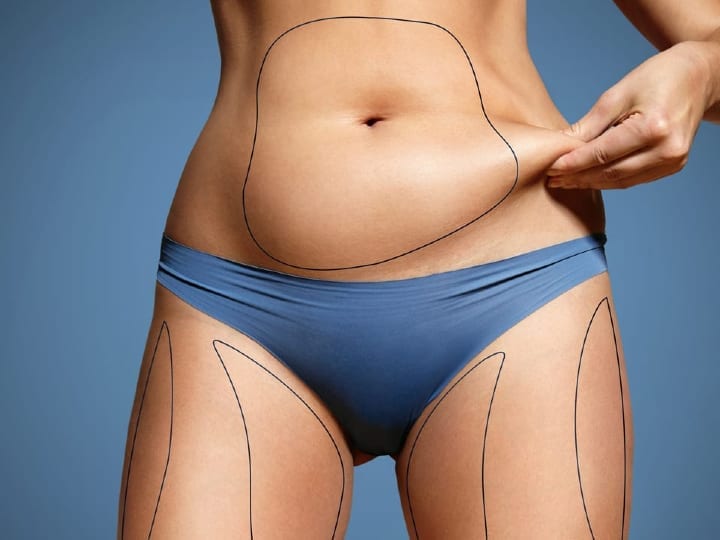 What is Non-Invasive Fat Removal?
Non invasive fat removal technologies are capturing attention as they don't involve the side effects or recovery time of traditional procedures. Non-invasive fat reduction is now one of the most popular ways to destroy and remove fat cells from the body. Unlike liposuction, these treatments are completely non-surgical. This means no needles or scalpels, no need for anaesthetic and no lengthy post-treatment recovery times.
Subcutaneous Fat Reduction
Subcutaneous fat cells sit just beneath the skin's surface. This wobbly type of fat is the one that you can see, and the one that can often stop you from getting into your favourite pair of jeans. Utilising advanced technologies like radiofrequency and fat freezing, they cut through the fat cells by breaking them down naturally in a much more intense and effective way than a standard gym workout.
As a result, these fat treatments have rapidly risen in popularity. Independent research now predicts that non-invasive fat reduction procedures will be worth over $1.1 billion this year.
Best Non-Surgical Fat Removal Treatments
Patients can now remove fat in a quick session during their lunch break or after work. The best non surgical fat removal treatments can achieve effective fat loss in as little as one 30-minute session. The FDA has approved all of our best-in-class treatments for their efficacy and long-lasting results. Gain up to a 27% reduction in fat across diverse areas of your body. Explore our top 5 fat reduction treatments for 202 to see which fat reduction option will suit you best.
Top 5 Non-Invasive Fat Removal Procedures
CoolSculpting Fat Freezing
CoolSculpting is one of the world's most famous and effective non-surgical fat reduction techniques. Since its launch in 2005, it has been performed over 17 million times. Also known as the 'fat freezing' treatment, its innovative cryolipolysis technology breaks down fat cells by utilising cooling applicators to freeze them to death. Harvard University scientists developed this technology to disintegrate fat cells rapidly without any need for invasive surgery.
The body then removes the broken-down fat cells through natural absorption processes. See fat loss results in just 4 to 6 weeks post-treatment, with best results showing through from 3 to 6 months. Our quick overview below summarises the key CoolSculpting facts, and who is most suited to the treatment:
Best for: Treating fat across a complete range of body areas including the stomach, legs, love handles, back, and knees. It can treat 13 areas of the body, making it one of the most comprehensive non-invasive fat removal procedures in the cosmetics industry.
Ideal Candidates: CoolSculpting is ideal for patients who have had trouble losing weight across the belly, lower abdomen, inner thighs, outer thighs, chin, or love handles. Patients within 30 pounds of their ideal weight range will experience optimal results.
Results: CoolSculpting has been verified in numerous medical journals and studies as a leading treatment for fat loss results. It generates up to 27% fat reduction across a range of different body areas.
Downtime: CoolSculpting is a simple procedure to undergo and requires no downtime, meaning that you can return to your normal activities straight after having the treatment.
At The Cosmetic Skin Clinic we are the number 1 CoolSculpting Clinic in The UK with over 50,000 treatments performed to date. Our expert CoolSculpting practitioners have over 20 years' experience.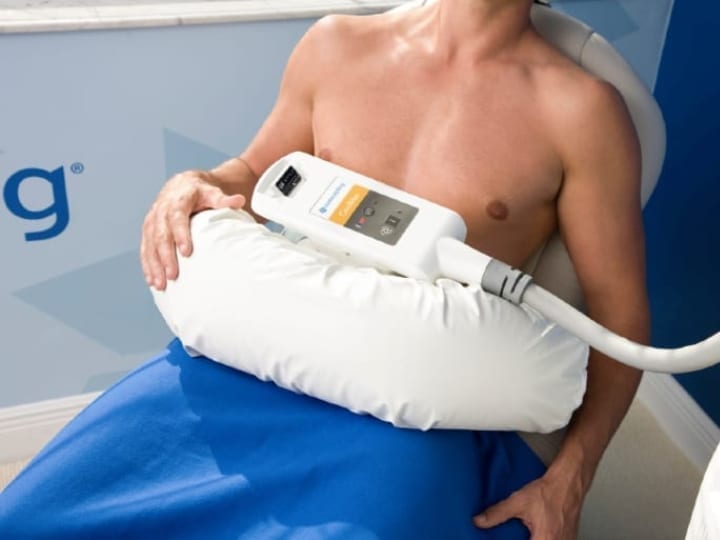 CoolSculpting Elite 
CoolSculpting Elite uses the same pioneering cryolipolysis technology as CoolSculpting to reduce fat quickly and effectively. But this newly improved system offers fantastic new benefits as its treatment applicators have been upgraded. Patients now have the power to freeze away more body fat during one session in less time. The treatment's dual applicators are 18% larger than traditional CoolSculpting fat freezing applicators, and have been contoured with a unique design to closely hug the body's fat bulges. Patients can treat two different areas of fat at once in one 30-minute session. This means maximum efficiency and standout results in half the time of a standard treatment. Perfect for those with busy schedules.
Best for: Patients with multiple areas of fat to treat. The bigger applicators allow clinicians to treat a larger percentage of body fat in one standard treatment session.
Ideal Candidates: As a superior fat freezing treatment, CoolSculpting Elite is ideal for those patients who need to break down their fat bulges faster than usual. If you are preparing to go on holiday soon for example, and want to get your body beach-ready, then you can treat multiple areas of fat in one go.
Results: The treatment produces up to 27% fat reduction in one 35-minute session
Downtime: No recovery time is required after having this procedure, and patients can leave the clinic immediately after having it.
CoolMini targets hard to reach areas of the body
CoolMini is the perfect non-invasive fat treatment to target stubborn areas of fat in hard-to-reach and sometimes neglected areas of the body. Think areas like the chin, knees and ankles. If fat has built up around these areas, or if you are suffering from 'Zoom face' weight gain around your jawline, then this nifty treatment can destroy these troublesome fat cells. Target double chins, bra fat rolls and much more to sculpt your body back into shape without any hard effort or downtime.
Best for: CoolMini is the ideal technology to rely upon if you are worried about fat build-ups in notoriously troublesome areas, like underneath the chin and around the ankles (cankles).
Ideal Candidates: If you want to sculpt your double chin, reduce your bra fat rolls or trim fat from your knees, underarms and ankles, then CoolMini is the best treatment to choose thanks to its perfectly contoured applicators which are designed specifically for these smaller target areas.
Results: CoolMini by CoolSculpting creates the same fat reduction results as CoolSculpting, with 20-27% fat reduction after just one 35-minute session.
Downtime: Like CoolSculpting, the treatment requires zero downtime, so you can return to normal activities immediately after having it.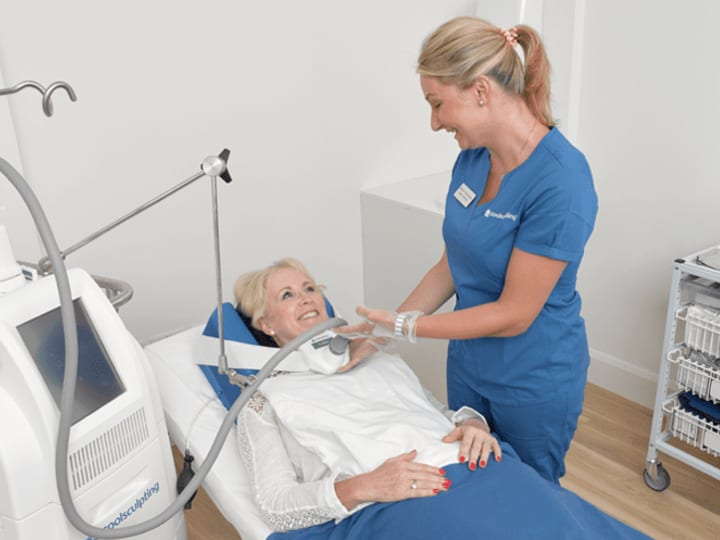 EMSculpt 
EMSculpt is another cutting-edge body contouring procedure that destroys fat cells without surgery. Yet this innovative treatment doesn't just target fat; it also helps to ramp up muscle toning and strength at the same time. By using electromagnetic energy, its applicators generate supramaximal muscle contractions in an intense burst, producing the same muscle toning and fat-busting effects as intensive gym workouts. Just one 30-minute EMSculpt session is equivalent to 20,000 squats or crunches in a gym. This produces impressive fat burning and muscle building results at the very same time, making the treatment perfect for patients who want to tone up their physique rather than just lose weight.
Best for: Treating fat and toning muscles across the legs, stomach, buttocks, arms and legs.
Ideal Candidates: As a toning and fat burning treatment, it is particularly suited to people with already active lifestyles. If you exercise regularly in the gym for example and want to remove fat bulges from your six-pack and love handles, the EMSculpt is the ideal treatment.
Results: Attain a 16% average increase in muscle mass and a 19% reduction in fat stores after 2-4 weeks post-treatment.
Downtime: As a completely non-invasive treatment, it requires zero downtime. You also don't need to lift any weights in the process!
EMSculpt Neo
EMSculpt Neo was introduced to the fat removal scene in 2020 and is the very latest evolution in body contouring technology. It offers revolutionary fat burning and muscle building benefits thanks to its blend of radiofrequency heat energy and electromagnetism. The result of this unique technological mix is a system that generates top-level results. The system reduces fat stores by up to 30% while building muscle by 25% after just 4 sessions. This has made this unique technology one of the most effective non-invasive solutions for fat removal available today. Perhaps this is why beauty experts like Olivia Falcon have championed the technology as the "ultimate secret weapon" to tackle weight gain in 2023.
Best for: Gym-goers and dedicated fitness enthusiasts who want to get back into shape and tone their body at the same time. Reduce fat and tone muscles across the abdomen, arms (biceps and triceps) legs (calves) and glutes (buttocks)
Ideal Candidates: As one of the most intensive non-invasive fat reduction treatments, it is ideal for patients with a higher-than-average BMI. It benefits from two technologies in one, giving it an edge when it comes to results.
Results: Achieve up to 30% more fat reduction (on average) and 25% more muscle volume after four 30-minute sessions
Downtime: The treatment involves no recovery time, meaning you can return to your normal activities straight after receiving it.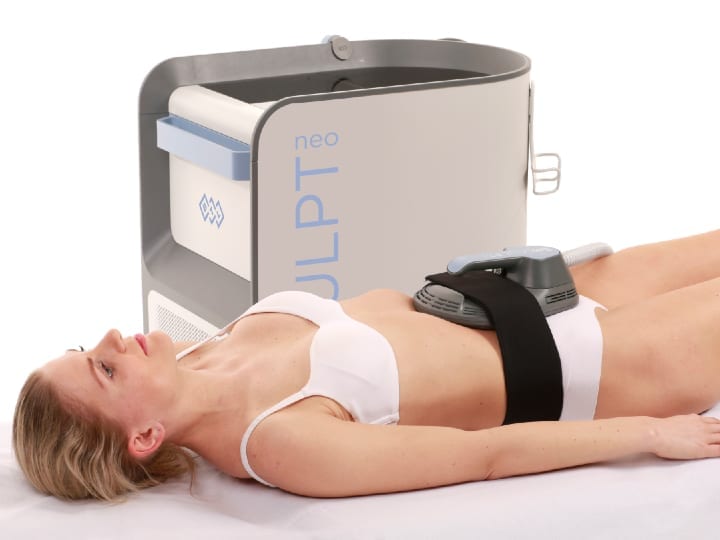 Non-Invasive Fat Loss Treatments
Our practitioners are expertly trained in fat reduction procedures. We are the UK's number 1 clinic for all CoolSculpting procedures and have been named as such for 6 years in a row. We are also EMSculpt pioneers, having been one of the first clinics in the UK to offer both EMSculpt and EMSculpt Neo treatments. Our 5-Star Trustpilot rating is a testament to our exceptional results and high standards.
To find out more about our top 5 fat removal treatments, fill out our online contact form now. Alternatively, you can contact our London and Buckinghamshire clinics directly on the following phone number for further assistance: 0330 057 9047.