By Dr. TRACY MOUNTFORD, MBBS MBCAM
Ultherapy is a leading non-surgical skin tightening treatment that stimulates collagen production deep within the skin.
In less than an hour, patients can benefit from tighter and firmer skin across their face, neck and chest without any need for surgery or downtime. Here, we showcase before and after treatment images for the Ultherapy treatment, while explaining how to optimise your results.
Ultherapy utilises advanced micro-focused ultrasound energy to generate a stimulating thermal effect in the deeper layers of the skin. This remodels and rebuilds collagen and elastin, two essential skin proteins that serve to strengthen and lift the skin while improving its elasticity and firmness. As the Gold-Standard treatment for non-surgical skin tightening, results can last up to a year after treatment.
Ultherapy Treatment Results
95% of Ultherapy patients have reported witnessing tighter and firmer skin after 1 year of having their Ultherapy treatment, according to Merz Aesthetics, who founded the technology. Structure is brought back to loose or sagging pockets of skin, while fine lines and wrinkles are smoothed out. As a completely non-invasive treatment, it requires zero downtime, injections or surgery, with fantastic results that can last up to a year. Experience the results of a surgical facelift, without any pain or recovery time.
Contact our Ultherapy clinics in London and Buckinghamshire to book a consultation.
Ultherapy Skin Tightening Before and After Photos
Discover how Ultherapy has tightened, sculpted and refreshed the skin of our patients in our Ultherapy Before and After pictures below. See how patients have been able to lift their necks, redefine their jawlines or achieve a full facelift without any needles or plastic surgery. The beauty of Ultherapy lies in its versatility and long-term effectiveness. Head over to our dedicated Ultherapy treatment page for further Ultherapy Before and After Photos, and more detailed information about our No.1 treatments.
Ultherapy Before and After Brows
Achieving an Ultherapy Brow Lift: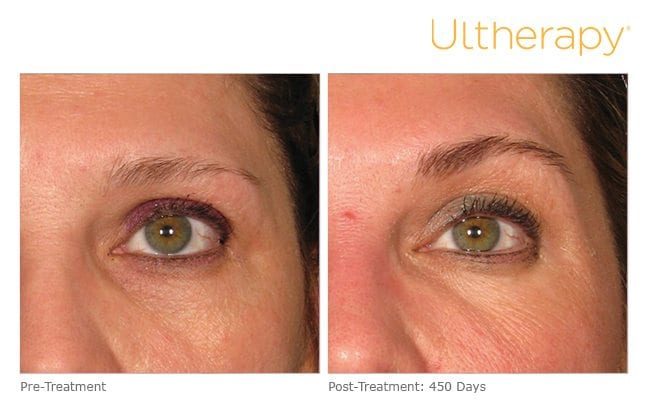 Ultherapy Before and After Lips
Tightening and smoothing the around the upper lift to achieve a non-surgical lip lift with ultherapy. Also minimising jowls: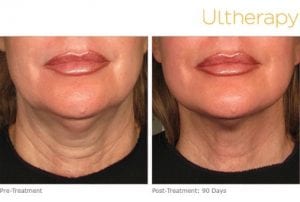 Ultherapy Before and After Full Face
Lifting and tightening the full face with an ultherapy non-surgical facelift: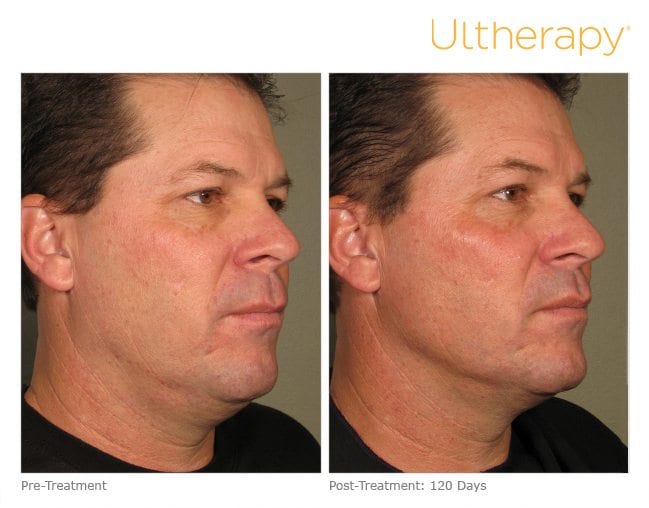 Ultherapy Before and After Jawline
Tighten loose skin around the chin and jawline area with Ultherapy: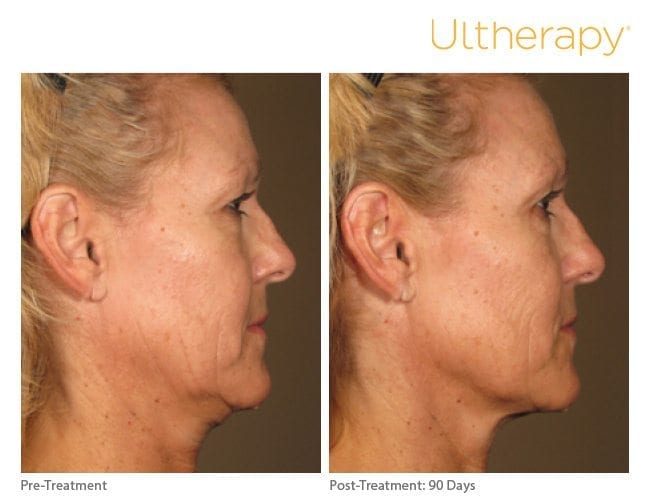 Ultherapy Before and After Jowls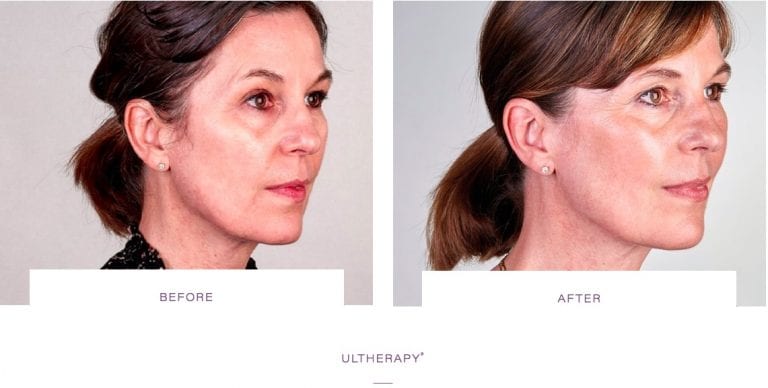 Ultherapy Before and After Neck
Improving skin tightness and lifting the neck and decolletage with Ultherapy: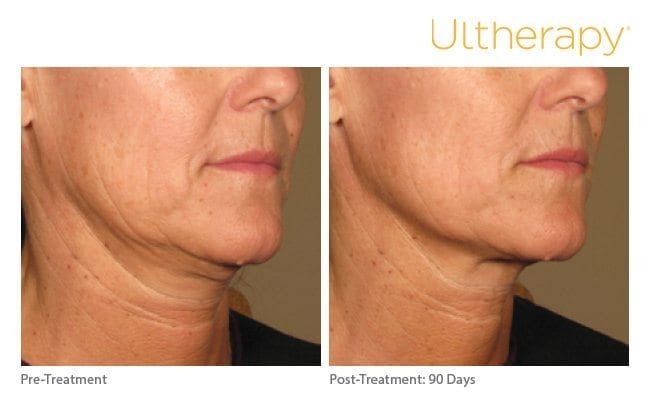 Ultherapy Facelift Before and After
Reducing fine lines and wrinkles while tightening and smoothing skin across the full face with Ultherapy: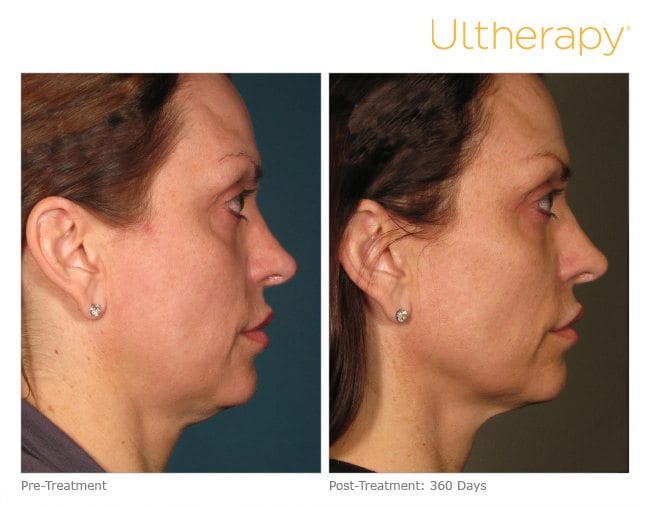 If you would like to find out more about Ultherapy and see how it can help tighten and improve your skin quality, contact our clinics in London and Buckinghamshire to book a consultation..
Maximising your Ultherapy Results
Patients can maximise the longevity of these visible results by taking a smart approach to skin care and combination treatments:
Maintain a healthy diet: Eating a balanced diet rich in vitamin C and amino acids is a great way to build up the levels of collagen and hyaluronic acid in our skin. This will enhance Ultherapy's skin stimulating properties.
Invest in premium topical skin care: Select high-quality topical skin care treatments from leading brands like Jan Marini or Cosmeceuticals to help boost collagen and elastin production.
Embrace combination or top-up treatments: Ultherapy works well with skin remodelling treatments like Profhilo that work to further boost collagen production while improving skin elasticity and hydration. The treatment also works well with dermal filler treatments that restore volume. By combining treatments, patients can maximise their visible results over a longer period.
Ultherapy Reviews
Many of our patients have lifted and tightened their skin with our award-winning Ultherapy treatments. Rather than generating an exaggerated or unnatural lift, Ultherapy patients have consistently commended the treatment's natural-looking results. Ulrika Jonsson was amazed by the results:
"Staying natural is important to me, which is why I went to Dr Mountford who recommended this course of treatment. I am delighted with my results!" Ulrika Jonsson
Other patients have emphasised how successful the treatment is at firming up skin strength and reducing signs of sagging:
"My face feels so much firmer and was visibly lifted immediately after my treatment." Jenny, Ultherapy Customer, The Cosmetic Skin Clinic
"The results on my neck have been exceptional with a visible reduction in loose skin." Lisa, Ultherapy Customer, The Cosmetic Skin Clinic 
Read more Ultherapy reviews on our dedicated blog.
Ultherapy side effects
Ultherapy's thermal effects can sometimes produce flushed or red skin in the treated areas for a few hours after treatment. But this redness quickly disperses before leaving patients with revitalised skin. Some patients may also experience light swelling, tingling or tenderness, but this is usually very mild and only lasts temporarily.
Full skin tightening and lifting results should be noticeable from three to six months after treatment once the new collagen stores have built up. Your expert practitioner will go through these topics with you at your in-depth consultation, so you are fully prepared for your Ultherapy treatment.
Ultherapy at The Cosmetic Skin Clinic
The Cosmetic Skin Clinic has been voted as the best Ultherapy clinic in the UK for 9 years in a row. As a 'UK Centre of Ultherapy Excellence,' we offer patients impeccable treatment standards having performed the highest number of Ultherapy treatments in the country. We also have a 5-star Trustpilot rating, with a leading reputation for customer satisfaction.
Find out more about our world-class Ultherapy treatments by getting in touch with our helpful team today. We can tailor your treatment programme to lift and sculpt multiple areas of your face and body, from jowls, drooping eyelids, brows and chins to the neck and chest.
Book a consultation with our team, or call our clinics directly – 0330 433 2175 (London and Buckinghamshire). 
Ultherapy London, near Harley Street and Stoke Poges, Buckinghamshire
The Cosmetic Skin Clinic in London is located near Harley Street and close to Oxford Circus, Bond Street and Baker Street tube stations. You can also reach us by train from the Paddington and Kings Cross St Pancras Train Stations. Our Ultherapy Clinic is also close to: Kings Road, Mayfair, Primrose Hill, Soho, Highgate, South Kensington, West End, Fulham, Hampstead Green Park, Marylebone, Victoria, Islington, Chelsea, Holland Park, St Johns Wood, Knightsbridge, Earls Court, West Brompton, Bayswater, Fitzrovia, Westminster, Battersea, Notting Hill, Hyde Park, Regents Park and Belgravia. 
The Cosmetic Skin Clinic in Bucks is located in Stoke Poges and close to Gerrards Cross – Chiltern Railway, Slough's – First Great Western station.  M25, M4, M40 and A40 roads are also ideally located, making the clinic very easy to reach from Wembley, Richmond, Kingston upon Thames, Beaconsfield, Chalfont St Giles, Aylesbury, Chalfont St Peter, Chesham, Chinnor, Chorleywood, High Wycombe, Marlow, Gerrards Cross, Windsor and beyond.