By Dr. TRACY MOUNTFORD, MBBS MBCAM
If you are interested in body contouring but unsure whether EMSculpt or CoolSculpting is best for you, then we can help. In this guide, we explain the key differences between EMSculpt and CoolSculpting, detailing how these body sculpting treatments can keep you looking slim, trimmed and sculpted. Whether your goal is to remove unwanted fat bulges or to build up muscle tone, we walk through each treatment to make the benefits clear. This should help you to pick the right treatment that will generate the best results in line with your own body goals.
Autumn Packages are Available. Enquire Today.
Body Contouring with EMSculpt and CoolSculpting
EMSculpt and CoolSculpting are two leading non-surgical technologies. As two of the world's leading body contouring procedures, they give patients the chance to improve their body shape without surgery or downtime. The FDA has medically approved both treatments as safe and effective. Each treatment has also undergone thorough testing in a range of clinical trials to verify its efficacy.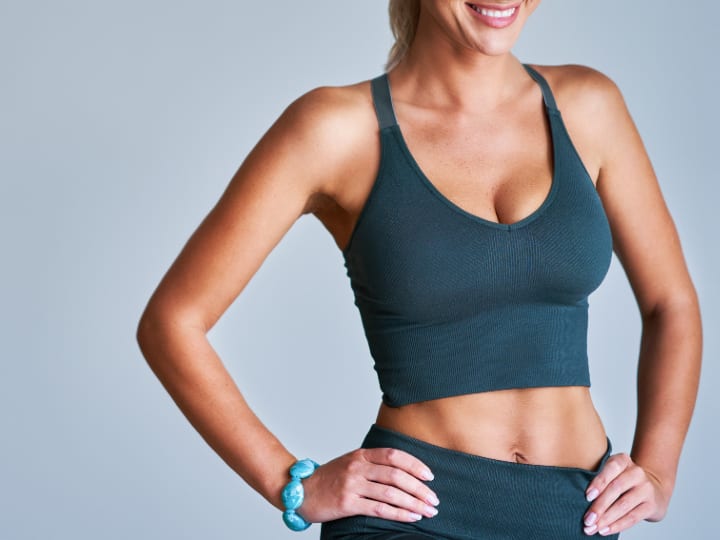 Benefits of EMSculpt and CoolSculpting
Patients can gain a trimmer, leaner body without having to adopt intensive exercise regimes or restrictive diets with these treatments. Even if a person has a healthy, active lifestyle, it can often be difficult to get rid of stubborn fat or build up muscle tone.
With standard techniques like diet and exercise programmes, it is also challenging to isolate fat reduction or muscle toning. Problem-prone issues like love handles, belly fat, bra fat or sagging buttocks are often hard to tackle. But with EMSculpt and CoolSculpting, these areas can be strategically isolated and targeted. This can help people to speed up muscle building and fat loss in a much more efficient and results-driven way.
EMSculpt Vs CoolSculpting: what do they do
The primary goal of each treatment is slightly different. So depending on your own body needs, you may want to use one treatment versus another. Or you may want to use both to target different body contouring goals. Our trained clinicians can advise on the best approach during a detailed consultation with you.
The purpose of each treatment:
CoolSculpting: fat removal, no downtime, non-invasive
CoolSculpting is widely known as the ultimate Gold Standard when it comes to non-surgical fat reduction. It is ideal for intensive body fat removal as it targets stubborn fat across a diverse range of body areas, from the chins to the stomach and more. Using its advanced fat-freezing technology, it reduces the visible subcutaneous fat bulges that often make us look out of shape. Think of the fat that can gather around double chins and muffin tops. As one of the world's best fat removal treatments, it is particularly suitable for people with a higher-than-average BMI.
EMSculpt: muscle toning and fat reduction, no downtime, non-invasive
EMSculpt is perfect for those who want to tone up their muscles while also benefiting from fat reduction. Building muscle is the key goal here. Patients can build up new muscle mass while toning and sculpting their existing muscle fibres to make them more defined. Through its advanced electromagnetic technology, it stimulates thousands of muscle contractions while encouraging muscle tissues to remodel. This process also boosts fat reduction to an extent. But EMSculpt is suited to a narrower range of target body areas, like the abs, legs and buttocks.
CoolSculpting Vs EMSculpt – how do they work?
CoolSculpting: Cryolipolysis:
CoolSculpting reduces unwanted fat through a process call cryolipolysis (or fat freezing), which puts fat cells under extremely low temperatures to break them up and destroy them. During the treatment, subcutaneous fat tissues crystalise before the body disposes of the broken-down cells over time. The CoolSculpting machine targets the specified treatment area using cooling cups, which cool the skin in a controlled way to permanently kill the fat tissues without harming the surrounding muscles and nerves.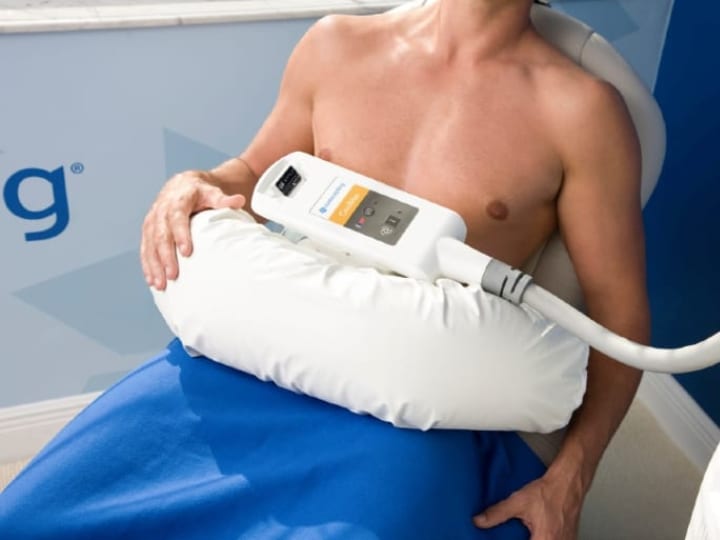 EMSculpt: Electromagnetism:
EMSculpt utilises HIFEM energy (high intensity focused electromagnetic energy) to penetrate muscle mass and stimulate muscle growth. It induces supramaximal muscle contractions in a much more intense way than a session at the gym. One 30-minute session packs the same punch as doing 20,000 manual crunches or squats. Muscles are then forced to remodel and build back stronger, resulting in muscle mass enhancement and fat reduction at the same time.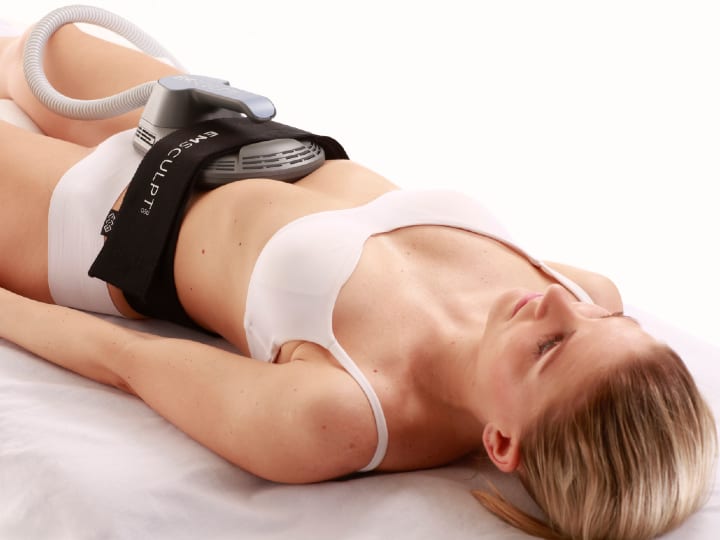 EMSculpt Vs CoolSculpting: Treatment areas
CoolSculpting leads the way when it comes to the number of body areas you can target. Patients can remove stubborn body fat across the buttocks, stomach and thighs while also contouring their face with a double chin treatment. CoolSculpting treats:
While EMSculpt can build muscle and burn fat at the same time, it can only do so across the following FDA-approved areas due to the unique shape of its applicator. It can treat:
'Ab's' (abdomen)
Arms (biceps and triceps)
Legs (calves)
Buttocks (gluteals)
EMSculpt Vs CoolSculpting: Treatment Sessions
A typical CoolSculpting treatment takes between 35 to 60 minutes to complete. Two treatment sessions usually suffice. But if a patient wants to target multiple areas, then we may recommend up to 6 treatments, spaced one month apart for best results.
EMSculpt treatments are shorter, taking approximately 30 minutes. However, a patient would need a minimum of 4 sessions, spaced 2-3 days apart to experience optimal results.
EMSculpt Vs CoolSculpting: Ideal Candidates
If you have significant fat bulges or hard-to-shift fat stores that won't budge despite exercise, then CoolSculpting is ideal. It also suits people who have higher BMIs, including those who are considered overweight or obese.
EMSculpt is better suited to patients who want to redefine and sculpt their bodies while gaining a more toned and trim physique. If you visit the gym regularly, but want to increase your gains, then this treatment is ideal. Patients with pinchable excess fat around their six-packs or calve muscles for example are more likely to benefit from EMSculpt.
So if significant fat removal is your goal, then opt for CoolSculpting's permanent fat reduction treatment. But if you want to improve muscle definition while trimming your figure, then EMSculpt is more suitable.
EMSculpt Vs CoolSculpting Results
In just one treatment, patients can see up to 27% reduction in their subcutaneous fat stores. It can take several weeks for fat removal to show while the body metabolises the crystalised fat cells. Most patients see visible results within just a couple of weeks. These will remain indefinitely if you adopt a healthy lifestyle regime to maintain the fat loss results.
EMSculpt results in a 19% average reduction in fat stores after 2-4 weeks post-treatment, so slightly less than CoolSculpting. But it excels when it comes to building muscle. Patients achieve a 16% average increase in muscle mass at their targeted treatment zones. Many patients witness a firmer and more sculpted physique around 4 weeks after having their final treatment session.
EMSculpt Neo vs CoolSculpting
For patients who want to maximise their muscle-building and fat loss results, EMSculpt now offers a newly improved version of their classic treatment called EMSculpt Neo. This treatment generates a 25% increase in muscle mass and 35% increase in fat reduction on average after 3 months of treatment. This makes it perfect for those who want to achieve maximum gains without any surgery, hard effort or downtime. However, CoolSculpting or classic EMSculpt may still be preferable depending on the specific body areas that you want to sculpt.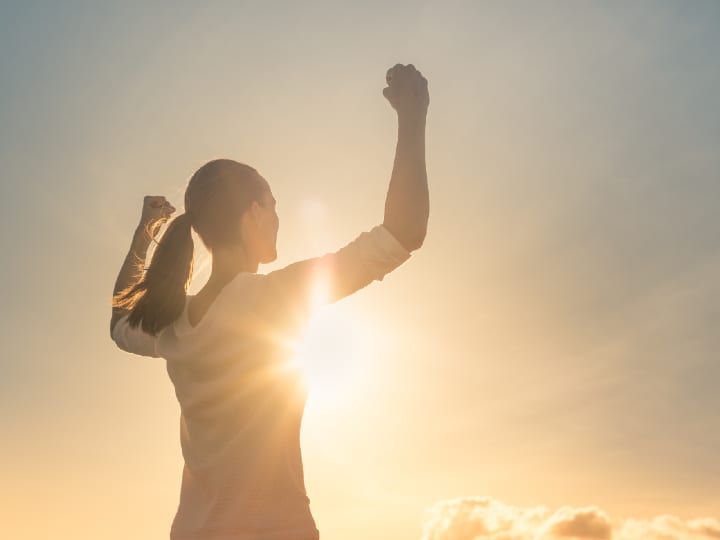 Combining the treatments
When patients combine the two treatments, they can achieve optimal results. If you have a range of areas across your body that would benefit from both fat minimisation and muscle strengthening, then using both technologies can reap great rewards. Use CoolSculpting first to minimise fat stores across hard-to-tackle areas. Think banana rolls below the buttocks, fat across the chest or bra fat and double chins for example – basically, the areas that cannot be treated using EMSculpt or EMSculpt Neo.
We can then utilise EMSculpt to increase muscle strength across core body zones that people care about most (like the abs and buttocks). When you blend these concentrated treatments together, you can contour and shape your body in a much more strategic way.
This is why these treatments have become so popular for people who care about enhancing their bodies in a safe way without the need for invasive surgery like liposuction. Over 17 million CoolSculpting treatments have been performed worldwide, while EMSculpt is carried out over 3000 times each year in the UK. So if you need a body contouring treatment that is trusted and highly sought after, then EMSculpt, EMSculpt Neo and CoolSculpting are great options to choose from.
CoolSculpting: before and after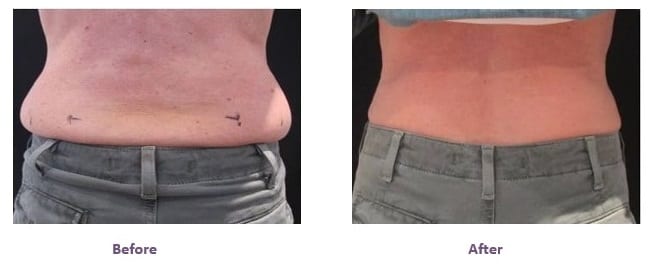 EMSculpt and CoolSculpting at The Cosmetic Skin Clinic
As a multiple award-winning clinic, we have been voted as the Number 1 clinic for CoolSculpting® in the UK for six years in a row. Our expert team has 20 years of experience and we have performed 50,000 CoolSculpting treatments. We also lead the way with our EMSculpt treatments, having been one of the very first clinics in the country to introduce both EMSculpt and EMSculpt Neo techniques. We also have an unrivalled reputation for our results with these treatments, as seen in our 5-Star Trustpilot rating. So if you want to change your body for the better, then we have the experience and know-how to help you succeed. 
EMSculpt or CoolSculpting?
To find out more about CoolSculpting vs Emsculpt and which one is suitable for your own body goals, contact our London and Buckinghamshire clinics directly by phone on 0343 253 8240 (London and Bucks). Alternatively, fill out our enquiry form and we will be happy to help.
How To Find Us – CoolSculpting and EMSculpt near me
The Cosmetic Skin Clinic in London is conveniently located within a short walk from Oxford Circus, Bond Street and Baker Street tube stations. You can also take the train from the Paddington and Kings Cross St Pancras Stations. Other convenient locations you can reach us from: Kings Road, Mayfair, Primrose Hill, Soho, Highgate, South Kensington, West End, Fulham, Hampstead Green Park, Marylebone, Victoria, Islington, Chelsea, Holland Park, St Johns Wood, Knightsbridge, Earls Court, West Brompton, Bayswater, Fitzrovia, Westminster, Battersea, Notting Hill, Hyde Park, Regents Park and Belgravia.
The Cosmetic Skin Clinic in Bucks is situated in Stoke Poges and it is near to Gerrards Cross – Chiltern Railway, Slough's – First Great Western station. It also great transport links with M25, M4, M40 and A40 roads, making our clinic very convenient to reach from Kingston upon Thames, Wembley, Richmond and the Surrey area. Other ideal nearby locations, include: Wallingford, Thame, Uxbridge, Windsor, Rickmansworth, Sunningdale, Hazelmere, Headington, Beaconsfield, Chalfont St Giles, Aylesbury, Chalfont St Peter, Chesham, Chinnor, Chorleywood, High Wycombe, Little Chalfont, Maidenhead, Marlow, Princes Risborough, Wendover, Weybridge, Cookham, Cowley, Great Missenden, Haddenham, Harrow, Hayes, Amersham, Ascot, Henley-on-Thames, Woking, Watlington, Oxford and Wembley. 
For more information about our clinic's locations and the best ways to reach us by train, bus, car or by foot, please explore our dedicated pages.