By Dr. TRACY MOUNTFORD, MBBS MBCAM
Often referred to as the triangle of youth, high cheekbones, defined jawlines and full cheeks are a sign of looking refreshed and youthful. As we age, we lose volume and get loose and sagging skin. Thread Lifts are a discreet treatment that provides instant lift and enhanced contouring. Thread Lifts are the perfect answer for facial rejuvenation needs. We cover the ins and outs of how they work, the benefits, amazing before and after's and where you can get the best thread lift treatment in the UK.

 
Back to basics: what are thread lifts?
Developed in the US, Silhouette Soft has the unique ability to lift and regenerate facial skin at the same time to produce natural and gradual results. 
"Silhouette Soft is a subtle yet effective non-surgical aesthetic treatment to treat skin ageing, by repositioning saggy tissues and stimulate collagen production." Known as the non-surgical facelift, this 30-minute treatment tightens your skin and provides immediate results."
What thread lift options are there?
There are two types of Silhouette Soft Thread available: polydioxanone (PDO) and poly-l-lactic acid (PPLA). 
The Cosmetic Skin Clinic' Dr Joanna Christou explains that for areas like the eyes, PDO thread can be more suitable as "they create a mesh-like support for crepey skin." However, for sagging areas, "PLLA threads give more of a directional structural lift." 
Don't worry about feeling the pressure to decide on which one you want as your doctor will advise you depending on the treatment area and the results you want. 
How do thread lifts work
Silhouette Soft Thread Lifts non-invasively reposition fat that has sagged using an innovative technology that pulls fat back into place. The treatment area will appear lifted and contoured as a result. Re-absorbable suture threads are gently threaded through the fat layer, which has no nerve endings, using a very fine needle. 
The re-absorbable sutures (as with dissolvable stitches in surgery) that are used have tiny, re-absorbable bidirectional cones to hold them in place. Using a very fine needle, the suture threads (made of poly-L-lactic acid – PLLA) are gently drawn through the skin. Over a period of 18-24 months, the sutures are absorbed by the body. 
A Thread Lift treatment can take just 30 minutes with a little anaesthetic or numbing cream and the number of threads used is completely dependent on the area being treated.  
What areas can be treated with Thread Lifts?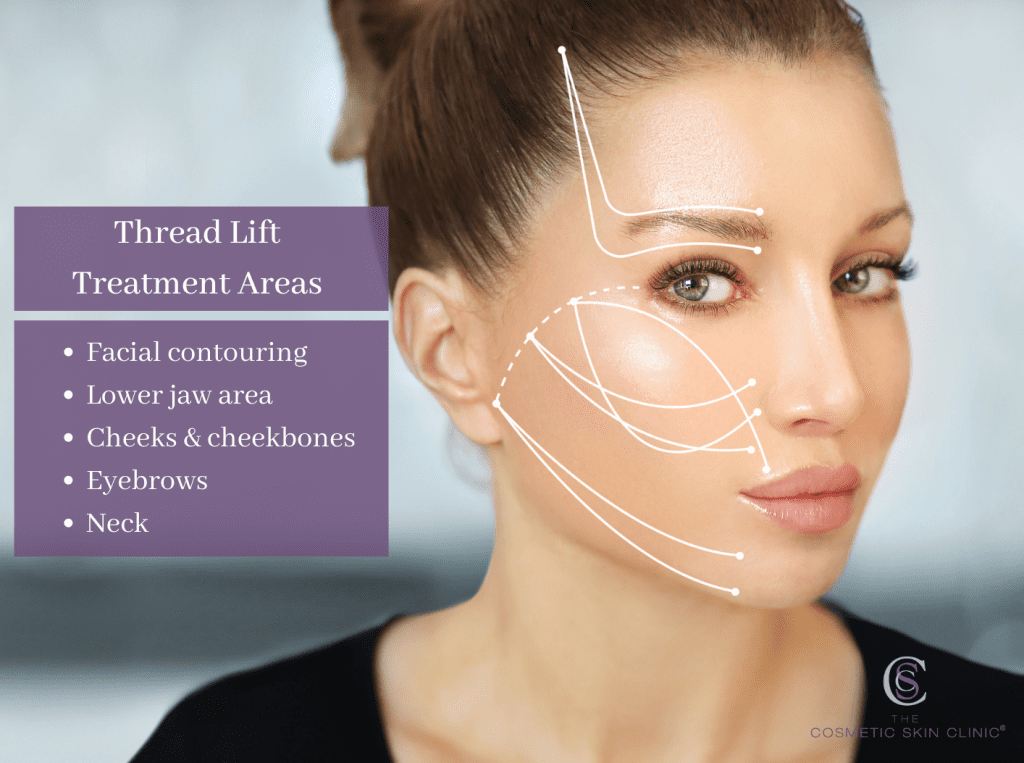 What makes Thread Lifts a great facial treatment is how effective and versatile it is. It can be used on the following areas to contour and tighten: 
Cheeks and Cheekbones: A fuller more defined cheeks appear, along with a less prominent nasolabial fold.

 

Eyebrows: As the outer edge of your eyebrows is raised, your eyes become more open.

 

Facial Contouring: Your facial contour is redefined, your cheeks look fuller, and your skin regains its firmness.

 

Lower Jaw area: Your facial contour regains a defined shape.

 

Neck: The skin on your neck regains its tone, looks and becomes smoother.

 
Thread lift benefits and effects
Based on the benefits alone, a Thread Lift is worth it. Discover the benefits you can look forward to with your thread lift treatment. 
Immediate but natural lift effect

 

Double effect for your skin – lifts and regenerates facial skin, achieving natural and gradual results

 

Stimulates natural collagen production

 
Eliminates wrinkles, giving you youthful-looking skin and an overall smoother appearance

 

Quick recovery with immediate and long-lasting results

 

Progressive volumising action over 18 months

 
More about the Thread Lift effects
The effects of a Thread Lift on your skin are immediate. It gives a lifting and regenerative effect with the technique below leaving no scars. 
A lifting effect:

once the treatment has been carried out, thanks to the bidirectional and re-absorbable cones, your medical practitioner can redefine the area treated by compressing the lifting the skin tissue.

 

A regenerative effect:

the poly-L-lactic acid suture thread will be naturally absorbed by your skin over the next 18 months. Poly-L-lactic acid is biodegradable and fully compatible with our bodies, which is why it's used in many (FDA)-approved therapeutic devices. It stimulates your body's collagen production by acting on your deep skin layer – redefining your facial features while preserving volume.

 
Thread lift before and afters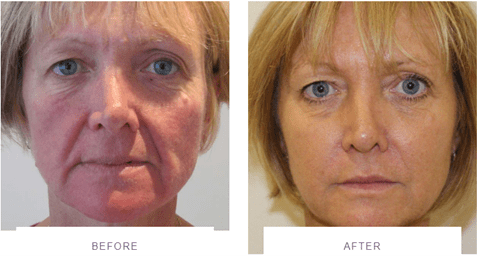 Treated at The Cosmetic Skin Clinic, our patient had Sculptra collagen stimulating treatment in combination with Silhouette Soft Thread Lifting (applied to jawline, mid face).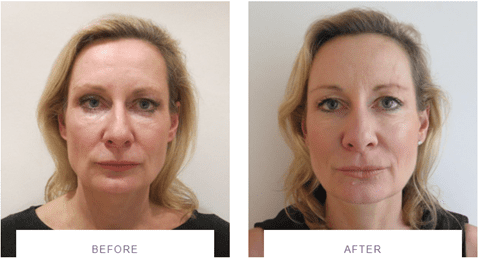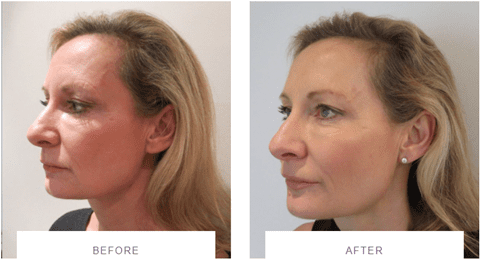 Our patient was treated at The Cosmetic Skin Clinic with Silhouette Soft Thread Lifts to tighten and lift the jawline and the mid-face.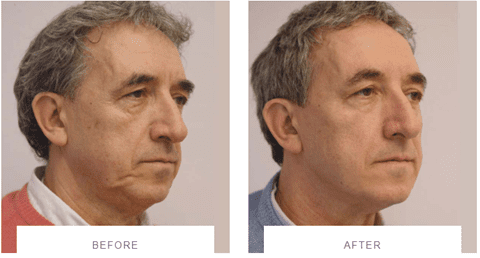 This patient had Silhouette Soft Thread Lifts to tighten and lift the jawline and the mid-face.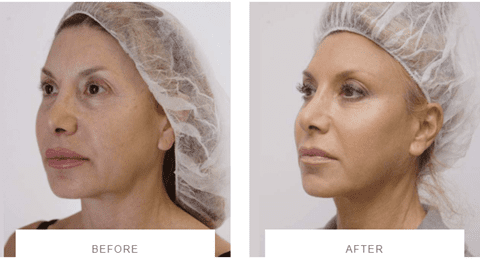 This patient has had Silhouette Soft Thread Lifts to tighten and lift the jawline and the mid-face.  
Why is The Cosmetic Skin Clinic the best for thread lifts?
The Cosmetic Skin Clinic is the best for thread lifts because our practitioners have many years of experience in Silhouette Soft Thread Lifts and achieving great lifting results safely. Only doctors who are trained and certified on Silhouette Soft sutures can perform Silhouette Soft Thread Lifts. Our trained and certified practitioners are ready to answer your questions, get you results you will love and feel lifted at our CQC registered, multi-award-winning clinic. 
For your Thread Lift at The Cosmetic Skin Clinic, we take the time to get you balanced and well-rounded results. For best results, our experts will assess and advise on whether a combination treatment is right for you and your needs. Combining Thread Lifts with Ultherapy, Botox or Thermage CPT, is the bespoke approach we take to give you optimal results. 
How to find us
– Thread Lift Clinic UK
Our London Silhouette Thread Lift clinic is easily commutable from the following surrounding areas: Battersea, Hampstead, Notting Hill, Primrose Hill, Regents Park, Soho, South Kensington, St Johns Wood, Victoria, West Brompton, Highgate, Holland Park, Hyde Park, Islington, Bayswater, Marylebone, Mayfair, Westminster, Earls Court, Fitzrovia, Kings Road, Knightsbridge, Fulham, Green Park, Kensington, Belgravia, Chelsea and West End. 
The nearest tube stations to our London clinic. 
Our Stoke Poges Silhouette Thread Lift clinic is easily commutable from the following surrounding areas: Amersham, Ascot, Marlow, Rickmansworth, Sunningdale, Slough, Thame, Uxbridge, Wallingford, Gerrards Cross, Great Missenden, Haddenham, Harrow, Hayes, Wembley, Wendover, Chalfont St Peter, Chesham, Beaconsfield, Chalfont St Giles, Aylesbury, Little Chalfont, Maidenhead, Chinnor, Chorleywood, Cookham, Cowley, High Wycombe, Kingston upon Thames, Weybridge, Hazelmere, Headington, Oxford, Princes Risborough, Richmond, Henley-on-Thames, Watlington, Windsor and Woking. 
Directions to our Stoke Poges, Buckinghamshire clinic. 
Book your expert thread lift consultation here or call our London or Stoke Poges, Buckinghamshire clinic on 0330 057 5425.