Tess Daly reveals the non-surgical treatment that has given her 'well-rested' skin
The Telegraph
April 2021
Beauty director Sonia Haria of The Telegraph interviews the fabulous Tess Daly about her top skin rejuvenating secret; Ultherapy. The Strictly Come Dancing star has exclusively revealed that she is a great "fan of the non-surgical treatment" to enhance and maintain her naturally beautiful looks. Tess, who turned 52 last month, had the treatment a year and a half ago and is now enjoying lifted and tightened results across her skin.
She comments: "A friend of mine had had the treatment a few months earlier, and she looked so great," she says. "She looked well-rested and her skin was glowing. I thought 'ok, let's give this a go'. I loved the fact that Ultherapy boosts your own collagen for natural-looking results, and that it was a non-invasive treatment. I think it's quite a revelation really."
"Within a few months I was getting compliments from friends – this was back when we saw friends before lockdown! But what I love most is that you just look well-rested and like yourself but on a really good day."
 Ultrasound Technology for Luminous Skin
So what does a typical Ultherapy treatment involve? As a non-surgical procedure with zero downtime, it is easy to perform and is often described as a "lunch hour" treatment with results that last up to one year. It tightens and lifts the skin in just one hour by using an advanced "ultrasound technology to boost the skin's own collagen and tighten and lift the skin on the face, neck and brow area." It boosts your own natural supplies of collagen deep within the skin and can take up to three months to start noticing results. But after this time, skin will look firmer, more lifted and tightened while bringing a healthy, natural-looking glow back to it, which has really impressed Tess.
She explains: "For me, my goal is luminous skin. It's skin that looks good. In order to achieve that I know I have to use SPF and drink as much water as I can, and this is another treatment that is working with your skin from the inside out to give it a helping hand and a boost."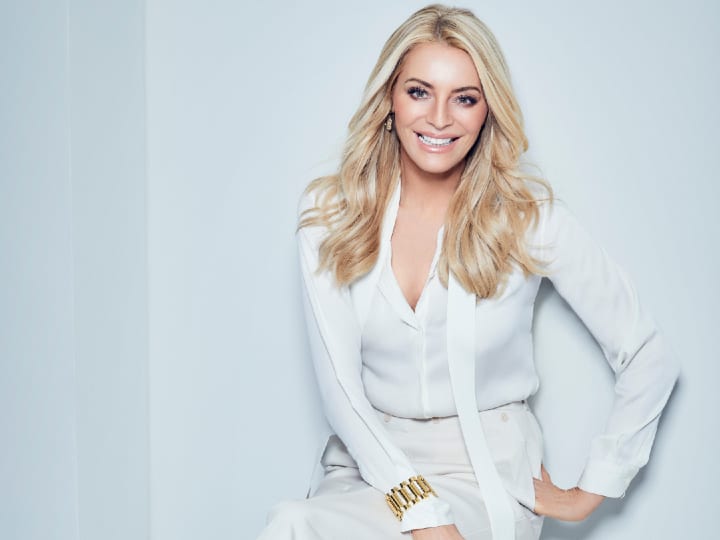 Precise Skin Tightening & Lifting
The technology is ideal to target specific problem-prone areas around a person's face. It can be applied as a full-face treatment or in precisely targeted areas such as the neck and jawline or eye area. Following her initial treatment, Daly had a top-up treatment that was used to refresh and revive her jawline:
"I then had a top-up treatment around the jaw area to boost it a bit, because I have a lot of laughter lines. I talk a lot in my job so it's an occupational hazard, and I laugh a lot by nature. I think I've had laughter lines since I was about 15!"
Non-Invasive for Natural Results
Unlike other harsh and invasive surgical treatments, she has commended Ultherapy's ability to enhance, firm and tone her skin in a completely natural-looking way:
"Nobody wants to look like a strange wind tunnelled version of themselves. I think that in itself can be quite ageing. We've all seen it before when someone has had a treatment that may have been a bit extreme and I think it can have the opposite effect and can actually be quite ageing."
Dr Tracy Mountford from The Cosmetic Skin Clinic backs this up by explaining how the treatment boosts the skin naturally, leaving patients with a completely refreshed appearance: "Ultherapy provides a fantastic non-invasive option to naturally boost skin from the inside out stimulating production of natural collagen – thereby preventing skin laxity, imparting a fresher appearance, and resulting in a gradual and natural lift."
A Worthwhile Investment
With over 50 percent of UK residents now considering the obvious benefits of taking a non-surgical procedure to enhance their skin post-pandemic, according to independent research from The Cosmetic Skin Clinic, it proves that people are now much more ready to invest in innovative methods like Ultherapy to nourish and care for their skin in the long term.
Tess summarises this approach perfectly: "We've only got one skin for all of our lives, which is why I really believe in investing in my skin. I look after my body through good food and exercise, and I want to invest in my skin's future, too."
To find out more about the Ultherapy skin tightening and lifting treatment, fill out our online enquiry form. Alternatively, contact our London and Buckinghamshire clinics directly on 0343 253 8240.