By Dr. TRACY MOUNTFORD, MBBS MBCAM
The Daily Mail Nip & Tuck 13th February 2017
The Daily Mail Nip & Tuck articles by Dr Tracy Mountford appear weekly, in print and online for the Monday Inspire magazine'. And in this week's column a reader asks:
I'm 63. Is it safe to have a thread lift at my age?
Thread lifts are suitable for all ages though you might take slightly longer to heal than a younger patient. Thread lifts are effective on sagging cheeks and jowls, and can achieve good results on the neck too. Dr Tracy Mountford advises that your doctor may recommend a combination treatment of thread lifts and fillers. Thread lifting will lift the tissue gently but for a greater effect, injections of fillers will improve your wrinkle and lines too.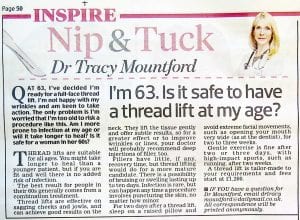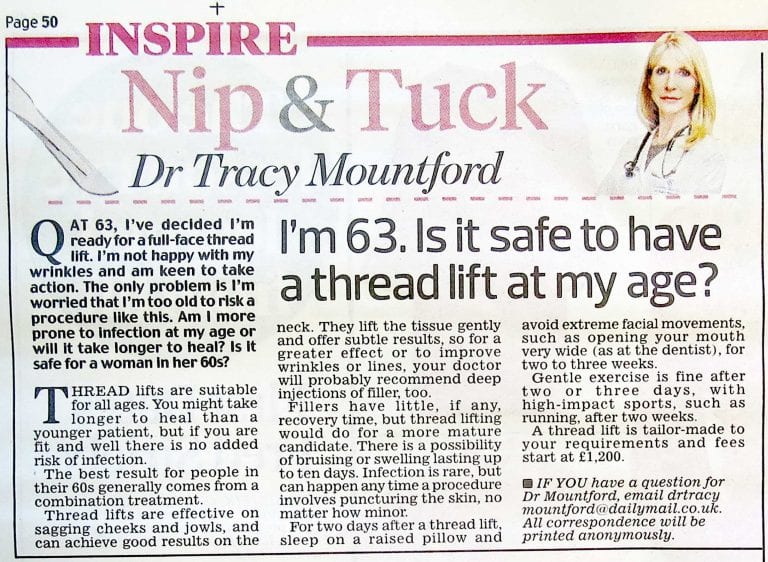 *DISCLAIMER Patient experience and results may vary. These are dependent on a number of factors such as lifestyle, age and medical history.
Copyright © The Cosmetic Skin Clinic. All rights reserved. Unauthorised use and/or duplication of this material without express and written permission from this site's author and/or owner is strictly prohibited. Excerpts and links may be used, provided that full and clear credit is given to The Cosmetic Skin Clinic with appropriate and specific direction to the original content.