By Dr. TRACY MOUNTFORD, MBBS MBCAM
Wrinkle Relaxing Treatments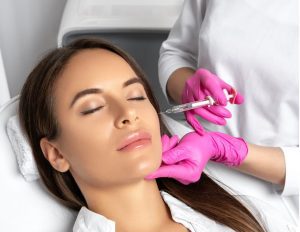 Receive bespoke wrinkle relaxing treatment advice perfect for you

 

Botox injections are administered by expert doctors and nurses with the right qualifications

 

Relax those wrinkles and give yourself that light lift you've always wanted

 
When faced with forehead wrinkles, crow's feet and more, we simply want them to go away. These tell-tale signs of ageing also make you look more tired. Soften your look with our wrinkle relaxing Botox treatment. This FDA-approved medicine, when done by our expert and medically qualified Cosmetic Skin Clinic team, will give you natural-looking results. At our Botox London clinic, you won't have to worry about the frozen look, and will instead get a refreshed and revived look that will leave people wondering.
Frequently Asked Questions about Wrinkle Relaxing Treatments
What can Botox treat?
It's popularly known that Botox can treat facial lines by relaxing them to be smooth.  However, in the UK doctors prescribe Botox for specific medical conditions such as: 
Chronic migraines

 

Eyelid spasms

 

Hyperhidrosis (excessive sweating in the armpits, hands, and feet)

 
How long will my BOTOX last?
It should last 3-4 months, and you may need a top-up treatment over a 12-month period, every 3-4 months. This will help to maintain your natural appearance and keep it looking fresh and youthful. 
Clinical trials have shown that some patients who had treatment over 12 months, only required further treatment once or twice the following year. Not to worry, your expert medical practitioner will ensure you have all the advice you need, to know what every step of your wrinkle relaxing journey will be. 
When will I see the results?
With Botox injections, crow's feet freezing or brow freezing treatments, it normally takes 5-7 days to work. 
At The Cosmetic Skin Clinic, we want you to look amazing in a natural, yet subtle way and we believe you can get such results after just 1 injection. 
How much downtime is required?
The treatment itself should take approximately 20 minutes. There is no downtime required, and you can get back to your normal activities right away. However, there can be a very small chance of a little bruising, but you can easily cover this up with makeup. 
You hear how BOTOX goes wrong – should I be worried?
When things go wrong, and you see celebrities with a brow that is too high, or a face that simply doesn't move, this is down to who they have trusted to do the treatment. 
If you want to relax your frown lines, crow's feet or sagging neck, you need to find the safest possible clinic to trust. You are literally putting yourself in their hands. That's why The Cosmetic Skin Clinic is the right choice for you. With expert practitioners, who are experienced and trained to give you natural-looking results. 
Not to worry, all concerns will be answered, and the process will be explained in detail. We will ensure you are at ease and relaxed on the day of your treatment.
Is Botox safe and does it hurt?
Botox itself is safe. It has a great safety profile with over 2.5 million Botox users across Europe. Simply put, our medical practitioners are extremely skilled so you should only feel a small sting that only lasts seconds. Some people, after their anti-wrinkle injection treatment, may experience slight bruising but this will go. 
Dermal Fillers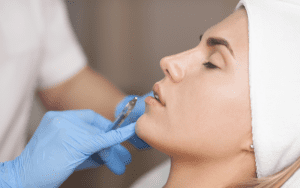 Get bespoke dermal filler advice that is right for you

 

Dermal fillers administered by highly trained clinical experts

 

Retain and regain that naturally youthful look

 
Who doesn't want more plump and youthful-looking skin? We offer dermal fillers, administered by highly trained clinical experts at our London clinic. Smooth those fine lines and wrinkles with our Hyaluronic Acid dermal filler and fall in love with the long-lasting results. Say yes to a natural soft airbrushed look, from your forehead to your jaw. 
Frequently Asked Questions about Dermal Fillers
What are dermal fillers?
We use the safest and most effective FDA-approved, naturally biodegradable dermal filler. The dermal fillers consist of clear hyaluronic acid gels that very closely imitate the natural hyaluronic acid in our skin. The vital ingredient of Hyaluronic Acid softens, volumizes and hydrates the skin. It is injected just below the skin's surface, and it encourages collagen and elastin organisation to give the skin a more youthful texture by filling and smoothing fine lines and wrinkles. 
How long do dermal fillers last?
Dermal fillers are not permanent, and they break down over time. We use dermal fillers made of hyaluronic acid, a natural component found in our body and skin, so it breaks down after around 9 to 18 months.   
Your medical practitioner will give you all the advice you need and whether further maintenance treatment will be required to keep your natural appearance. 
With so many bad stories in the press, how do I know everything will be okay?
Dermal filler treatments have been performed millions of times worldwide. They are extremely safe and effective when done properly. 
It's always important to go with clinics that are medically experienced, uphold a high standard of care and expertise. Founder of The Cosmetic Skin Clinic, Dr. Tracy Mountford has personally handpicked and trained all our medical practitioners to the highest level.  
We care about you and getting you results you want. So, we take time to explain everything and ensure you feel at ease and relaxed on your treatment day. 
What are the benefits of Hyaluronic Acid Dermal Fillers?
Apart from the fact that they are very effective for flattening wrinkles out and reviving the face, HA fillers also have the following benefits: 
Minimal patient discomfort and downtime

 

Revives the face by adding volume and smoothing wrinkles

 

Easily removed if necessary

 

Allergic reactions are unlikely and adverse reactions are uncommon

 

Safe and biocompatible

 

Results are long-lasting, but not permanent

 

Safe and biocompatible

 

Often referred to as the non-surgical facelift

 
Reviews
Elizabeth – 5 star  "I have been coming to the Cosmetic Skin Clinic for 11 years, both in Stoke Poges and London, and although I have to travel from the Kent coast, I wouldn't go anywhere else. When it comes to your face you have to have the utmost trust in both the advice and treatment, which I have. I wouldn't hesitate to recommend them to anyone." 
Mandy – 5 stars "I have been going to CSC in Stoke Poges on and off for a number of years and I would not go anywhere else. From the moment I walk in I am always greeted by the warm the friendly receptionist Clare. I had treatment with Tara I was unsure on exactly what I needed only that I didn't like my sagging jowls. Tara is extremely knowledgeable, and I totally trust her advice so I ended up having filler and Botox to achieve a natural and refreshed look I am very happy with the results. 100% recommendation CSC I have never been disappointed." 
Mandy – 5 stars "I travel 2 hours to come to the London clinic and it's so worth it! I would never go anywhere else. The receptionists are always very helpful and friendly, offering refreshments. A special thank you to Bianca and Dr Joanna for my treatments you have done wonders to my face and confidence." 
Where can I go to have a dermal filler or wrinkle relaxing treatment near me?
Wrinkle relaxing and Dermal filler treatments are carried out at our London clinic: 
8 Devonshire Place, London, W1G 6HP 
Our London dermal filler clinic is easily commutable from the following surrounding areas: Battersea, Bayswater, Belgravia, Chelsea, Earls Court, Fitzrovia, Fulham, Green Park, Hampstead, Highgate, Holland Park, Hyde Park, Islington, Kensington, Kings Road, Knightsbridge, Marylebone, Mayfair, Notting Hill, Primrose Hill, Regents Park, Soho, South Kensington, St Johns Wood, Victoria, West Brompton, Westminster and West End. 
The nearest tube stations to our London clinic. 
Book your consultation
Book your consultation here or give our London clinic a call on 0308 284 670
The Cosmetic Skin Clinic
The Cosmetic Skin Clinic is a multi-award winning, CQC registered medical clinic. At The Cosmetic Skin Clinic, safety is our top priority which is why our clinic practitioners have all the right medical training and qualifications to carry out wrinkle relaxing treatments and dermal fillers. 
We only use premium FDA approved wrinkle relaxing treatments like BOTOX® and facial fillers from reputable dermal filler brands like Juvéderm, Teosyal and Restylane, to create a youthful and authentic look. 
Our expert team will always discuss any potential risks and assess you to ensure your suitability for the treatment. Everything will be explained in detail and on the day of your treatment, we will make sure you feel relaxed and confident. That's why you can trust us to deliver expertise and patient satisfaction.