By Dr. TRACY MOUNTFORD, MBBS MBCAM
We know Botox works by relaxing the muscle, which relaxes the overlying skin from constantly contracting with the muscle movement, so you don't get wrinkles. The question is, what age should you get Botox? It all depends on a number of circumstances including skin, lifestyle and age. We explain the common areas of concerns for Botox for those in their 20s, 30s, 40s, 50s and 60s. We also delve into what exactly is preventative Botox and what age can you get it.
What age should you get Botox?
It is possible to prevent the earliest fine lines from becoming deep wrinkles by using preventative Botox treatments. Patients must be 18 years or older to be able to get Botox. However, most experts agree that in most cases, patients at a good age for preventative Botox treatment are those in their mid-late 20s and early 30s who are prone to wrinkles.
What is preventative Botox?
When Botox is used preventatively, it prevents the formation of lines and wrinkles, as opposed to being used in a corrective way to correct existing and well-established lines and wrinkles.
What's the difference between preventative and regular Botox?
The Cosmetic Skin Clinic's, Tara Jackson (RGN Senior Aesthetic Medical Practitioner) says "Botox is a wonderful preventative treatment that softens the muscles that lead to wrinkles." Most patients wait until wrinkles appear before seeking Botox treatment. However, preventative Botox is used before wrinkles appear.
Botox in your 20s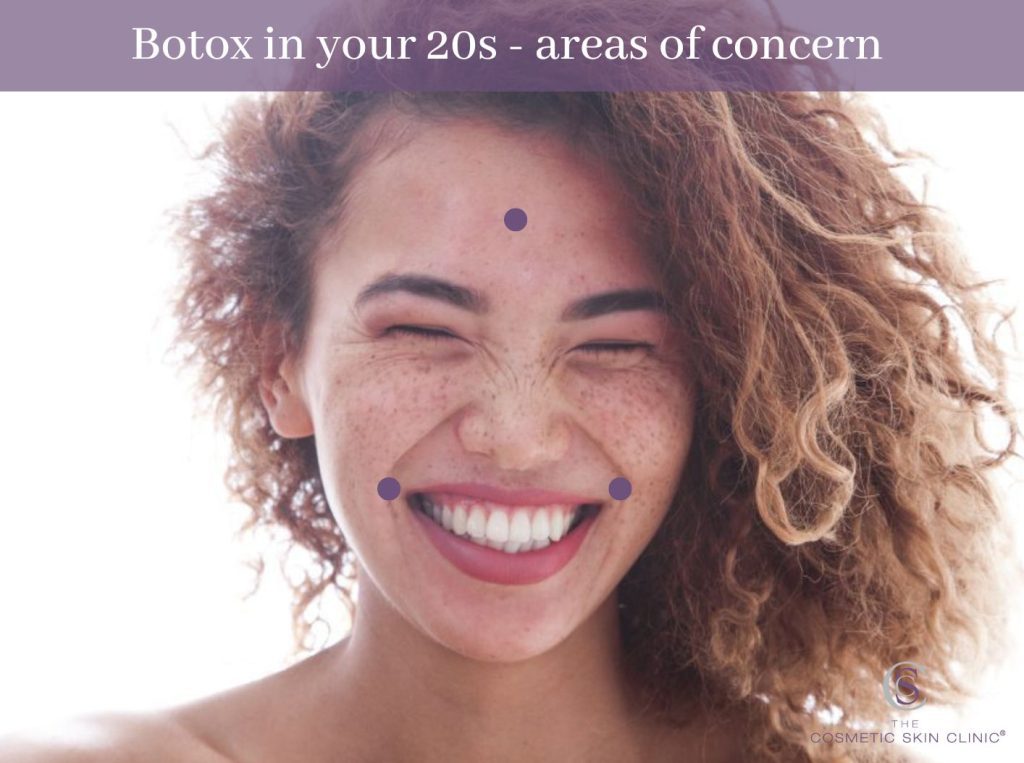 In our 20s, our skin is relatively smooth, plump, and nearly wrinkle free. As we get into our late 20s dynamic lines can begin to appear. Dynamic lines are created from expressions such as smiling, laughing, or frowning. Once we stop the expression of smiling, laughing, and frowning, the wrinkle disappears.
The aim of getting Botox in your 20s is to prevent wrinkles happening in your early 30s. Botox in your 20s is best used as preventative measure to avoid the fine lines and wrinkles occurring and becoming a more permanent fixture when our facial expressions are resting. Many patients get Botox earlier as a preventative measure if they know they have an expressive face and are concerned their lines will become more established.
For those in their 20's the typical areas of concern for Botox are forehead lines.
Botox in your 30s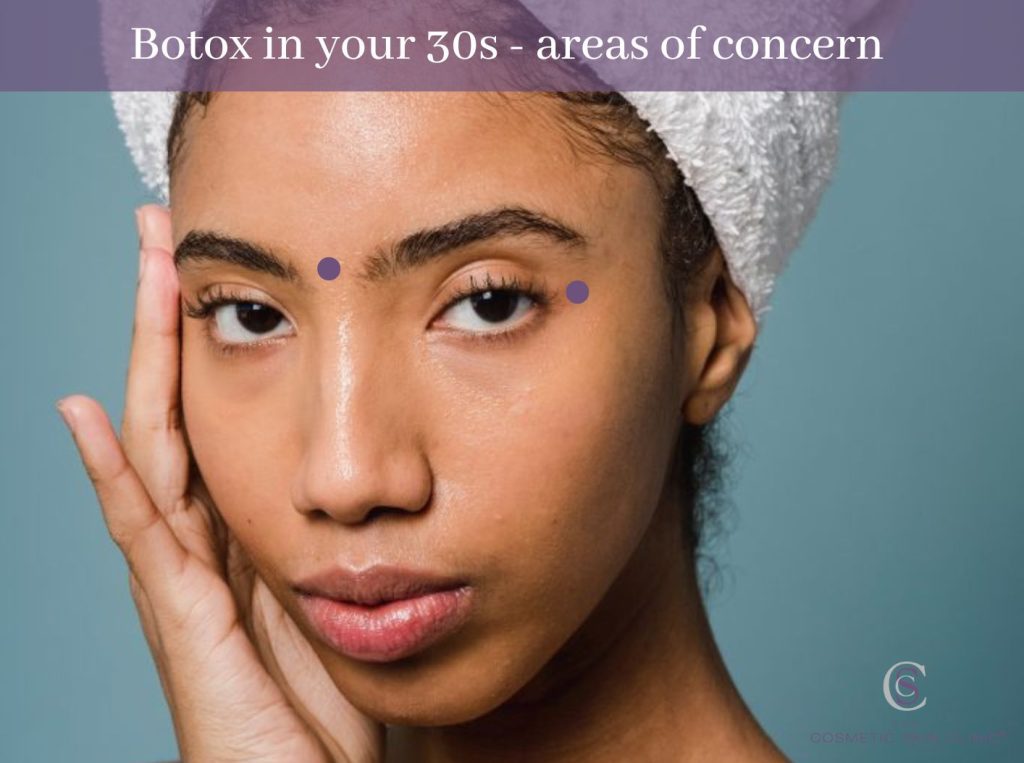 Yes, you may have noticed a few more wrinkles that weren't there when you were 20, but they are not very deep yet. Being in your 30s, is still an age of preventative Botox for most patients.
For those in their 30s popular areas requiring some Botox attention in our 30s are the early appearance of crow's feet caused by laughing or squinting (from the sun or sight issues) and brow lines. In the late 30s, bleeding into our 40s, a cause for concern area also includes lip lines (also known as lipstick or smoker lines). Botox at this point will help to stop the lines and wrinkles from becoming too deep-set.
Book a Botox Consultation at our Clinics in London and Buckinghamshire
Botox in your 40s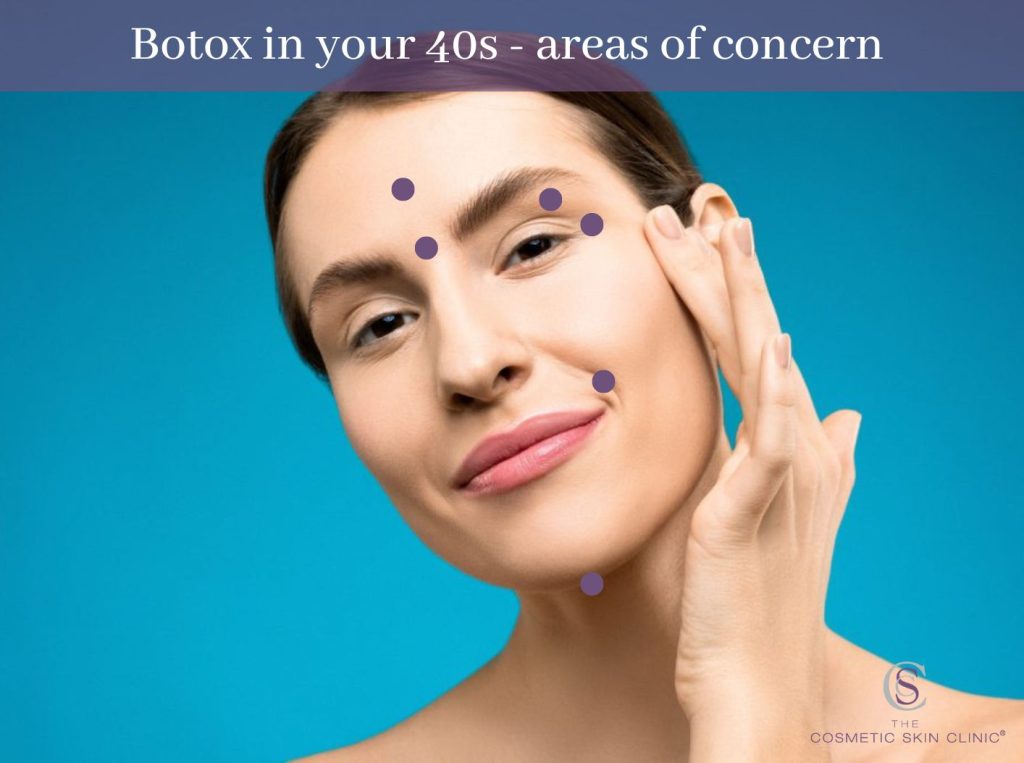 At this age, our wrinkles can begin to deepen. In our 40s, you may notice the lines around your eyes becoming deeper, such as crow's feet or forehead lines or drooping upper eyelid. You may also notice marionette lines (nose to mouth lines), which highlight potential jowls or turkey neck appearance. Once you get to the stage of your dynamic wrinkles sticking around even when your face is in a resting phase of no expressions at all, then it is time for Botox.
This age will likely require Botox in combination with another treatment such as Dermal Filler to to give hydration and replace lost volume, skin lifting treatment such as Ultherapy, or skincare such as AlumierMD to combat any dynamic wrinkle lines that are established.
Our Tara Jackson personally uses Botox frequently around the mouth to prevent and soften lipstick/barcode lines. This will help minimise lines by relaxing the muscle that surrounds the mouth.
Botox in your 50s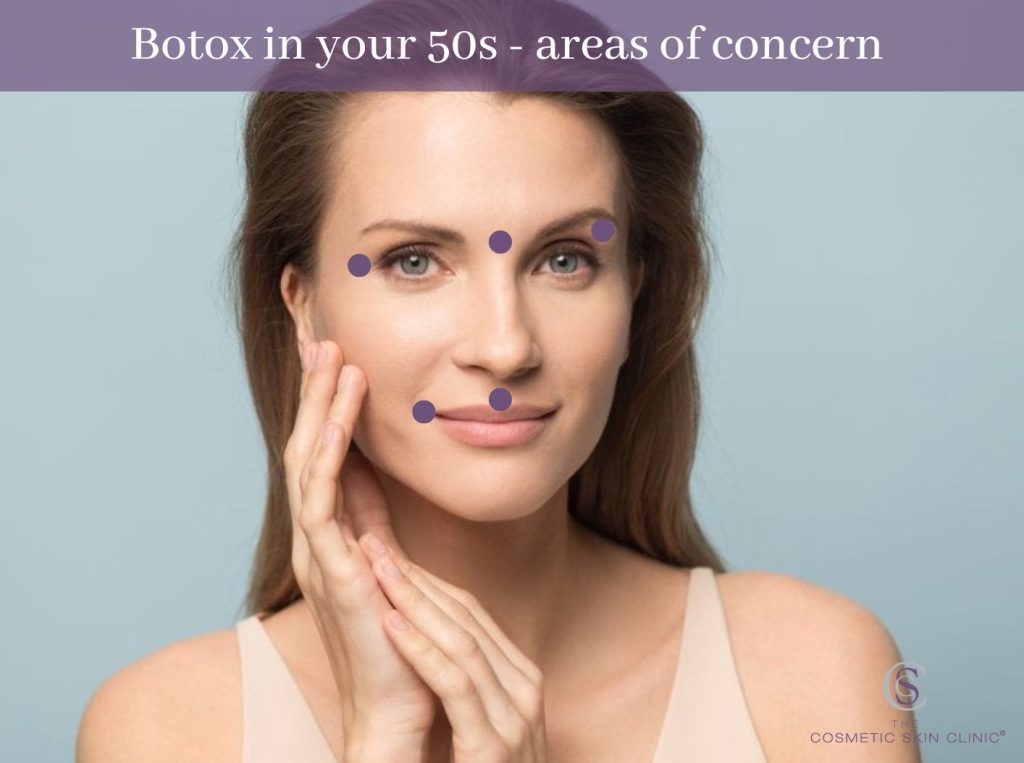 Beyond your 40s, straight into your 50s is a popular age for the helping hand of Botox to keep you looking refreshed. For women and men in their 50s, the lines between the eyebrows become more pronounced. Especially women at this age, they can be more prone to lines and wrinkles due to menopause making their skin dry and more susceptible to wrinkles.
People in their 50s will want to tackle lax skin and loss of collagen too. So, Botox treatment is usually combined with dermal filler to help lift and tighten areas such as the jawline to improve the appearance and to treat loss of volume in the face and cheek area.
Botox in your 50s does not mean you have a zero wrinkle and stretched unrealistic look. Those in their 50s, simply want to soften the facial lines keeping the results natural. The goal is to simply look refreshed and rested but still look like you. Common areas of Botox focus are crow's feet, frown lines and lifting the brows.
Other areas include treating the upper lip lines and preventing the corners of the mouth from being perpetually downturned. Our Tara Jackson personally uses Botox frequently around the mouth to prevent and soften lipstick/barcode lines. This will help minimise lines by relaxing the muscle that surrounds the mouth. However, Tara Jackson reveals that "if lines are already etched around the mouth, Botox will not be enough. You may need a combination of 3 treatments: Botox to relax the muscle, Dermal Filler to hydrate and add volume, and Morpheus8 to stimulate new collagen." All three will help to maintain a very natural look to the mouth.
A qualified and expert practitioner will be able tackle these concerns that distract from other great features but keep your personality shining.
Get in Touch to learn more about Botox in your 50s – London and Buckinghamshire
Botox in your 60s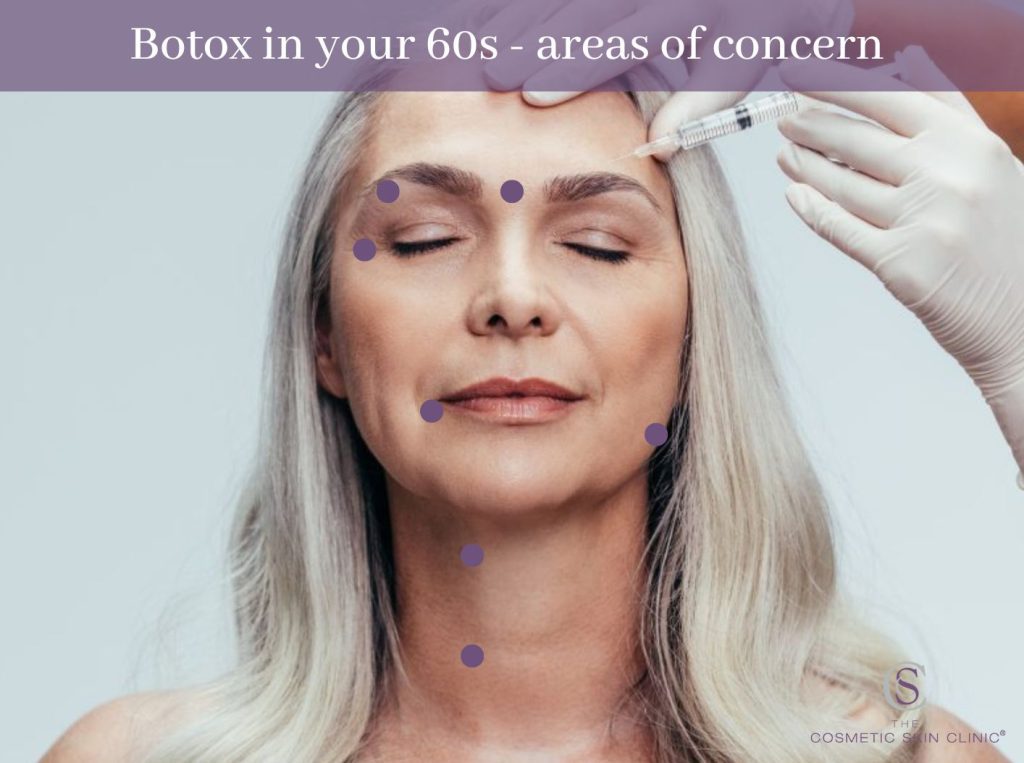 Similar to those in their 50s, you want to look fresh and rejuvenated in your 60s – not appear 40 years younger. The aim is to soften the lines, maintaining a natural result. The common request is to take away the tired and overly aged look.  To keep the happy expressions, just to soften them so it doesn't distract from more beautiful features.
A popular treatment undertaken by those in their 60s is the 'Nefertiti lift'. Botox is injected in the lower face to relax the muscles and provide a non-invasive lift to the jawline and mouth. The jawline and mouth can easily give away our age. At this age, concerns also include volume loss, which leads to hollow cheek and eye areas or marionette lines. This is why for this age range; we marry Botox with Dermal Fillers. Botox tackles the muscle contraction to relax, and dermal filler replaces and restores the volume loss that causes us to look sad, tired, or angry.
Botox at The Cosmetic Skin Clinic
At The Cosmetic Skin Clinic, we pride ourselves on expertly giving our patients the best advice and Botox results. We are here to make sure you understand each step and are satisfied with the results of your treatment. The Cosmetic Skin Clinic protocol has been embodied by our top injector doctors, to create natural yet effective results leaving patients happy.
Along with training to the highest level, our practitioners have years of experience and qualifications that confidently enable them to safely give you amazing Botox results. The Cosmetic Skin Clinic Botox treatments have been rated as one of the best in Tatler's annual Cosmetic Surgery guide
From our follow up appointments, to checking in calls, we create a secure bubble around our patients, letting them know they are our top priority. This is part of the reason why so many of our patients come back to us time and time again for top ups and other complementary treatments. With fully qualified aesthetic doctors and nurses, you can trust that your journey to getting that natural and refreshed appearance is in the right hands.
To learn more about our Botox treatment or our combination , request a consultation with our expert practitioners at one of our clinics in London or Buckinghamshire. Alternatively, call our London and Buckinghamshire Botox clinics on 0330 057 3708.
Request a Botox Consultation in London and Buckinghamshire
Where to find us – Botox Near Me
Our Botox treatments are available at both our Stoke Poges, Buckinghamshire clinic and London clinic.
Stoke Poges, Buckinghamshire clinic (84 Rogers Lane, Stoke Poges, SL2 4LF)
London clinic (8 Devonshire Place, London W1G 6HP)
Our Buckinghamshire clinic can easily be reached via car and other excellent transport links. We are conveniently located near to the following boroughs:
Gerrards Cross, Beaconsfield, Slough, Wexham, Windsor, Iver, Marlow, Princes Risborough and further afield.
Our London clinic can also be easily reached via car and other transport links. We are conveniently located near the following surrounding boroughs:
Chelsea, Green Park, Hampstead, Battersea, Highgate, Westminster, Primrose Hill, Belgravia, West Brompton, Marylebone, Notting Hill, Holland Park, Knightsbridge, Mayfair, Victoria, Earls Court, South Kensington, Hyde Park, Islington, Kensington, Regents Park, Bayswater, Soho, Kings Road, and St Johns Wood.