By Dr. TRACY MOUNTFORD, MBBS MBCAM
When considering a facelift, surgical procedures might come to mind. However, the world of aesthetic treatments has evolved significantly, offering non-surgical alternatives that don't require going under the knife.
At The Cosmetic Skin Clinic in Buckinghamshire, we offer a range of non-surgical facelift treatments that are in high demand. Let's explore these popular alternative facelift treatments and how they can help you achieve your desired results with minimal discomfort and downtime.
Ultherapy: the gold standard in skin lifting and tightening
Ultherapy is a revolutionary treatment that utilizes FDA-cleared ultrasound technology to lift and tighten the skin, all within a single session lasting less than an hour.
How does Ultherapy work?
By harnessing micro-focused ultrasound energy (MFU-V), Ultherapy stimulates the production of new collagen and elastin deep within the skin. This non-invasive procedure generates a thermal effect without causing damage to the skin's surface, jump-starting the skin's natural repair process and restoring structure. The resulting increase in collagen and elastin leads to tighter, firmer, and more youthful-looking skin.
What results can you expect from Ultherapy?
Ultherapy offers a wide range of benefits, including:
Tightened and firmer skin texture
Lifted sagging and drooping skin
Regenerated collagen and elastin stores

 

A fresh, natural, and rejuvenated appearance

 
Whether you desire a full-face treatment or specific areas such as the brow, jowls, eyelids, or decolletage, Ultherapy can help you achieve a refreshed and lifted look.
Ultherapy before and afters: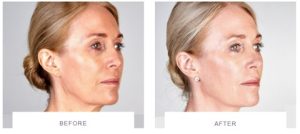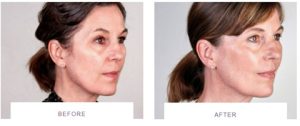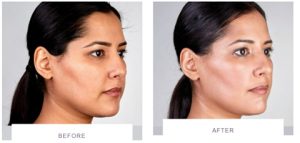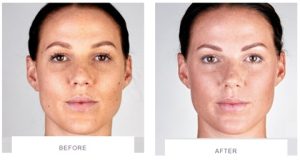 When will you see results?
While some patients notice an initial lift immediately after the treatment, the full results typically become more apparent over a period of 3 – 6 months. During this time, the production of new collagen gradually lifts and improves the skin's appearance.
How long do Ultherapy results last?
One of the significant advantages of Ultherapy is the longevity of its results. Even a year after treatment, patients treated at our London or Buckinghamshire clinic still exhibit fresh collagen. While the aging process continues, periodic touch-up treatments can help maintain collagen production.
Morpheus8: Contour and Revitalise Your Face 
Morpheus8 is a minimally invasive treatment that combines microneedling and radiofrequency to remodel and contour your face, delivering impressive results.
How does Morpheus8 work?
The Morpheus8 device features 24 coated microneedles that, when applied to the skin, stimulate the body's natural healing response. This leads to increased collagen and elastin production. Simultaneously, radiofrequency energy tightens the tissue, lifts and firms contours, resulting in smoother, sculpted, and rejuvenated skin.
What results can you expect from Morpheus8?
Simply put, Morpheus8 is worth the time and money because the results truly speak for themselves. Results of Morpheus8 include how it:
Contoured, lifted, and tightened face
Effective treatment for loose skin 
Enhanced collagen production
Reduction in fine lines, wrinkles, and skin irregularities
Improvement in hyperpigmentation and acne scarring
Morpheus8 is also suitable for darker skin tones (skin type VI) due to its advanced colour-blind technology, minimizing the risk of post-inflammatory hyperpigmentation (PIH).
Morpheus8 before and afters: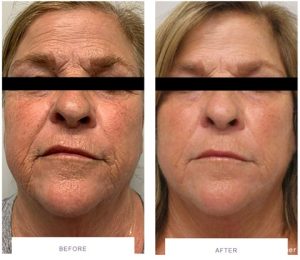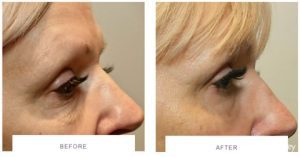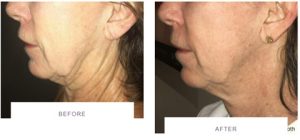 When will you see results?
Visible skin tightening results can be observed within a few days of treatment, with further improvements becoming noticeable after three weeks. Over a three-month period, you'll experience continued enhancements.
How long do Morpheus8 results last?
The results of Morpheus8 can last up to 12-18 months. However, individual factors such as age and lifestyle may necessitate annual follow-up treatments to maintain the desired skin tightening results.
Dermal Fillers: discover the power of Hyaluronic Acid Dermal Fillers
Refresh and restore your facial appearance and with the safe and expert led dermal filler treatment.
How does Dermal Fillers work?
As we age, our skin's hyaluronic acid levels diminish, leading to the formation of fine lines and wrinkles. Dermal fillers can effectively address these concerns by replenishing the skin's natural supply of hyaluronic acid.
What areas can Dermal Filler treat?
They can be used across several facial areas as a non-surgical facelift to fill out fine lines and wrinkles including:
Upper face for your forehead lines, tear troughs, crow's feet
Midface for your nose to mouth lines, nose, cheeks
Lower face for your lips, chin, jawline, marionette lines
What are the benefits of Dermal Filler treatment?
Effective at smoothing out wrinkles
Rejuvenates facial features
Can easily be removed if necessary
Minimal discomfort and downtime so you can get back to your routine
Results are long, lasting but not permanent
Safe and biocompatible
Dermal Fillers before and afters: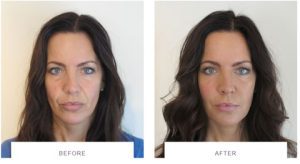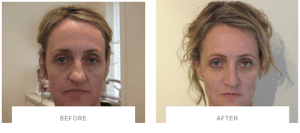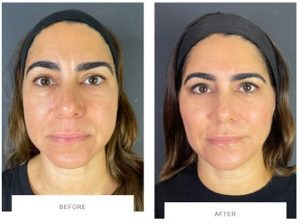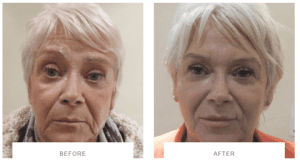 When will you see results?
Full results can be seen after 2 weeks, when the dermal filler has settled.
How long do Dermal Filler results last?
The results are long-lasting but not permanent, with hyaluronic acid based fillers typically breaking down after 9 – 18 months.
Thermage FLX: achieve smoother, tighter skin.
Thermage FLX uses advanced radiofrequency energy to tighten and rejuvenate the skin, stimulate collagen production, improve skin texture, resulting in a more youthful and toned appearance.
How does Thermage FLX work?
It tightens the skin by generating a thermal effect deep under the skin to heat the collagen. This in effect, remodels the existing collagen and stimulates new collagen production.
The safe, non-invasive treatment is comfortable thanks its newly integrate Pulse RF, vibration and cooling bursts to help manage and minimise any potential discomfort during treatment. The cooling effect on top of the skin also protects the surface layers of skin. Once the heating portion of the treatment is done, it finishes with a flash of cryogen to cool the dermis down.
What Thermage FLX results can I look forward to?
Thermage FLX treatment is an effective non-surgical facelift that provides:
Tightened and firm skin improving the appearance of sagging skin
Stimulates collagen production to keeping appearance youthful and more toned
Improved skin texture
Wrinkle reduction
Smoother and younger looking skin
Defines the jawline
Tightens skin under the chin
Softens fine lines around the mouth
Minimises the appearance of knee wrinkles
Thermage FLX before and afters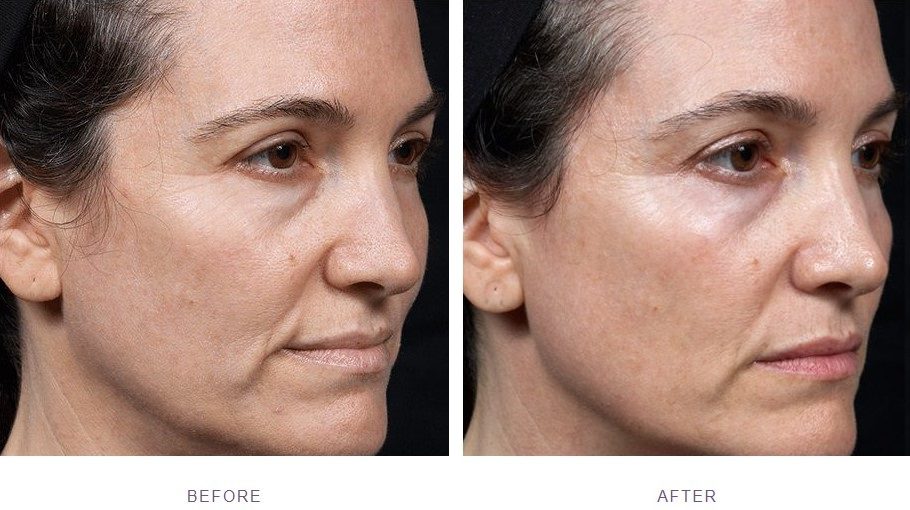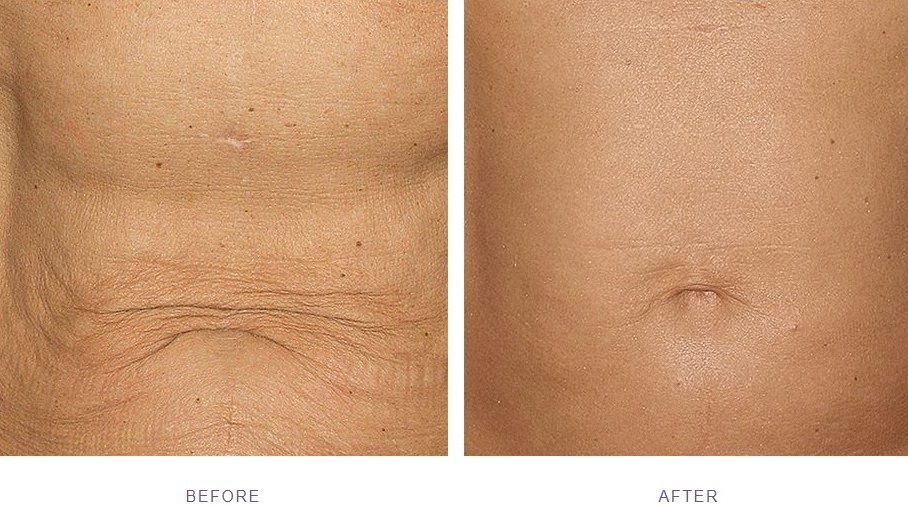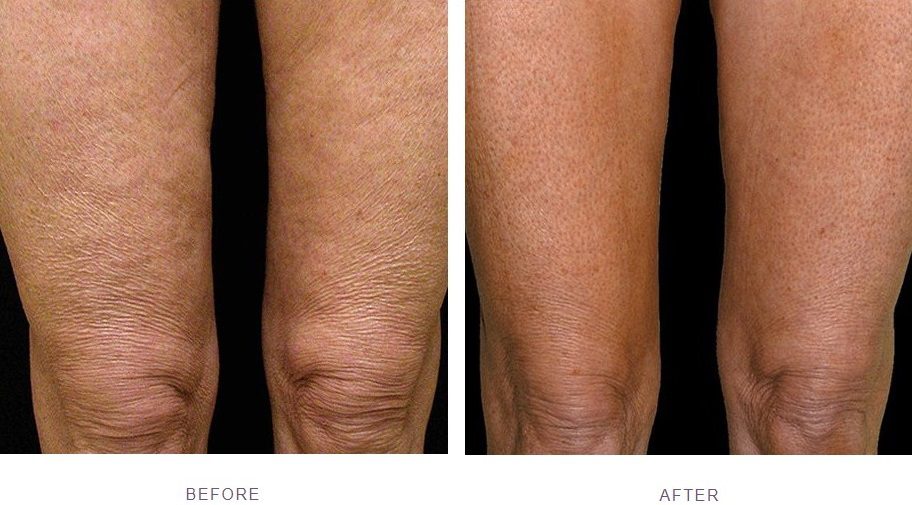 When will I see results?
Some Thermage FLX results are immediately visible, with others improving over time as your body regenerates collagen. Most patients experience noticeable tightening and contouring results within 2-6 months after a single Thermage FLX treatment session.
How long do Thermage FLX results last?
Depending on individual factors, Thermage results can last for years. The Thermage FLX is suitable for all skin types and offers long-lasting results with a single treatment, stimulating collagen production for up to two years. Consequently, your results should have significant extended longevity.
Silhouette Soft Thread Lift: experience the double lifting effect
Silhouette Soft Thread Lift is a non-surgical facelift that gives unique double lifting and regenerated effect. You will be left with contoured, lifted and restored natural appearance results.
How do Thread Lifts work?
This non-invasive procedure involves targeting sagging fat and repositioning it to restore a contoured and lifted appearance. Using re-absorbable suture threads with tiny bidirectional cones, the threads are gently inserted into the fat layer which has no nerve endings, holding them in place providing a lifting and regenerative effect.
The treatment stimulates natural collagen production, resulting in smoother, more youthful-looking skin with reduced wrinkles.
What Thread Lift results can I look forward to?
Lifted and regenerated facial skin
Stimulates natural collagen production which eliminates wrinkles
Smoother appearance and youthful looking skin
Immediate but natural lift effect
Progressive volumising action over 18 months
Silhouette Soft Thread Lift before and afters: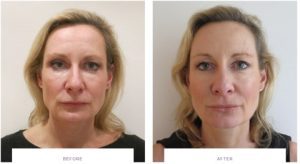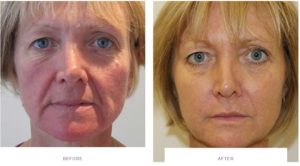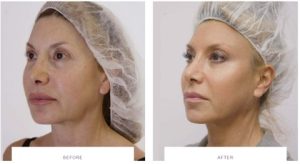 When will I see my Silhouette Soft Thread Lift results?
Immediate results of a natural lift effect can be seen, along with progressive volumising action over 18 months.
How long do Silhouette Soft Thread Lift results last?
The effects from Silhouette Soft Thread Lift can last up to 18 months to 2 years, depending on individual skin laxity and age.
A non-surgical facelift for The Cosmetic Skin Clinic
The Cosmetic Skin Clinic is an excellent choice for a non-surgical facelift due to their extensive experience, reputation for delivering exceptional results, and their commitment to using advanced techniques and state-of-the-art technology.
With a team of highly skilled practitioners and a focus on personalised treatment plans, they prioritize client satisfaction and safety, ensuring that everyone receives the highest level of care and achieves natural-looking, long-lasting results in their non-surgical facelift journey.
To begin any of the above-mentioned non-surgical facelift treatments, request a consultation. Or you can easily give our Buckinghamshire clinic a call on 0330 057 2965.