By Dr. TRACY MOUNTFORD, MBBS MBCAM
Men are certainly not immune when it comes to being affected by negative body image stereotypes. From 'dad bod' comments to mentions of 'man boobs' or 'moobs,' men also must navigate their own hurdles when it comes to enhancing their appearance. And while a healthy lifestyle remains key, sometimes stubborn fat deposits accumulate despite our best efforts. This is where non-surgical fat reduction procedures like CoolSculpting can help.
What is CoolSculpting for men?
CoolSculpting® for men is a non-invasive fat freezing treatment (cryolipolysis) that's proven to freeze and reduce stubborn fat deposits across the body. This classic body contouring technique delivers precisely controlled cooling to gently and effectively target fat cells beneath the skin.
On application of the CoolSculpting machine, targeted cells crystallise (freeze) before shrivelling away and dying over the course of a few weeks. Your body then disposes of them via a natural process, giving you a more sculpted and trim appearance.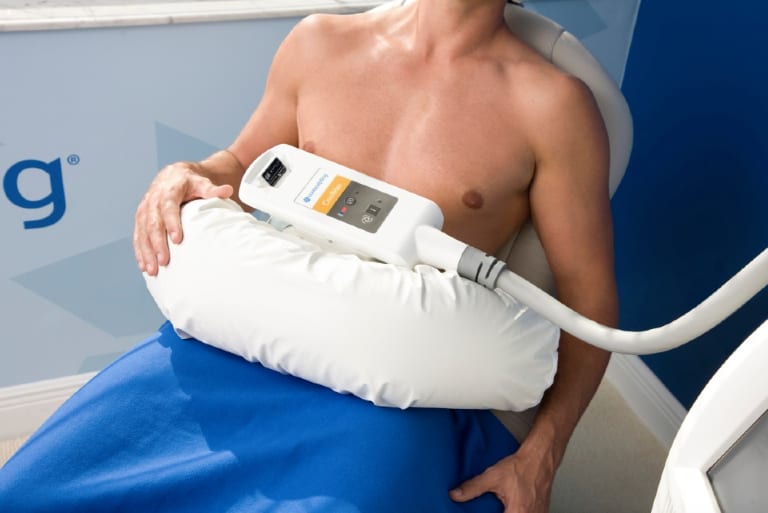 How can CoolSculpting help men with fat reduction?
The CoolSculpting procedure excels when it comes to targeted fat loss across key problem-prone areas of the male body. The treatment was specifically designed to tackle unwanted areas of fat that diet and exercise alone can't reduce. This makes it perfect for men who have undergone gym training, but who are still left with fatty areas in places that are difficult to tone, like the abs or love handles.
The procedure is also ideal for men who carry too much weight in core areas like the stomach or chest, making it a highly versatile fat reduction technique. Men can also be safe in the knowledge that the procedure works thanks to numerous peer-reviews and clinical papers that verify its efficacy. So far, over 17 million CoolSculpting treatments have been performed worldwide, and demand for the treatment continues to escalate.
What areas of the male body can be treated with CoolSculpting?
The CoolSculpting procedure was first approved by the FDA (the US Food and Drugs Administration) in 2009, and has been cleared for use across the male body in the following areas:
At the Cosmetic Skin Clinic, the most popular treatment areas are typically the stomach, chest and flanks.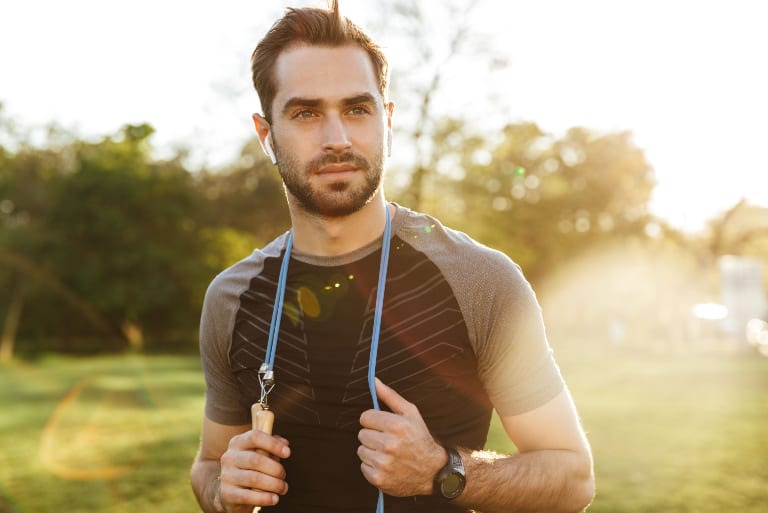 Fat Freezing for the male chest
Many men prefer to have well-defined pectoral muscles, and muscle training at the gym via weight-lifting exercises like the chest press will help to develop this look. But sometimes men still suffer from a case of 'man boobs,' as the muscles may be growing, but fat remains.
By freezing and eliminating fatty deposits in a targeted way using CoolSculpting, the chest can gain a more toned and structured appearance.
CoolSculpting for men's belly fat
Carrying excess weight around your belly area is a health and aesthetic issue. Storing too much tummy fat increases the risk of many health conditions, from cardiovascular problems to high blood pressure, while also slowing down testosterone production.
It's therefore crucial for men to target this area by exercising regularly and adopting a well-balanced diet. CoolSculpting can help to accelerate the fat removal process in this problem-prone zone through its highly strategic approach.
This makes it an ideal method to help men gain a more defined six-pack, for example, so the stomach is beach body ready.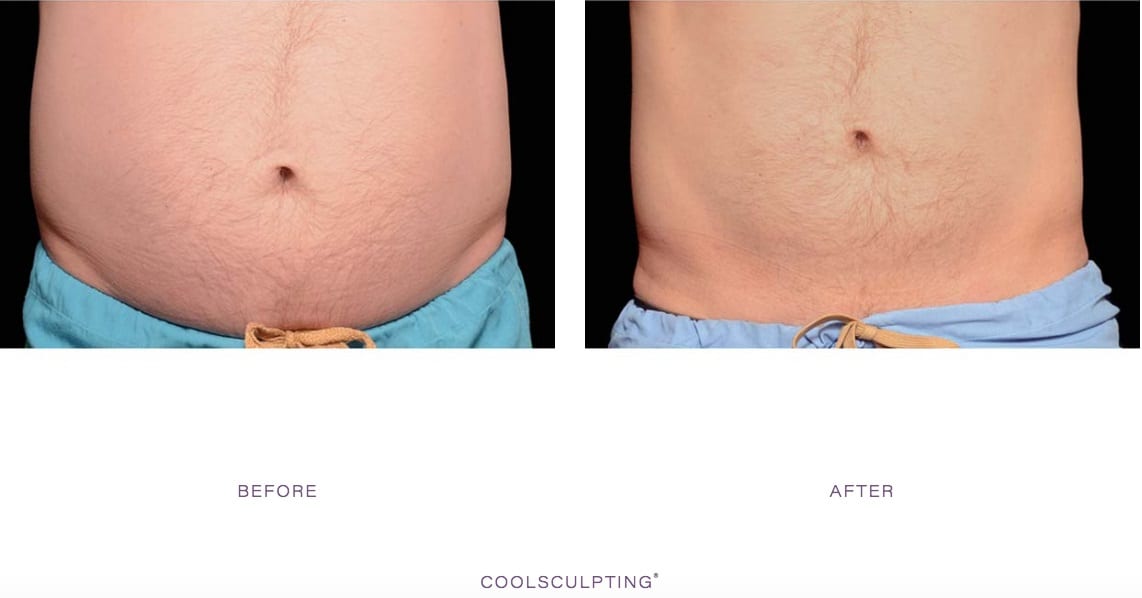 Fat freezing men's love handles
'Love handles' is another name for the fat that gathers around a man's waistline. Also known as a 'muffin top,' it can often prevent you from getting into your favourite pair of jeans. Even with an intensive exercise regime, love handles are often hard to shift.
But CoolSculpting can target men's love handles effectively by freezing the fat cells in this challenging area. On average, men can lose up to 27% of subcutaneous fat cells in the love handle zone, making it a clear game-changer for this area.
With so many possibilities and so many areas where CoolSculpting can be used, it's easy to see why so many men are now realising the benefits.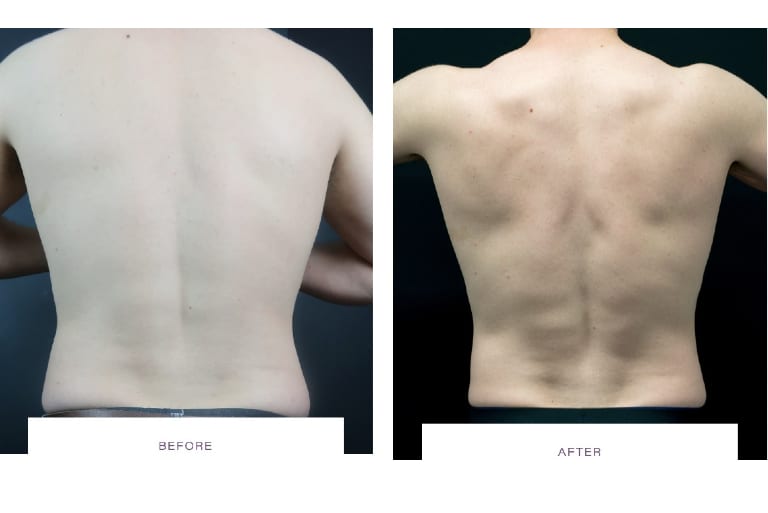 Is CoolSculpting permanent?
CoolSculpting for men is great for fat reduction because once the fat cells have been treated, they disappear for good. However, patients should always bear in mind that CoolSculpting is not a weight-loss treatment.
The CoolSculpting procedure simply reduces the number of fat cells in the treated area. The targeted cells then pass through the liver before being expelled from the body naturally.
But your remaining fat cells can still increase in size if you don't burn enough energy. This is why it's always important to maintain a healthy lifestyle after treatment for long-lasting results.
Am I a good candidate for men's CoolSculpting?
Coolsculpting is ideal for all types of men. Men with stubborn fat in key zones like the chest and tummy will benefit, but also men with excess fat across the chin, buttocks and more. CoolSculpting is also ideal for men who have busy schedules, thanks to the introduction of the upgraded CoolSculpting Elite dual applicators. These give men the chance to freeze fat in two areas at once during a single session. This can help to maximise results in a rapid way while making the experience convenient and quick.
By requesting a personalised consultation, we can tailor your treatment plan to the specific areas that suit you.
So where can men get CoolSculpting treatments?
CoolSculpting treatments for men are widely available in locations throughout the UK. The Cosmetic Skin Clinic's Buckinghamshire and London locations are the most experienced in Western Europe, having conducted over 50,000 treatments. The Cosmetic Skin Clinic is the number 1 CoolSculpting clinic in the UK and our expert practitioners have over 20 years of experience.
Our full clinic list is detailed below:
The treatment is also available at our parent company The Private Clinic, giving amazing choice for patients across the country.
For more information on men's CoolSculpting treatments, email us at [email protected]. Or book a personalised consultation with our expert practitioners today.