By Dr. TRACY MOUNTFORD, MBBS MBCAM
Jawline fillers are a non-surgical solution for facial enhancement and anti-ageing. Create a sculpted, contoured and chiselled jawline instantly with immediate results.
Patients can streamline and improve the shape of their jaw while minimising signs of ageing in a quick 30-60-minute session. Remove wrinkles, folds and sagging skin across the jaw while improving the jaw's shape without any downtime or surgery. Here, we explore jaw filler before and after photos, while offering tips on how to optimise your results.
Jawline fillers are composed of hyaluronic acid, a naturally occurring sugar compound that keeps our skin firm, tightened and hydrated. When we inject this FDA-approved substance into the jawline area, it smooths out fine lines while replenishing volume. Hyaluronic acid also boosts our skin's own ability to build up collagen and elastin to give our skin natural support over the long term. 
Jawline Filler treatment results
Jawline fillers stand out as an effective treatment thanks to their instantly noticeable results. Once injected into the skin, they provide an immediate restoration of volume to sagging or deflated skin that has aged and drooped over time. They also fill wrinkles and lines with nutrients to improve overall skin complexion across the jaw.
Jaw fillers are highly versatile, meaning that each patient can achieve their own preferred look when using them. Men regularly opt for the treatment to achieve a strongly defined 'superhero' jawline. By strategically placing filler at the back of the chin and around the masseter muscle and the side and front of the chin, a man can enhance their natural bone structure by emphasising their own angular and chiselled jaw shape. For women, the ideal shape of the jawline is all about achieving balance.With jaw fillers, female patients can achieve a graceful, curved shape to their jawline to give them a much more contoured side and frontal profile. Jaw fillers can also correct asymmetry or help a receding chin to look more prominent.
By consulting with a highly trained practitioner, you can achieve the effect you desire with relatively long-lasting results. Many of our patients experience positive visual effects for up to 2 years after your chin filler treatment.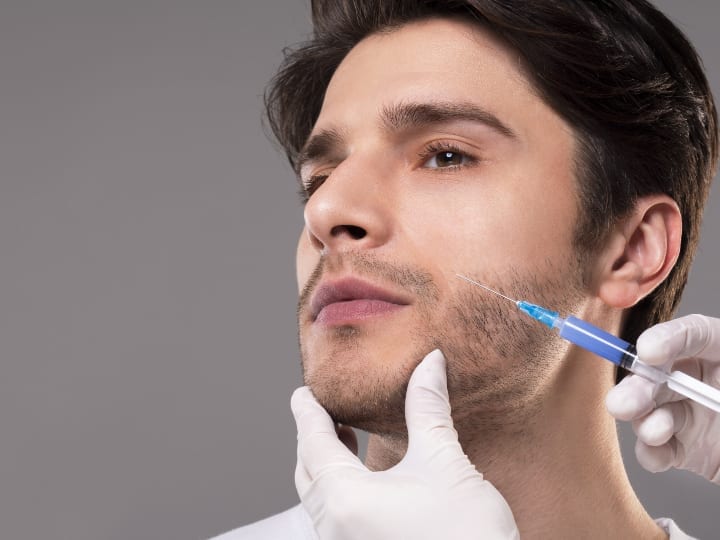 Jaw Filler before and after pictures
Learn how you can redefine and recontour your jaw with our range of jawline filler before and after photos. Discover how both men and women have utilised jaw fillers to smooth out lines and wrinkles, tighten sagging skin, reduce jowls and reshape their jawline. Or find out detailed information about jawline filler treatments in our dedicated jawline filler page.
Female Jawline Fillers Before and After
Filling jaw folds and wrinkles, and restoring volume: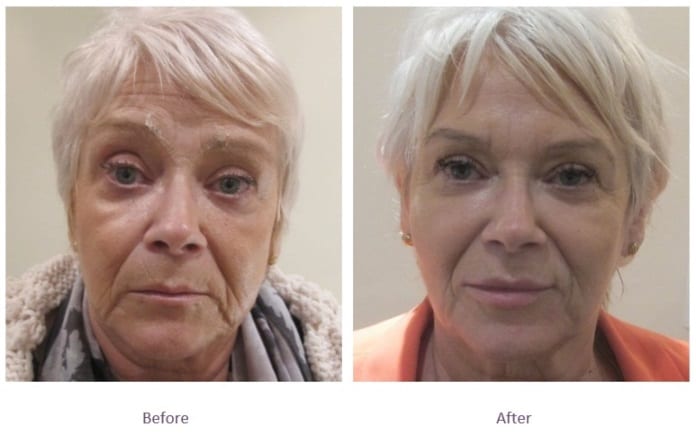 Male Jawline Filler Before and After
Creating a strongly chiselled and define jawline: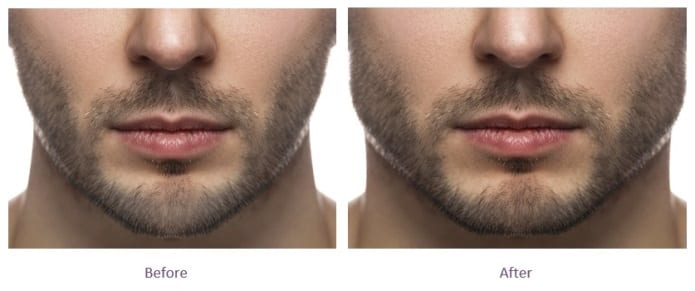 Jawline Contouring Fillers Before and After
Sculpting and contouring the shape of the jaw: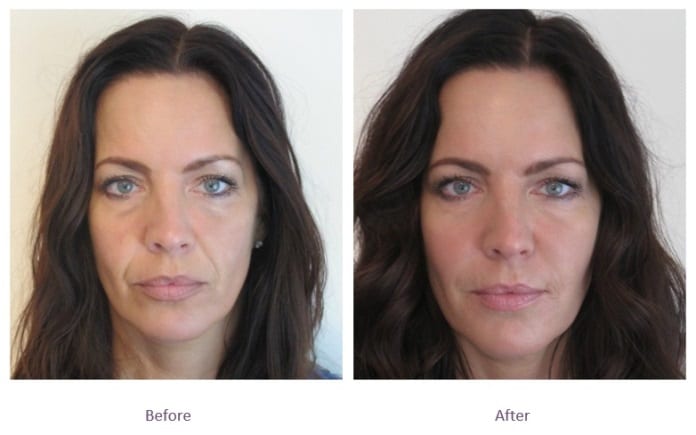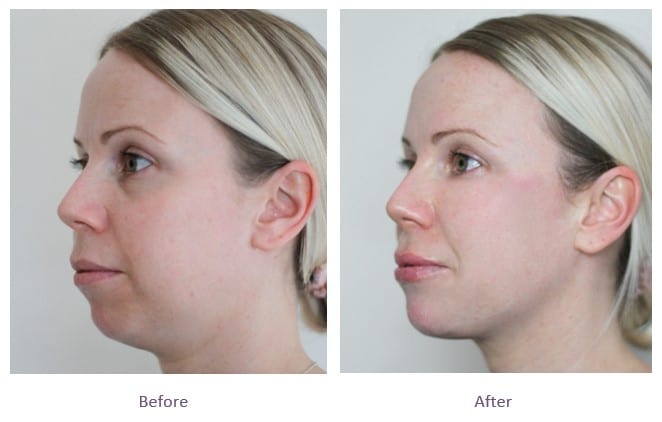 Maintaining your Jaw Fillers results
Although temporary, the lifting and contouring effects of jawline fillers last between 15 months to 2 years for most patients. You can maximise the longevity of these visible results by adopting the following actions:
Maintain a healthy, balanced diet: By building your diet around antioxidant-rich foods and avoiding processed foods, you can preserve fillers for longer. Eat a diet that is rich in vitamin C and amino acids. These stimulate our natural collagen and elastin levels over time to help maintain filler results.
Choose premium topical skincare: It also pays to invest in advanced skincare products that filter out damaging UV rays. Choose UV-blocking moisturisers as well as collagen and elastin boosting serums from high-quality brands like Obagi and Cosmeceuticals. These professional-grade treatments are renowned for their clinically proven results.
Embrace combination or top-up treatments: When you combine jawline fillers with complementary treatments, you can really maximise your visible before after results and extend them over time. Ultherapy works brilliantly to help further lift and tone the jawline with its collagen-stimulating ultrasound technology. CoolSculpting can also be used if patients suffer from sagging pockets of fat or double chins across the jawline. By combining the treatments, patients are better able to achieve the slim, sculpted, defined and streamlined jawline that defines facial beauty.
Jaw and Chin Filler reviews
Many of our patients at the Cosmetic Skin Clinic choose us for our delicate, refined and understated approach to jawline filler treatments.
We favour the strategic placement of jaw filler to enhance a person's own natural beauty rather than overfilling or completely altering a person's facial profile. This gives each of our patients a subtly flattering and long-lasting look that they can always be proud of. Renowned singer-songwriter and composer Mim Grey has had a range of filler treatments with us, including jawline fillers, and is consistently impressed by the transformational but natural-looking jawline filler before and after results:
"I've been coming here for years and never been anywhere else… The procedures that they carry out here make such a difference that no one notices you have had anything done. They just compliment me saying I look well, rested and my skin looks good… I couldn't recommend it more." Mim Grey, Chin filler patient, Cosmetic Skin Clinic
Debbie, another one of our valued patients utilised jawline fillers in addition to mid and upper face fillers to restore her confidence and give her a refreshed new look:
"Over the last couple of years, I've noticed that my face has become a little sunken and shallow, and it has given me a bit of a complex. But after having fillers, it's been fantastic, I'm so pleased. Really really happy." Debbie, Jawline filler patient, Cosmetic Skin Clinic
Jawline Filler side effects
Jawline fillers can have the typical side effects associated with injectable treatments, but this typically dissipate after just a few days. Areas that are treated with jaw filler may sometimes experience tenderness and swelling, and some patients may notice a dull aching feeling. But these mild symptoms usually resolve themselves quickly. As a zero-downtime treatment, patients can quickly return to their normal activities straight after having a jaw filler injection.
Some patients worry about feeling pain during and after a jaw filler treatment. However, our fillers come with a built-in anaesthetic and we can also apply a numbing cream to the treatment area to minimise side-effects and make the treatment as comfortable as possible on request.
Jawline Fillers at The Cosmetic Skin Clinic
As one of the leading dermal filler practices in the country, we have the knowledge and expertise to give you exceptional results. Our patients have given us a 95% patient satisfaction rating as well as a 5-star Trustpilot score, so you will be in the best hands when opting for a jaw filler treatment with us.
Learn more about our world-class jawline fillers by speaking to our friendly team today, who will gladly help with your enquiries. We are experts at tailoring jaw filler treatments to enhance areas and issues that patients care about most, whether that's jawline asymmetry, jaw definition or signs of sagging and ageing.
Find out more about jaw filler treatments by taking a look at our blogs too, where we focus on male jawline filler treatments as well as the jawline filler trend.
Dermal Filler Jawline Treatments in London and Buckinghamshire
Book a consultation with our expert team today using our online contact form. Or call our clinics directly on 0343 253 8240 (London and Buckinghamshire).
How To Find Us – Jaw Filler near me
The Cosmetic Skin Clinic in London is within easy walking distance of Oxford Circus, Bond Street and Baker Street tube stations. It is also just a train ride away from Paddington and Kings Cross St Pancras Train Stations.
The Cosmetic Skin Clinic in Buckinghamshire is located in Stoke Poges and it is close to Gerrards Cross (Chiltern Railway), Slough's (First Great Western) station. It also has great links with the M25, M4, M40 and A40 roads, linking the clinic to the Surrey area, Richmond, Beaconsfield, Windsor, Kingston upon Thames and Wembley.