By Dr. TRACY MOUNTFORD, MBBS MBCAM
What happens when we age on the chin?
Having a smoothly contoured or perfectly chiselled chin is a beauty goal many of us have, particularly as we age. During ageing, we begin to lose the supportive fatty structures in this key focal area of the face. When this blends with natural gum recession and bone loss in our middle ages, this can leave our lower face in a less than optimal state.
Chin creases below the lips also develop as we lose collagen in the area, and in our fifties, the mentalis muscle becomes hyperactive to compensate for the sagging skin, resulting in a pebbly or dimpled appearance. Thankfully, chin and jaw dermal fillers are here to counteract these processes.
The 'Defined Jaw' or Jaw Slimming Trend Is Here
If you take a quick glance at Google Trend data, you'll notice just how 'in-demand' a well-defined jawline has become in the last few years. Since 2015, searches for "jawline filler" have sky-rocketed, and social media has made us all more aware of the treatments available for both men and women to help achieve a contoured jawline without the need for surgery. This is why chin and jawline fillers are now regarded by many as the number one option for jaw slimming and achieving a perfect chin.
What is a Chin Filler or a Jawline Filler?
A chin fillers treatment is a non-surgical chin augmentation treatment that brings back proportion and harmony to the face. Optimising the chin with a dermal filler treatment creates definition and symmetry in the lower third of the face. Surgery involves downtime with bruising and swelling that can last up to six weeks after treatment. But minimally invasive treatments like dermal fillers for jawline and chin offer a quick-fix option with minimal complications or downtime.
Chin and Jaw filler treatment before and after results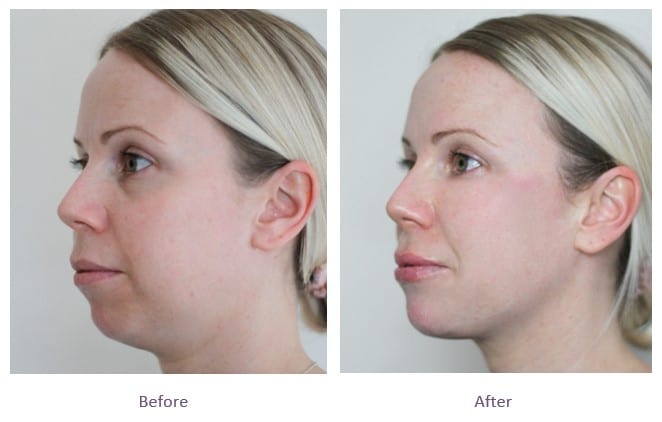 Who should consider Dermal Chin Fillers?
Chin and jaw fillers are ideal for anyone who wishes to redefine their facial proportions to improve their overall appearance. Anyone who wants a visibly improved side or frontal profile should consider chin dermal fillers and jaw fillers. Many people are now doing so across all age and gender groups. According to recent statistics from The American Society for Aesthetic Plastic Surgery (ASAPS) for example, jawline enhancement procedures saw a 20% increase in 2019 alone.
Am I suitable for Chin Filler treatment?
For more mature patients, chin fillers are ideal to combat jawbone shrinkage, jowls and saggy necks. By injecting filler on the underside of the chin, the chin elongates to remove saggy folds, while injecting chin filler into the frontal part of the chin, and at the sides can help minimise the appearance of jowls and frown lines that extend downwards from the lips.
Younger patients can also enhance their face with strategically placed chin fillers. The jawline can be made to look more angular, contoured, and sculpted, giving patients a much-desired movie-star quality. 
Whatever your goal, it's always best to speak to a specialist first before taking this treatment so the right areas can be targeted. In some instances, individuals may benefit more if they combine a dermal filler on the chin with fillers on other jawline areas.
What does a Chin Fillers Treatment involve?
The process of chin augmentation with fillers involves the injection of hyaluronic acid gels to replenish areas of lost volume. The skilful placement of filler injections will serve to lift and revolumise the selected area to bring back lost shape while smoothing out lines, sagging and wrinkles in the process.
Some patients may require combination treatments to give the chin area greater definition. For example, a patient may need to reduce chin fat while tightening the area along the jaw and under the chin with additional fillers for a more streamlined look. By booking a consultation with a practitioner, you can determine the best approach for your individual needs.
The Best Chin Filler Treatments to Get a Better Jaw Line
Juvéderm and Restylane are two of the safest, most effective FDA-approved dermal fillers in the industry. This is why we use them for our chin filler procedures. The treatments are naturally biodegradable hyaluronic acid gels which closely mimic the body's own naturally produced hyaluronic acid stores. When injected just beneath the skin's surface, they restore volume to targeted areas while softening and hydrating the skin.
These injections also aid collagen and elastin production, two vital natural proteins that maintain the skin's voluminous structure. The beauty of both these skin boosters is that they are renowned for long-lasting results and a super-natural finish, so you won't look harsh or overdone after dermal fillers jawline treatment.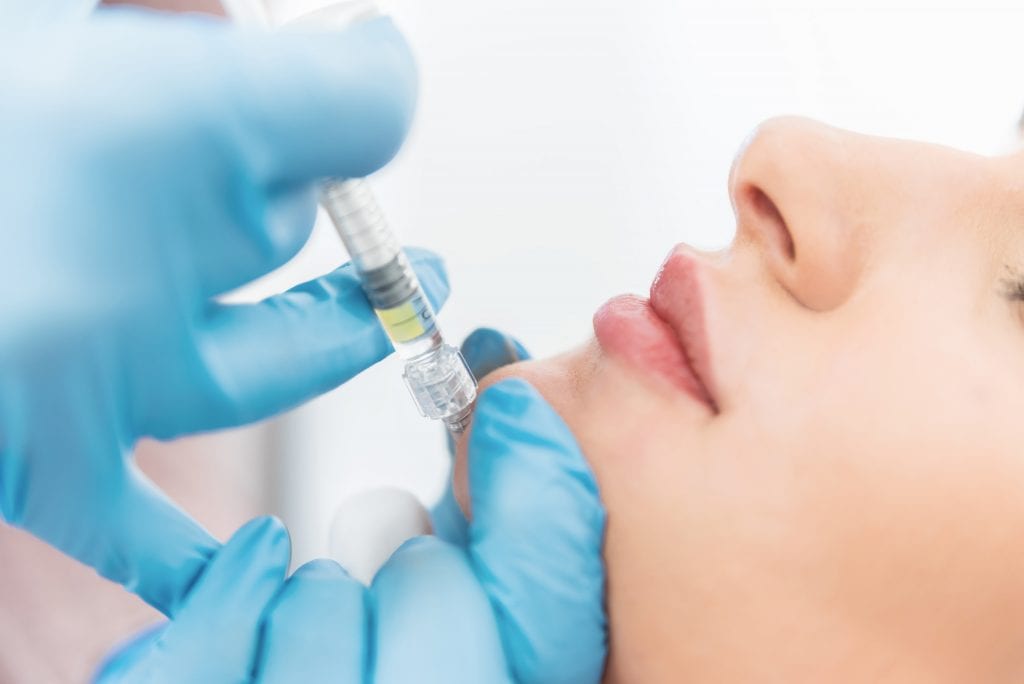 Do Chin Filler Treatments involve downtime?
There's little to no downtime with a filler in chin treatment and you can resume normal activities right away. But some individuals may experience some slight swelling or bruising a few days after. However, most patients return to their normal activities instantly without any side effects.
How to get a better jawline and what results can I achieve with a Chin Filler?
Chin dermal fillers produce a lifted and contoured look immediately once the injection has been applied. The treatment is also well-known for its long-lasting effects, with a typical patient experiencing effective results 9-12 months after chin and jawline filler. Discover our chin filler before and after photos and see how you can get a better jawline.
To learn more about chin filler treatments, our practitioners are happy to help. Fill in our online enquiry form for further information or book a personal treatment consultation with our expert practitioners at one of our clinics in London and Buckinghamshire by giving us a call on 0330 057 9047.
How To Find Us – Jaw Filler Treatments near me
The Cosmetic Skin Clinic in London is only a walkable distance away from Oxford Circus, Bond Street and Baker Street tube stations. It is also quick to reach by train via Paddington and Kings Cross St Pancras Train Stations.
The Cosmetic Skin Clinic in Buckinghamshire is situated in Stoke Poges and it is close to Slough's (First Great Western) station and Gerrards Cross (Chiltern Railway). It also has great transport links via the M25, M4, M40 and A40 roads, linking our clinic to Wembley, Richmond, Kingston upon Thames and the Surrey area.