By Dr. TRACY MOUNTFORD, MBBS MBCAM
The sculpted celebrity jawlines of iconic women like Angelina Jolie and Bella Hadid are beauty features that many women aspire towards. Thanks to the incredible rise of jawline filler treatments, these features can now be attained non-surgically with hyaluronic acid fillers that give the jaw structure, shape and volume to create that much-desired celebrity look.
But men can also benefit from enhancing their jawlines with jaw filler treatments. Increasing numbers appear to be doing so as they seek the strong 'Superhero' jawline – the type sported by famous male stars, from Henry Cavill (Superman) to Robert Pattinson (the latest Batman hero, with a strong and totally chiselled jawline to boot). 
Why men want jaw fillers
"Men are after a more chiselled and stronger looking jawline, while women want theirs to be delicate and firm."
Male attractiveness is all about attaining a masculine ideal of facial beauty that evokes strength through desirable features like strongly defined high cheekbones, a squared visible jaw and a pronounced chin.  Indeed, some scientific studies from the Nature journal have shown that a sharp and strong male jawline gives them more sex appeal by denoting higher levels of testosterone and a stronger immune system. It is therefore unsurprising why many men are now opting to visually enhance and improve this area of their faces.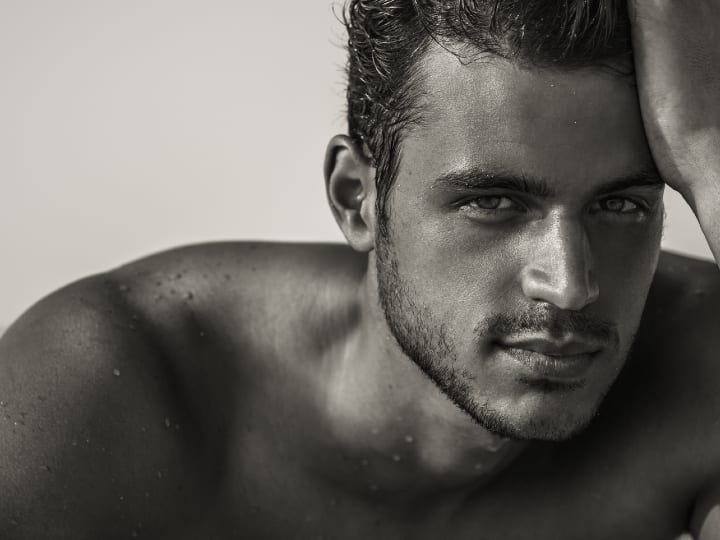 Defining the male jawline with fillers
Men can get this 'power jaw' with a jawline contouring treatment that brings strength and structure back to the jawline. Jawline fillers for men can:
Create a chiselled, square-looking jawline
Improve the structure of the chin
Frame and underpin the face
Reduce the effects of age-related volume loss
Improve the appearance of double chins
Bulk out weak, slim or narrow jawlines
Improve jawline strength and structure
Frame and underpin the face
A well-defined male jawline is typified by significant bulk in the masseter muscle, so the rear part of the cheek appears curved and pronounced. This helps to distinguish the chin from the neck, giving the man a strong angular definition to his face.
Fillers enhance a man's natural bone structure when placed in strategic places like the side of the jaw and chin. This gives men a much more structured and streamlined look. By injecting dermal fillers into the angle of the jaw, the jawline will project laterally to create strongly structured lines. The lateral borders of the chin can also be injected to square off the jawline for that ultimate chiselled look.
The male jawline filler procedure
The key to attaining the perfect male jawline without looking overdone is all about choosing a practitioner who injects strategically to enhance natural beauty. At The Cosmetic Skin Clinic, we closely assess every man's face to select areas that will give them the most natural-looking results.
We frequently apply filler around the mid-face and outer edges of the face first to lift these areas back up before injecting directly into the jawline. This uplifts and strengthens the surrounding areas of the jaw too so that everything is fully underpinned and in proportion. This helps to generate the most balanced and natural-looking results without over-emphasising the jaw or creating exaggeration.
The treatment typically lasts no longer than 30 minutes and requires no downtime. This means men can return to their normal activities straight away, enjoying immediate visual results.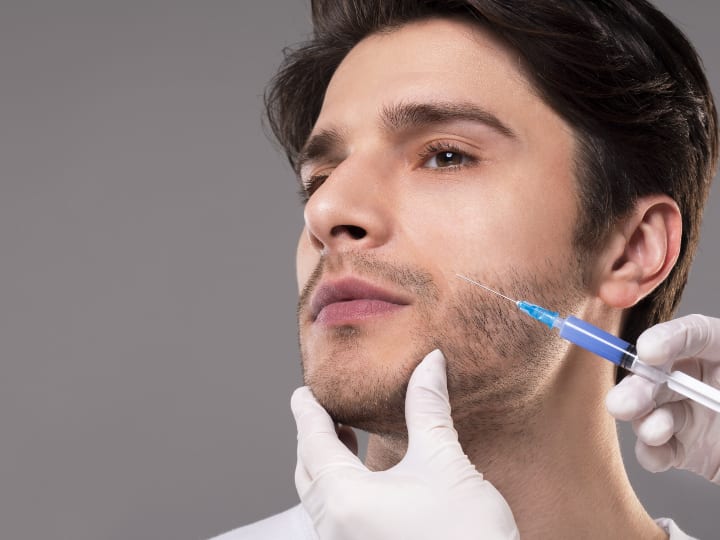 The best jaw fillers for men
The best fillers for men's jawlines are robust formulations that fully support and uplift the jawline. We only use FDA-approved fillers from renowned brands like Juvéderm at The Cosmetic Skin Clinic. These come in biocompatible formulations that are safe, effective and super long-lasting. Thicker fillers like Juvéderm Volux are ideal for men's jawline filler treatment as they hold their form while generating positive results up to 2 years after the procedure. The Cosmetic Skin Clinic's Dr Joanna Christou is a great fan of these fillers as they enable her to "be so exact" with her treatments, "giving a sharper, more balanced profile" for each male patient she treats from every visual angle.
Combo male jawline filler treatments
Every male patient is different, which is why we assess jaw filler men treatments on a case-by-case basis. For some patients, we suggest combination treatments to address key skin concerns like asymmetry, narrow jaws or ageing.
As we age, we tend to lose bone, fatty tissues and structural proteins like collagen and elastin. This can cause our skin around our jaw to sag and droop forward. Jaw fillers and chin filler men only really make an impact when signs of ageing like loose skin have been corrected in the process.
Improving weak male jawlines
Other men may have naturally weak or slim jawlines that do not protrude in an angular fashion. These may require volume restoration in the cheeks and chin to give a greater sense of shape. Some men may also have excess fat deposits underneath their chin, which obscures the structure of their jawline. In these instances, we can combine skin tightening and fat freezing treatments like Ultherapy® and CoolSculpting® with jaw fillers – this reduces fat stores while sculpting and redefining the shape of the jaw and neck so they both look defined, rather than blending into each other.
As Dr Mountford explains in her Vogue article, when you combine these "gold standard jawline treatments" with appropriately strong filler like Juvéderm Volux, "you can lift, redefine and sculpt even the weakest of chins and jawlines." The key to getting it right is booking a consultation with an expert practitioner who knows exactly how to give you that chiselled male jawline by understanding your face shape and skin conditions.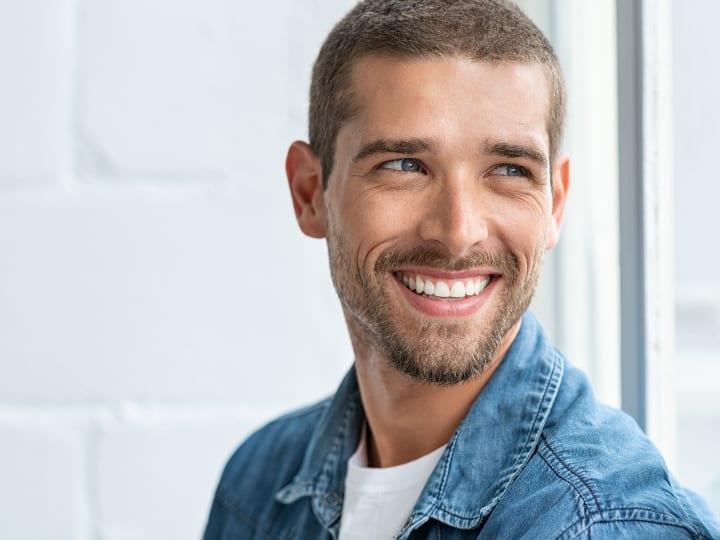 Jaw Filler Before and After Male
See below the amazing results achieved for one of our patients with jawline filler.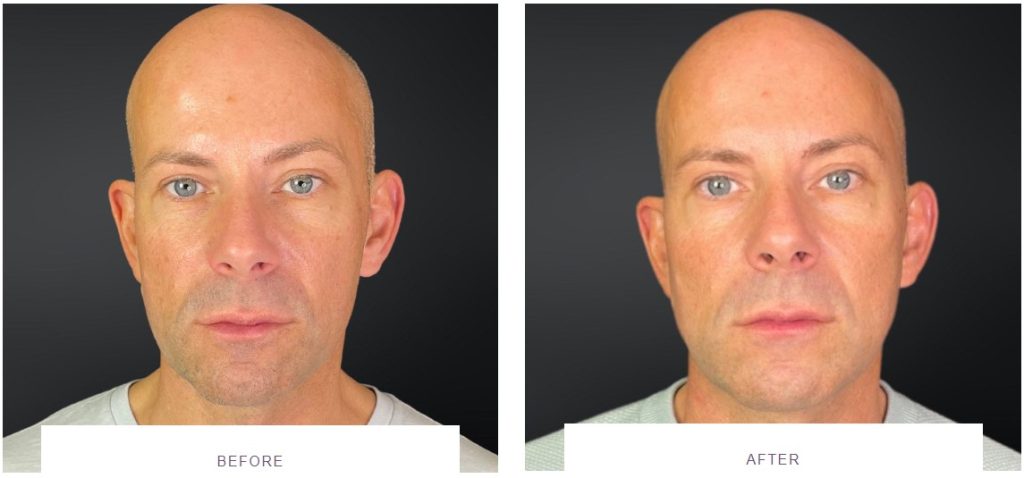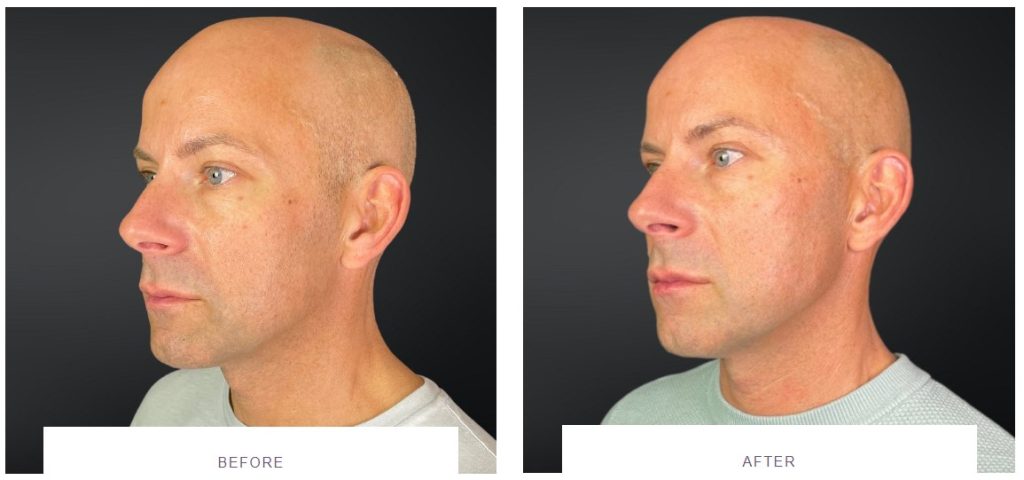 Our #1 Jaw Filler treatments for men
Dr Mountford is one of the 'Best Filler Doctors' in the UK according to Tatler magazine and has expertly mentored a handpicked team to deliver exceptional filler results. As one of the leading jawline filler clinics in the UK, with a 95% patient satisfaction rate, you will be in the best of hands when booking a jaw filler with us.
For more information about men's jawline filler treatments, get in touch with our practitioners today. Alternatively, call our London and Buckinghamshire clinics on 0330 311 4589.